JMU Headlines
President's Update:Review of the April Board of Visitors meeting
Review of the April Board of Visitors meeting
---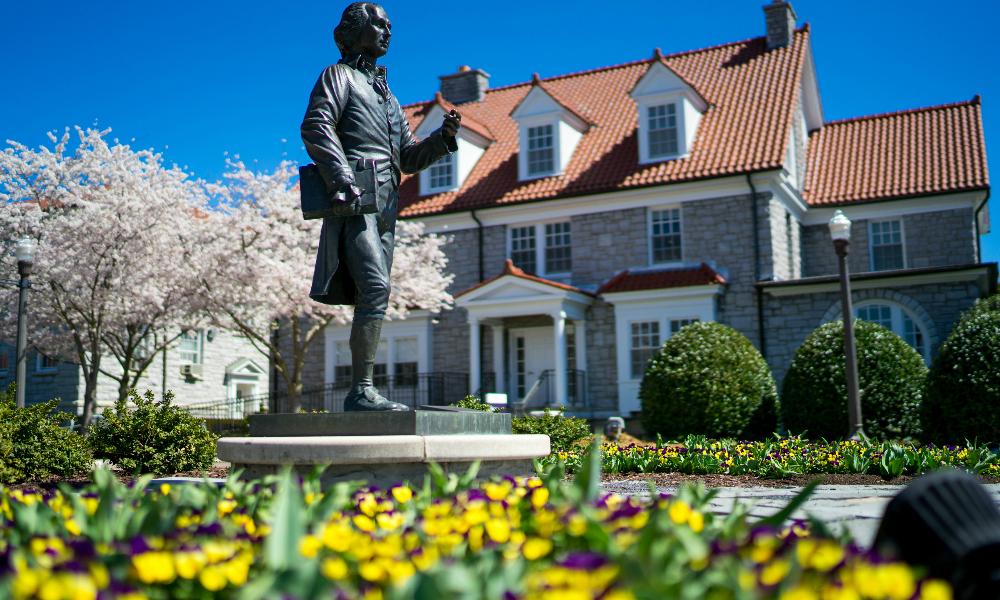 SUMMARY: The James Madison University Board of Visitors met on Friday, April 8.
---
Dear Students, Faculty and Staff,
The James Madison University Board of Visitors met on Friday, April 8. The board discussed a number of important issues including our future Dukes, campus conversations, academic achievement on a national stage, expansion of our culture of philanthropy, commencement details, higher education funding, tuition and fees, and more.

Provost Benson to Retire
It is with mixed emotions I share the news that Provost Jerry Benson has informed me of his retirement effective June 30, 2017. Dr. Benson's contributions to the university over the past 37 years have been vital to the success of the institution. I am excited for this next chapter of his life, but will miss his wisdom and sage advice on our leadership team. 
I appreciate Dr. Benson's foresight by providing the university with the continuity in such an important position while we conduct a national search for his replacement. Dr. Mark Warner, senior vice president for student affairs and university planning, will serve as chair of the search committee. The services of a national search firm will be employed. Send nominations to serve on the provost search committee to president@jmu.edu by the close of business on April 22, 2016. The search committee will be appointed shortly thereafter.
Welcoming Class of 2020
Each year we welcome the best and brightest students into the JMU family. We had 21,986 first-year applications and 2,689 transfer applications.  We continue to open doors to more and more students through programs such as Valley Scholars and Centennial Scholars, which I have been able to talk about on a national stage and with Virginia Secretary of Education Anne Holton.
Campus-Wide Conversations on Diversity
"The real work of diversity happens when you start to become more diverse, then understanding how to create interactions with difference." -Sylvia Hurtado
In this age of technology and information, I believe that our diverse human capital is our greatest strength – but only if we embrace and develop it. Across campus we have been having conversations with the Center for Multicultural Student Services and many student organizations. We all have something to contribute and something to learn in this global experience.
Women in the workplace continue to take the world by storm and set an example of the engaged leaders we wish all of our students to be. We invited accomplished leaders to inspire and share tips at the third annual women in leadership conference.
Diversity Conference Keynote and Madison Vision Series Speaker
Diversity and education went hand and hand as faculty and staff attended the 10th annual diversity conference this past March. Creating access across the university is a priority. We welcomed diversity expert Dr. Sylvia Hurtado, professor in the Graduate School of Education and Information at UCLA, to campus as a keynote speaker.
National Presence and Academic Achievement
Strong and engaged leaders are essential as we gain national prominence. Dr. Cynthia Bauerle will further our goals as she has been named the new Dean of the College of Science and Mathematics. She is currently the Assistant Director of Undergraduate Programs at Howard Hughes Medical Institute in Chevy Chase, M.D. Her commitment ot research and science education will continue to raise the acadmic acomplishment in our STEM fields. 
We are positioned to become the national model of the engaged university and our programs and individuals continue to accelerate our growth and achievements: 
The School of Music performed at the National Presbtyerian Church in Washington, D.C.
The speech team earned first place in limited team sweepstakes, and added six qualifications for the American Forensics Association-National Individual Events Tournament.
The debate team was named the top public debate team by the Cross Examination Debate Association; they have won this award seven of the past 10 years.
Art History Professor Dr. Maureen Shanahan and ISAT Professor Dr. Louise Temple have been named as Fulbright Scholars; two additional professors are finalists in consideration for Fulbright awards.
Business Professor Paul Copley was selected as the recipient of the Washington, D.C. Chapter of the Association of Government Accountants 2016 Education Award in recognition of his significant contributions to the education and training of government financial managers.
The Grand Opening of the Washington Center will continue to present opportunities to our students and cement our close ties with the Nation's Capitol.
English Professor Matt Rebhorn and Art Professor John Ott each received a rare summer stipend from the National Endowment for the Humanities.
Student Renzo Olivari was selected for one of only 20 spots nationwide for the Ralph Bunche Summer Institute sponsored by the American Political Science Association. This is the fourth time in the past six years that a JMU student has been chosen for this program.
President's Purple Star Awards
Numerous programs and people enhance the academic level of JMU. I encourage all to  celebrate our employees with the President's Purple Star Awards (formerly known as the Madison Awards). Nominations will be accepted in the areas of customer service, innovation, teamwork, community service and career achievement. Employees who receive the President's Purple Star Award will be automatically nominated for a Governors Award for Public Service in the corresponding category. The deadline to submit Purple Star Awards is Wednesday, April 13, 2016. 
Engagement Fellows — Year of Service
Three outstanding graduates will have the opportunity to experience a transformational year of public service. In accordance with the Service Year Initiative Compact I signed in February, we have moved expeditiously to create the JMU Engagement Fellowship Program. Three fellows will commit to a position with a stipend and housing. The three placements are the Institute for Innovation in Health and Human Services, the Valley Scholars Program and the Montpelier Estate. I encourage all with a heart for service to apply for these fellowships. The applications are due by April 18, 2016. 
Athletics and Impact
Our competitive intercollegiate programs continue to produce quality athletes and the holistic student that embodies a Duke. Recently a Gallup Poll found that student athletes are thriving in many areas after college. This study confirms our diligence in creating an athletic program that prepares student-athletes for productive and meaningful lives.
As we continue our season of transition, we have hired coaches who will prepare our students for life after college. I am excited about Coach Mike Houston and the direction he is headed with our football program. I also welcome Coach Louis Rowe to our James Madison family as head men's basketball coach. Over the weekend, we promoted Coach Sean O'Regan to be our new women's basketball coach. 
Charles Haley ('87) was honored at the Virginia General Assembly this past February.
We have been competing at a high level with our women's basketball team winning the CAA Championship for the third year in a row, as well as receiving multiple individual awards including the third consecutive CAA Player of the Year award for Jazmon Gwathmey and Rookie of the Year award for Kayla Cooper-Williams. Rounding out our 5th CAA Player of the Year of 2015-2016 is diver Olivia Lehman. Also, Camilla Czulada on the swim and dive team won the CAA Scholar Athlete award. With our teams currently competing, Softball  is currently ranked in the top 10 in the nation! Good luck to all of our athletes in their competitions and spring training. 
Culture of Philanthropy
In an all-hands-on-deck effort, we want to thank those who participated in our first-ever Giving Day. We achieved our goal of 568 donors by 10 a.m. By the end of the day, 2,840 donors had given more than $338,000. The day was an overwhelming success. Thanks to all those who participated.
The first annual Giving Day went 5x above our expectations.
The whirlwind of Madison Week ended with a stewardship luncheon celebrating the people who believe in the JMU mission. Alumnus Jeff Tickle gave a generous gift to our interdisciplinary and design-based engineering program. Watch his interview to get an insight to why he believes in this program.
Another major gift came from alumni Mike (current Rector of the Board of Visitors) and Kathy Thomas, who have created a faculty support endowment in the College of Business, as well as creating the "Dukes Pay it Forward" scholarship to inspire our culture of philanthropy from one generation to the next. While everyone is welcome to contribute, this scholarship is a call to action for past JMU scholarship recipients to contribute to need-based scholarships in the near term, and ultimately inspire the recipients of Dukes Pay It Forward scholarship awards to give in the future.
These multi-million dollar gifts are advancing the university in prominence as well as encouraging the culture of philanthropy and being the change for the students to come.
May Commencement
Dr. Curt Carlson, founder and CEO of Practice of Innovation, will speak during JMU's Commencement Ceremonies.
Graduation is almost upon us! One of my favorite roles is greeting the students as they cross the stage in the varying degrees of joy, excitement and sadness about leaving our JMU home. We will be graduating nearly 4,000 student in May 5-7 commencement ceremonies. We have created a JMUGrad app that will keep you up-to-date on all of the commencement activities .You can get the app from iTunes (‪bit.ly/JMUGradiTunes ‪) or Google Play (‪bit.ly/JMUGradGoogle ). We are looking forward to your attendance!
General Assembly Update
The 2016 General Assembly Session adjourned on Friday, March 11, and approved the Commonwealth's $105 billion two-year state budget. While the Governor still has an opportunity to modify the budget, the university is very pleased with the investment in higher education and the institution. We are very appreciative of the funding provided by the General Assembly and the Governor.
James Madison University will receive $5 million in new operating and financial aid general funds in fiscal year 2017 and $7.2 million in fiscal year 2018 for a total of $12.2 million for the biennium. 
General Assembly Biennial Detail Information (State Funding):
Access, Completion & Affordability – $7.3 million
Compensation – 3% salary increase dependent upon FY 2016 state revenues – $4 million
Undergraduate Financial Aid – $301,326
Graduate Financial Aid – $632,102
Higher Education Equipment Trust Fund (ETF) – $4.6 million
Maintenance Reserve – $6.7 million
General Assembly Language:
Higher Education Restructuring – The university is authorized to begin a five-year pilot program for additional higher education autonomy opportunity in the areas of finance and capital.
 General Assembly Capital Update: 


The increased state general funds will positively impact university operations and will allow the university to continue to focus on affordability with an annual in-state tuition increase of $172 or 3 percent, which is the lowest since 2001-2002. The additional capital dollars will also insure that JMU continues to provide excellent facilities for our students, faculty and staff.
We appreciate the insight and guidance that our Board of Visitors members provide. Together with their leadership and with the cooperation of our many talented faculty, staff and students we will achieve our vision of becoming the national model for the engaged university: engaged with ideas and the world.
Jonathan Alger
James Madison University