Arts and Culture
JMU to honor May 2016 graduates
Commencement ceremonies planned for May 5-7
---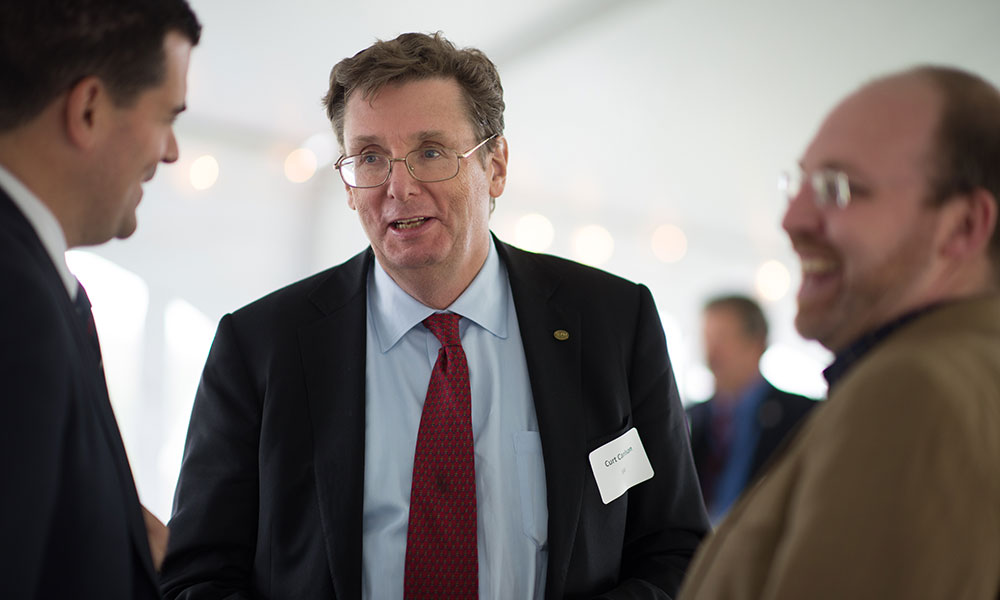 SUMMARY: James Madison University's spring commencement ceremonies, spanning Thursday, May 5, through Saturday, May 7, are times of celebration for approximately 3,300 undergraduate and 600 graduate students. The graduates, their families and friends will convene for individual college ceremonies and for the University Ceremony, which features guest speaker Curt Carlson, a major thought-leader on the practice of innovation.
---
Nearly 4,000 students will receive their academic degrees at James Madison University's May 5-7 commencement ceremonies, when the university welcomes Dr. Curt Carlson, an internationally recognized innovator and thought-leader on the practice of innovation, as guest speaker at the University Ceremony.

About Curt Carlson
Carlson is founder and CEO of Practice of Innovation, a company that works with entrepreneurs, start-ups, established companies, governments and universities to improve their innovative performance. Previously, as the president and CEO of SRI International from 1998 to 2014, Carlson helped to more than triple SRI's revenue and led the company to become a global model for the systematic creation of disruptive and world-changing innovations. Among the expansions of SRI was a new innovation center for biosciences in Harrisonburg, Virginia.
Before joining SRI, Carlson led teams at RCA, GE and the Sarnoff Corporation. In 1977 Carlson started and helped lead the high-definition television program that became the U.S. standard and in 1997, the Sarnoff team won an Emmy Award for outstanding technical achievement. Carlson has received numerous awards and served on multiple boards, including President Obama's National Advisory Council on Innovation and Entrepreneurship and the U.S. National Science Foundation's Engineering Advisory Council.
Carlson co-authored the book "Innovation: The Five Disciplines for Creating What Customers Want," which was selected by BusinessWeek as one of the top 10 business books for 2006. Carlson is currently working on a new book, "Innovation for Impact: Creating Abundance Through Innovation Across Society."

Degree and Ceremony Information
Eighteen students will earn doctoral degrees, six will earn educational specialist degrees and 569 will earn master's degrees at The Graduate School ceremony at 7 p.m. on Thursday, May 5, in the Convocation Center.
Approximately 3,280 students will officially earn their undergraduate degrees on Friday, May 6, and Saturday, May 7.
On Friday, May 6, at 3 p.m., the University Ceremony will begin in Bridgeforth Stadium. This ceremony will include guest speaker Carlson, a student speaker, a faculty speaker and involvement from the JMU Alumni Association.
The individual college ceremony for the College of Business will also occur in Bridgeforth Stadium at 6 p.m. on Friday, May 6.
The university will award all other undergraduate degrees at college ceremonies at 9 a.m. Saturday, May 7, at the following locations:
The College of Arts and Letters – The Quad
The College of Education and University Studies – Convocation Center
The College of Health and Behavioral Studies – Bridgeforth Stadium
The College of Integrated Science and Engineering – UREC East Campus Field
The College of Science and Mathematics – Alumni Centennial Park
The College of Visual and Performing Arts – Duke Lawn
As part of the commencement celebrations, a private pinning convocation and reception for 138 nursing graduates – 93 BSN, 25 RN-BSN and 20 master's – and their guests will be held in on Friday, May 6.
Eighteen ROTC cadets will receive commissions as Army second lieutenants at 2 p.m. on Saturday, May 7, during a ceremony in Memorial Hall Auditorium, where the graduates and their families will be joined by guest speaker Gen. Austin Miller.
For more details, check the commencement website at https://www.jmu.edu/commencement or the official JMU GRAD commencement app, available for free in the Apple and Android app stores.
# # #
April 4, 2016
By Sam Roth ('17)