Science and Technology
Art on the moon
Faculty member chosen to help craft artifacts from Earth
---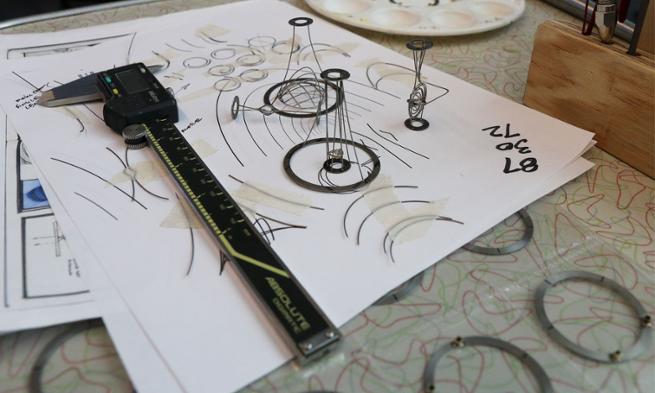 SUMMARY: The MoonArk project, a miniature time capsule representing all of the arts and humanities, will hitch a ride to the moon later this year.
---
Mark Rooker, associate professor of art at JMU, is one of about 50 international artists, scientists, designers and engineers chosen to craft a miniature human time capsule for discovery on the moon.
The gift, known as the MoonArk, contains elements representing all of the arts and humanities—art, architecture, design, music, drama, ballet and poetry. It will take the form of four elaborately constructed chambers, each holding two engraved sapphire disks, metal sculptures, microcapsules containing evidence of life on Earth, high-resolution dye sublimation imagery on metal foil, and a variety of data, imagery and physical traces. Together, these four chambers will occupy no more than 6 ounces of payload.
Since joining the team in July 2013, Rooker has focused his efforts on building sculptural components for the four chambers. His small-scale work with primarily titanium has been possible because of the laser welders in JMU's state-of-the-art Metals and Jewelry lab. To help him accomplish the task, Rooker enlisted the help of master machinist Mark Starnes in JMU's College of Integrated Science and Engineering and his student apprentices.
The project, in partnership with Carnegie Mellon University and Pittsburgh-based Astrobotic Inc., will hitch a ride to the moon later this year.
Read more about Mark Rooker and the Moon Arts Project.
###
March 2, 2016