College of Visual and Performing Arts
JMU Faculty Member's Art Gets Free Ride to the Moon: Launch Set for 2016
---
By Jen Kulju (M'04)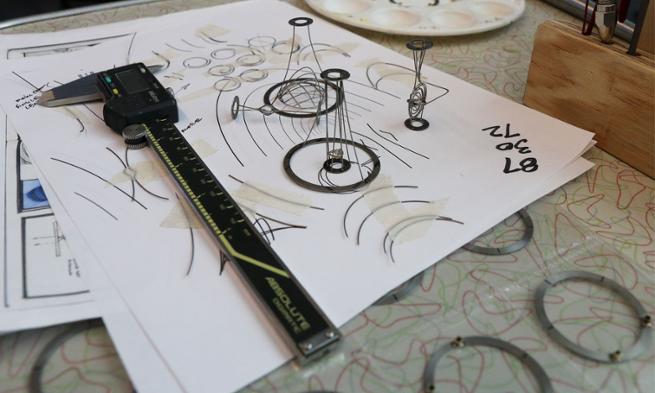 A Heartfelt Invitation
It was July 23, 2013, and Mark Rooker, associate professor and area head of the Metals and Jewelry program at James Madison University, was in his hospital room recovering from open-heart surgery when he received an email inviting him to create art for the Moon Arts Project. The project will hitch a ride to the moon in 2016 on a lander being sent by Astrobotic, Inc. in partnership with Carnegie Mellon University in competition for the 30 million dollar Google Lunar XPRIZE.
Rooker is one of approximately 50 artists in the Moon Arts Group selected internationally to "design and fabricate a sculptural artifact that will provide a deep look at humanity through both historical and contemporary lenses, last for thousands of years, endure the 238,855 mile trek to the Moon, and survive the decent to the lunar surface in no more than six ounces of total payload (half a can of Coca Cola)."
Rooker's Juicy Childhood
Rooker grew up in the Chicago area, where he had an interest in science and read veraciously. He remembers "practically hyperventilating in the theatre" after seeing Star Wars as a 9-year-old, and fed his mind with fantasy, Western and science fiction books throughout his childhood years. Rooker admits that science fiction can be dark and depressing, but he found hope in the writings of Arthur C. Clarke, Ray Bradbury and Isaac Asimov.
Rooker also enjoyed working with his hands, playing with Legos and drawing, often while watching television. "The advertisements were always really juicy," recounts Rooker, who says his interest in graphic design stemmed from steeping himself in so much television and through conversations with his fifth grade Sunday school teacher, an art director for a local publisher.
As much as he loved to draw, Rooker filled his junior high and high school schedules with shop classes. According to Rooker, "Wood shop, metal shop, a lot of what I think of as foundational to my practice as an artist, I learned in junior high shop class." Despite relishing these classes, Rooker repeatedly returned to graphic design for a career choice. He enrolled in the Graphic Arts program at Elgin Community College before transferring to the University of Illinois at Urbana Champaign, where he earned his B.F.A. in graphic design.
Rooker spent a couple of years working as a graphic designer before deciding to pursue graduate school at North Carolina State. He would transfer back to the University of Illinois to obtain his M.F.A. in graphic design, where he took elective courses in glass and metals. Rooker ended up staying on to earn his M.F.A. in metals. Following graduation, Rooker landed his job at JMU in 2000.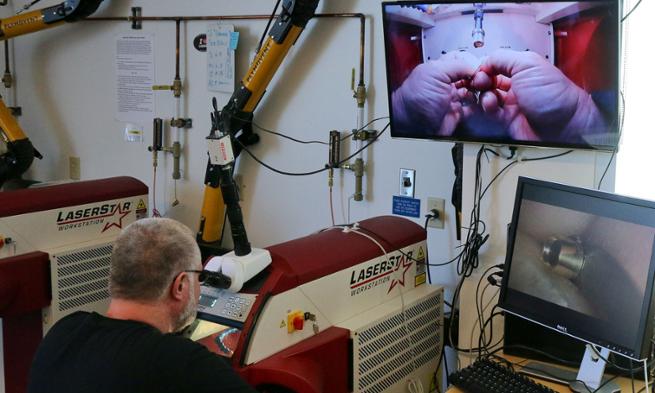 The Moon Arts Project
The Moon Arts Project came about because of two men with a shared belief in changing the narrative of space travel by leaving traces of humanity in the form of art: William L. "Red" Whittaker, founder of Astrobotic, Inc. and CMU professor of robotics, and Lowry Burgess, renowned space artist and CMU art professor. Burgess is co-leading the Moon Arts Project with Mark Baskinger, who attended graduate school at the University of Illinois at Urbana-Champaign with Rooker.
Since joining the team in July 2013, Rooker has focused his efforts on building sculptural components for the four chambers of the MoonArk, which will contain elements representing all arts and humanities (art, architecture, design, music, drama, ballet and poetry). Rooker's sculptures form the focal point for the center of each chamber. His small-scale work with primarily titanium has been possible because of the laser welders in JMU's state-of-art Metals and Jewelry lab.
"While it's not unusual to find laser welders in a jewelry store, we're one of about five universities in the country to have them in our Jewelry program," shares Rooker." They allow for an incredible amount of precision when joining tiny pieces of metal—and for joining specific kinds of metal, especially titanium like for the Moon Arts Project," reveals Rooker.
Rooker is also using the laser welders to create "rims and hubs" for sapphire disks (which will contain imagery, data and poems) that will attach to his sculptures and to micro payload chambers (or little containers) that will hold earth samples of solids, liquids and powders. To help him accomplish the task, Rooker enlisted the help of master machinist Mark Starnes in JMU's College of Integrated Science and Engineering and his student apprentices.
Rooker's role expanded throughout the project to include the building of the micro payload chambers, which will feature "a poetic sending of earthbound things" including rock samples, a moon perfume created by a well-known perfumer, and blood, to name a few.
Rooker is creating two of each component he makes in preparation for an earthside exhibition of the MoonArk after the launch scheduled for late 2016. The exhibition will tour both the United States and Europe.
Photos by Bob Adamek.