Science and Technology
Students equip drones to tackle local, global issues
---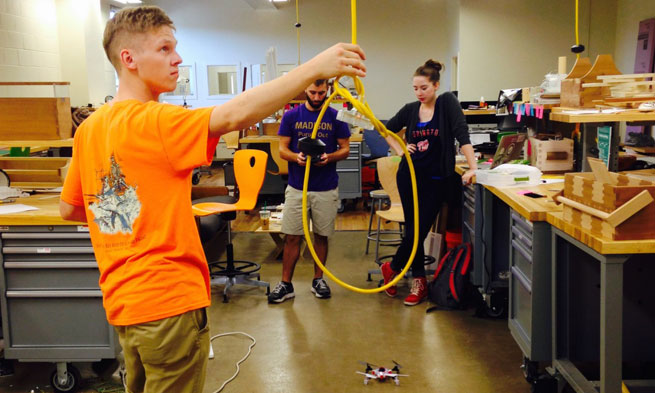 Junior Niklavs Barbars is putting his problem solving, communication and prototyping skills to use as he and his team members in the Fall 2015 JMU Drone Project class seek solutions on using drones to detect landmines.
"We're trying to use technology to find the mines instead of people looking for them on the field," said Barbars, one of two industrial design students on his team and one of 11 ID students participating in the interdisciplinary course investigating how drone technology can be used to respond to global problems.
The JMU Drone Project class is team-taught by two volunteers/entrepreneurs at NOVALabs, a community makerspace in Northern Virginia, and four JMU professors from different disciplines. Forty-two students from seven majors across the arts, humanities and sciences work with faculty and outside mentors on six teams: Air Pollution, River Mussel Populations, Telemedicine, Traffic Monitoring, Landmine Detection and Landmine Disarmament.
The teams will host a public presentation of their projects at 6 p.m. Wednesday, Dec. 9 in Lakeview Hall, the former WVPT building at the Port Republic entrance to campus.