College of Visual and Performing Arts
JMU Drone Project: Students Seek 'Sweet Spot' in Interdisciplinary Class
---
By Jen Kulju (M'04)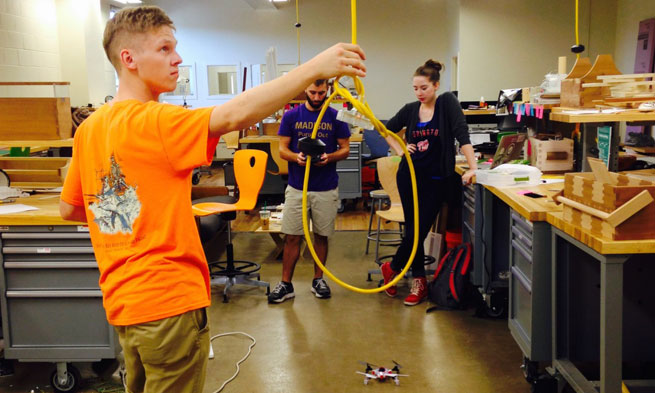 Junior Niklavs Barbars is putting his problem solving, communication and prototyping skills to use as he and his team members in the Fall 2015 JMU Drone Project class seek solutions on using drones to detect landmines. "We're trying to use technology to find the mines instead of people looking for them on the field," shares Barbars, who is one of two Industrial Design (ID) students on his team and one of 11 ID students participating in the interdisciplinary course tackling how drone technology can be used to respond to global problems.
The JMU Drone Project class is team-taught by two volunteers/entrepreneurs at NOVALabs (a community makerspace) in Northern Virginia and four JMU professors from different disciplines. Forty-two students from seven majors across the arts, humanities and sciences work with faculty and outside mentors on the following six teams: Air Pollution, River Mussel Populations, Telemedicine, Traffic Monitoring, Landmine Detection and Landmine Disarmament.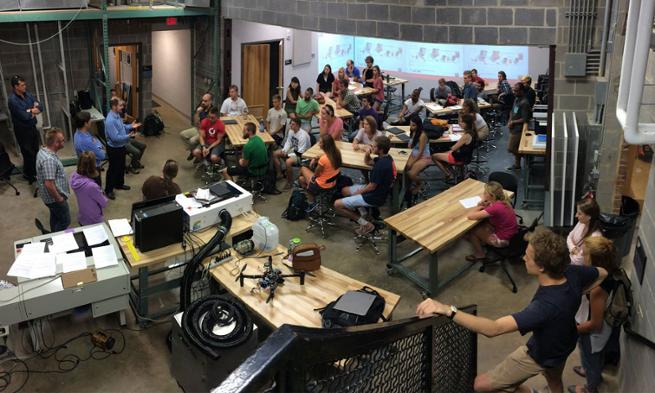 The Landmine Detection and Landmine Disarmament teams got a chance to work with Dr. Ken Rutherford, the director for the Center for International Stabilization and Recovery at JMU and a political science professor on campus. Rutherford is a Nobel Peace Prize winner and a double amputee from a landmine accident. According to Rutherford, "landmines have killed and maimed more people than chemical, biological and nuclear weapons combined." Rutherford says his experience with the drone class has been "most enjoyable" and that the student groups have been "incredibly motivated, creative and tenacious in finding drone-related solutions to the global landmine crisis."
Senior ID major Kelsey Moffitt is on the Landmine Detection team with Barbars and says she has helped her group design the drone based on how humans would interact with it; she has also done extensive research on landmines in an effort to become an "outsider expert," a principle she learned from Audrey Barnes, professor and area head for the ID program. Barnes—along with biology professor Patrice Ludwig, physics professor Kevin Giovanetti and WRTC (writing, rhetoric & technical communication) professor Seán McCarthy—facilitate the class, which is often taught remotely by the drone experts via two BEAM telepresence robots. The robots, which move around during class, each have a screen at the top of them, where the NOVALabs instructors "beam" in, much like a Skype session.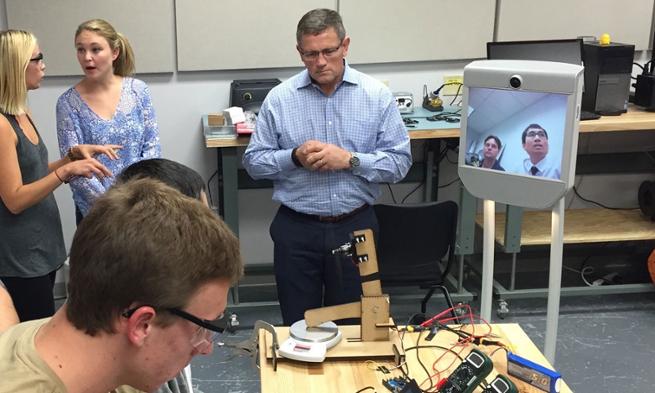 The JMU Drone Project class is funded by 4-VA, a statewide initiative committed to collaboration between Virginia universities with a specific emphasis on increasing access to STEM (science, technology, engineering and math) courses for Virginia students. It is held in the X-Labs facility in the Lakeview building on the JMU campus, which is a state-of the-art makerspace with 3D printers, laser cutters and high-tech teleconferencing equipment. The classroom is one of a few at JMU and one of many across the state created to facilitate STEM course sharing between Virginia universities, according to Nick Swayne, 4-VA coordinator at JMU. The JMU Drone Project class is one of several 4-VA courses being piloted at JMU, and is an extension of the spring class taught in similar fashion that built the drones.
Senior Josiah Lapolla, a physics and mathematics double major, was in the course tasked with building drones and is now applying his knowledge on the Landmine Detection team in the JMU Drone Project class. Lapolla says the class "epitomizes the Madison experience in that it is taking all of the knowledge built up over the years and putting it to use in order to 'Be the Change' in the world." His group is "coming up with novel ways to create cheap and efficient GPS systems to aid our drone in actual detection methods … finding landmines, and then handing over that information to disarmament." Senior physics major Jeff Small is on the Landmine Disarmament team, and among many challenges, was "trying to remotely control something that spins." Small desires a career in aerospace engineering, so could see the value in the problem solving required—and the brainstorming and designing so integral to the process of collectively resolving real-life, global issues.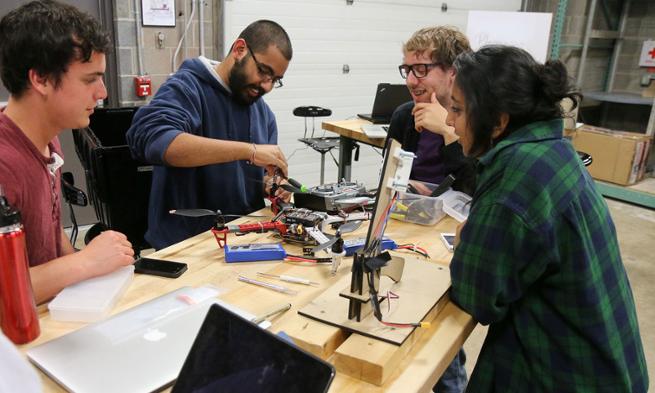 Senior WRTC major Alexa Senio is minoring in humanitarian affairs, so has specifically enjoyed working with Dr. Rutherford on the Landmine Disarmament team "going deeper into how to prevent landmines from being set off and trying to locate them." While all students are responsible for documenting their learning, Senio and WRTC students edit content written by other team members, as well as create infographics, interactive materials, videos, and website posts in various styles. Students are using tools like Videolicious and ThingLink to tell their stories in a creative, yet informative way. According to McCarthy, "Writing in professional contexts is increasingly about creating multimedia content that can be shared across many online platforms. In this course, we're trying to model that by having students describe their process using a variety of multimedia techniques." McCarthy adds that students need to write to learn—and that by formulating their thoughts, they are figuring out laps in their logic or design.

Facing design challenges as cross-functional teams has allowed students the opportunity to seek the "sweet spot" of their collaboration and of their drones—which according to Barbars is "that perfect, beautiful design in functionality and performance."

Students presented their work in a showcase event on Wednesday, December 9, 2015, at 6 p.m. in the X-labs facility. For more information on the JMU Drone Project class, visit https://sites.jmu.edu/jmudroneschallengehttps://sites.lib.jmu.edu/jmudroneschallenge/.