JMU in the Community
JMU Celebrates Record Giving
---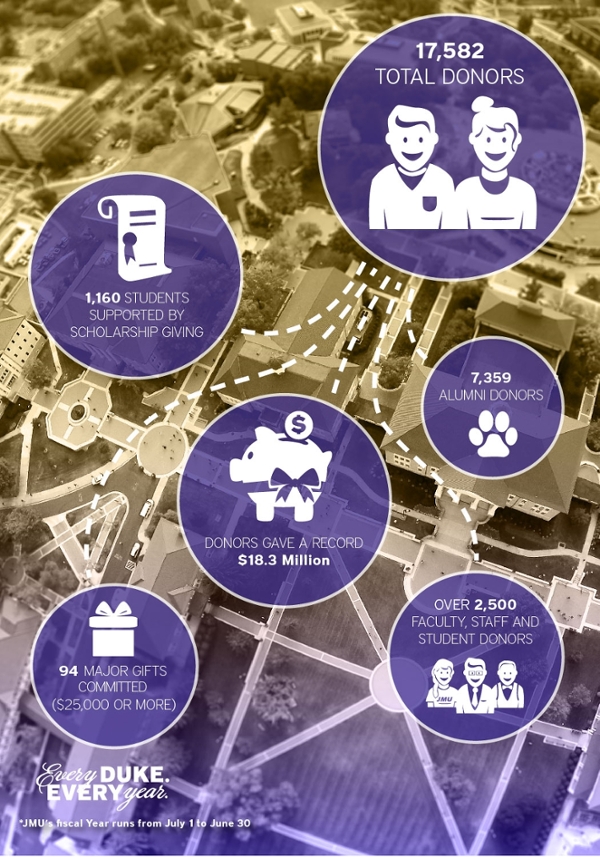 Fiscal year 2015 was JMU's largest giving year in history. More than 17,582 donors showed their belief in the university's vision for the future by contributing more than $18 million.
Last year's surge in giving originated with President Alger's Why Madison? Listening Tour, during which students, employees, alumni, parents and donors were encouraged to give input about what makes Madison great. Because that feedback informed The Madison Plan, the university and the JMU community partnered to chart the school's future together.
President Alger followed up the Why Madison? Listening Tour with the Madison Vision Tour, where he presented the Madison Plan and shared how JMU will achieve its vision to be the national model for the engaged university. In turn, alumni and friends of the university have responded by investing in the future of the university.
To culminate a tremendous year of giving, JMU will welcome to campus this weekend G.J. and Heather Hart, who recently committed more than $3 million to name the Hart School of Hospitality, Sport and Recreation Management at JMU. Their gift establishes JMU's first named school. G.J., a Shenandoah Valley native and a 1984 alumnus of the university, is the CEO of California Pizza Kitchen.
This weekend's activities will include an unveiling ceremony, at which the new logo for the Hart School of Hospitality, Sport and Recreation Management at JMU will be revealed.
Thank you to all the donors, faculty and staff, students, parents, alumni and friends who have expressed support for our vision through your contributions. You are making an impact on the Madison experience for generations to come.