Health and Behavior
Bioethics and the Eight Key Questions
---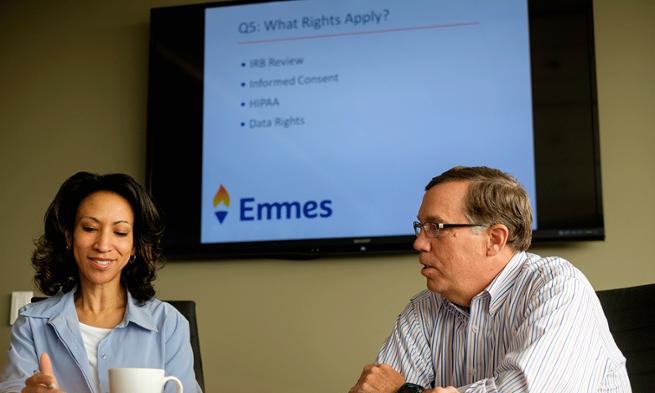 SUMMARY: Bioethics, the study of moral issues emerging from developments in biology and medicine, demands our very best, well-informed and highly effective, ethical reasoning. This edition of Madison features health care practices and systems that touch many bioethical concerns.
---
Asking Eight Key Questions can help work through the many nuanced decisions involved in health care and medicine
By William "Bill" Hawk, Chair, Madison Collaborative
Read how JMU alumnus Brian Hochheimer ('80) put the 8KQ into action at Emmes Corporation.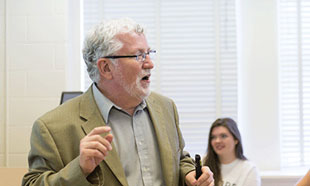 " />

Bioethics, the study of moral issues emerging from developments in biology and medicine, demands our very best, well-informed and highly effective, ethical reasoning. This edition of Madison features health care practices and systems that touch many bioethical concerns. Huge moral controversies about abortion, surrogacy, organ transplants, euthanasia and equitable access often dominate university-based moral instruction. The vexing everyday issues of executing an advanced medical directive, having children vaccinated, alleviating medical errors, initiating hospice care and declining further medical interventions call for equally nuanced moral judgments. The Madison Collaborative: Ethical Reasoning in Action, JMU's program preparing students with skill in ethical reasoning, encourages a strategy of asking Eight Key Questions to assist in working through knotty bioethical situations.
'Health care practices and systems touch many bioethical concerns. ... and frequently involve extremely complex ethical decisions.'
Behind the pills, prostheses and palliatives that we have come to expect from the health care system lays a seldom visible arena of ethical concern: biological and medical research. Clinical trials and biological research is necessary to developing therapeutic drugs and medical regimens, but these frequently involve extremely complex ethical decisions. To how much risk may we expose research subjects? How do we calculate the risk and inform the subjects in soliciting their consent? Are some members of our society unable to make an informed consent? Tough ethical questions surround the frequent use of placebos against which medications and medical interventions are tested. When very positive or negative results are being discovered, should the research regimen be stopped early? These are but the tip of the iceberg of bioethical questions that surround that scientific research necessary to produce safe and effective medical interventions.
'Bioethical issues will only become more complex and difficult as research and technology proceed. ... JMU [wants] students and alums to be change agents with a strong moral compass.'
Early this summer Madison Collaborative faculty members were privileged to work with a company that assists and manages medical and biological research. Brian Hochheimer ('80), chief financial officer of Emmes Corp. in Rockville, Maryland, contacted us after reading about the Eight Key Questions strategy in Madison magazine. He wanted to make it available to Emmes' professionals. The company contracts with the National Institutes of Health and other government, university and private research organizations to set up and manage clinical trials and research studies. "Ethical reasoning and clinical trials are intertwined. A clinical trial must have an ethical foundation in order to advance science," says Hochheimer. "Emmes is Hebrew for truth. Our work must be perceived to be truthful and accurate for us to be a partner in the scientific pursuit."
Bioethical issues will only become more complex and difficult as research and technology proceed. As JMU students and alums such as Brian Hochheimer engage with those knotty problems, we want them to be change agents with a strong moral compass. Questioning our reflexive responses to complex issues with an accessible set of ethical questions, Eight Key Questions, is proving to be a useful way to clarify moral direction. As Hochheimer says, "The Eight Key Questions of the Madison Collaborative are woven into the framework of what we do at Emmes. … An ethical approach to business is at the core of the Emmes culture."
Better ethical decision-making benefits not only the decision maker, but everyone. We encourage all JMU alums to adopt the practice of asking Eight Key Questions before making moral decisions.
Editor's note: The article above appeared in the fall 2015 issue of Madison. Hochheimer volunteered to give Madison readers an inside look into how the Emmes Corporation uses the 8KQ to promote ethical decision-making in the conduct of clinical trials and studies. You can read his extended comments below.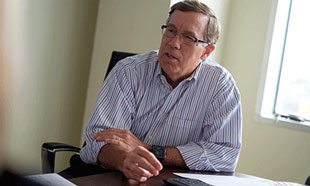 The Eight Key Questions are "embedded in Emmes' DNA," says Hochheimer. "The conduct of a clinical trial or study embodies all of the concepts of the Madison Collaborative and the 8KQs. It begins with protocol development and study design, and carries through the creation of informed consent documents, the design and development of study forms to the commencement of enrollment and data collection. Then, when completed, it is imperative that the data is handled in a way that creates trust and confidence in the reports and papers generated and published."
Outcomes
Project selection at Emmes is based upon science first and profit second. We are committed to protecting the credibility and integrity of our staff and to ensure public trust in our research related activities. Emmes leaders will not sacrifice their individual and our corporate reputation for the promise of a short term gain. It is a champion approach to taking on new projects. Unless someone on the leadership team is prepared to champion the project, and convince the leadership team of the viability of the science, we won't pursue the business.
Fairness
For a clinical trial or study, once the protocol has been established and approved, the informed consent document is the critical piece of the study. At the outset of the trial it receives more scrutiny than nearly any other study document. As a government contractor we have to adhere to their accounting and billing rules for contracts and grants. We have to balance their requirements with the requirements of our commercial clients.
Authority
Emmes answers to a number of "higher beings." We adhere to the rules and regulations applicable in our field and through training ensure that our staff are current and up to date in all relevant jurisdictions.
Rights
Above all, we have an obligation to protect the human subjects involved in our trials. All trials are reviewed by an Institutional Review Board. In addition to the IRB reviewing the overall trial (at the sponsor level), Emmes has its own internal IRB responsible for reviewing all projects to ascertain that the specific work being performed by Emmes for that trial is appropriate.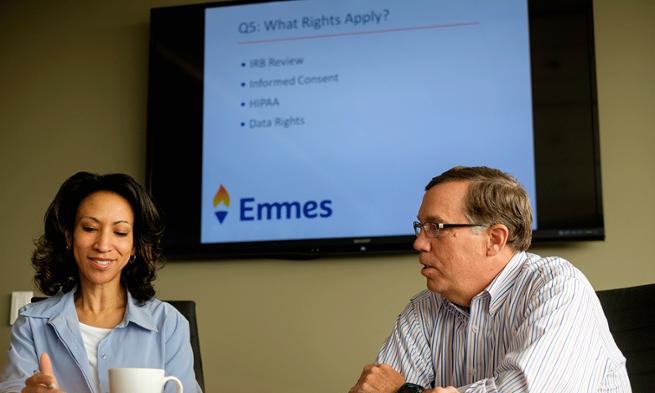 Responsibilities
Emmes holds its staff to standards that exceed those required by its clients. Staff are not allowed to hold equity stakes in our clients or study partners. Emmes expanded the definition of "Principal Investigator" for financial conflict of interest reporting to ensure that even the appearance of a conflict or impropriety is avoided. When we are responsible for convening IRB panels and DSMBs, we are responsible for making sure that these groups are staffed with the proper level of expertise and experience. Our internal training programs are designed to ensure that staff have the necessary skills and experience to fulfill their duties – which ranges from computer programming to clinical site monitoring.
Empathy
Many of our studies involve subjects with serious health issues. Some studies require staff travel to locations where risk of infection exists. Even though we are not directly involved with the care of the human subjects in the trial, Emmes staff are acutely aware of the impact our work has (or could have) on the trial participants. Some of our scientists are interested in a particular modality because a close friend or relative has been stricken with that disease. All of these situations combine to create an empathy for the human subjects involved in the study.
Character
Emmes, and its Principal Investigators, are committed to completing the task at hand. When finances and trial responsibilities collide, we find ways to get the job done. Stopping work in the middle of a trial is not an option where trial subjects could be placed at risk. The outcome of the trial can greatly impact our study partners. A doctor's career could be launched by a successful study. The stock of a pharmaceutical company could dramatically rise or fall based upon reported results. The ability of our Principal Investigators to deliver fair and balanced trial results is critical.