News
JMU Francis
---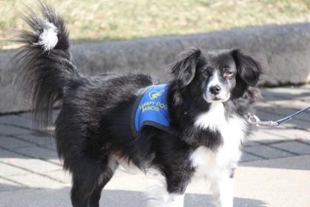 Padding softly across The Quad of James Madison University, the dog pauses and patiently greets students who approach with outstretched arms asking, "Can I pet the dog?"  Although many dogs frequent campus, this dog is different. He wears a blue vest and carries himself with a calm, almost laid-back demeanor. He is Francis, the Counseling and Student Development Center's therapy dog and he is here to work.
"Students love Francis," said Rachel Tysinger, a first-year psychology graduate student studying clinical mental health counseling who has a graduate assistantship with CSDC.  Tysinger walks Francis on Wednesdays, what she calls his "PR Day." "First you get the 'awwwws,' then as they are petting him I ask if they know about Francis and share that he sits in on counseling sessions at the CSDC."
Francis began working at the CSDC in February 2011 as an animal therapist. Animal Assisted Therapy involves intentional, goal directed use of an animal in a therapeutic setting. Colleen Tennyson, a psychiatrist at the CSDC and Francis' owner, said she adopted him from the Harrisonburg SPCA in 2009. "AAT is not just bringing a pet to work. Using the human-animal connection with intention to ease psychological suffering sets AAT apart from having a pet in the office," said Tennyson. She also points out that Francis is not a service animal. While both kinds of animals wear a vest to identify themselves, service animals focus on one individual and refrain from other interaction when working. The opposite is true for a therapy dog. "The expectation is that an animal therapist will get lots of attention while working," she Tennyson.
Rebecca Warden, a sophomore computer information systems major said, "My first session with Francis was a surprise. I walked into my normal meeting with Dr. Sylvia Hanna and there he was, being super-cute and adorable." Warden said Francis reminds her of her pets at home because he is calming, letting her pet him, hold him and hug him. "He is there even when I feel like I don't deserve love or attention," she said.  
Tennyson said each appointment with Francis looks different – in some a student might invite him to sit on his/her lap and the human-animal bond will help students experience, understand and talk about difficult emotions. In other session he aids the therapist, allowing the clinician to role-model different behaviors such as being an assertive pack leader, setting boundaries and offering care and compassion to an animal. And sometimes he just naps. "Having an animal therapist in the room, even without direct interaction, helps create a safe therapeutic environment," said Tennyson. She does point out that animal therapy is not for every client and that individuals with allergies or phobias would not benefit from animal therapy.  However, the benefits that Francis brings to students and the CSDC staff have far outweighed the risks.
Ethan Bannar signed up to walk Francis as part of his PSYC 402 peer mentoring class. A junior psychology major, Bannar said he did not grow up owning a dog, so wasn't quite sure what to expect. "He's a really chill, personable dog. Every 10 feet we had to stop because students wanted to pet him and were curious to know about Francis' therapy vest," he said. "Students' initial response was just like mine, they didn't know this was a 'thing' at JMU."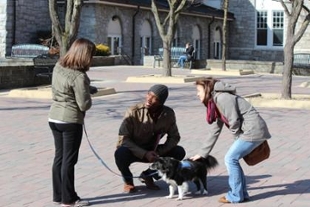 Tysinger has seen firsthand the effects Francis can have on a social campus like JMU.  She has catapulted Francis' popularity on their walks together into "JMU Francis" a successful Facebook page that promotes positive mental health awareness. While a student might be hesitant to "like" the CSDC's Facebook page, Francis' fun and entertaining page alleviates negative stigma associated with mental health while still being relevant and informative. "We need to talk about mental health to make it less taboo," said Tysinger.
Warden said she has recommended CDSC and sessions with Francis to her friends at JMU.  "I recommend regular sessions to anyone that is dealing with personal issues, and Francis to any of those people that also like animals," she said. "I have found being in therapy with Francis is extremely calming and can help in the way the company of only a dog can." 
This spring Francis will be working mostly on Tuesday, Wednesday and Friday.  He works in identified rooms to ensure students with allergies or fears can continue treatment without encountering Francis.  Francis typically works with 10 students per week.   Students who have worked with Francis in the past reported they felt comfortable with therapy, experienced a positive change in mood, felt supported and accepted and experienced a decrease in anxiety during AAT sessions.  
Learn more about the Counseling and Student Development Center
By Paula Polglase ('92, '96), University Communications
###
February 7, 2014