News
Information Literacy 2.0
---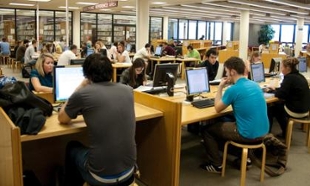 James Madison University Libraries and Educational Technologies has upgraded its information literacy assessment for first-year students beginning this fall.
Madison Research Essentials is a set of five Web-based instructional units designed to introduce freshmen and transfer students to JMU library services and to teach them how to find good information, including locating, evaluating and properly citing sources as part of academic research. The new modules will replace the Go for the Gold training, which had been in place since 1997.
Information literacy is a core requirement within Cluster One of JMU's General Education program that brings together basic skills in reading, writing and oral communication. GCOM faculty will embed Madison Research Essentials within their courses in either the Blackboard or Canvas learning management systems.
All students must pass the new Madison Research Essentials Skills Test during their first year at JMU. The multiple-choice test can be taken at any time in Ashby Hall.
JMU believes that students should develop information literacy skills early in their undergraduate careers to ensure successful completion of coursework and to prepare them for life after graduation.
"It's important for students to understand that while they're here, they're part of a scholarly community," said Jenne Klotz, director of library instruction. "They're not only consumers of information, they can also contribute to the body of research on a topic that they're interested in."
The ability to locate and analyze information will also serve JMU graduates well, regardless of their career path, according to Kathy Clarke, General Education librarian. "All of us are presented with an information landscape and we have to figure out how to navigate it."
For a generation of students who grew up with the Internet and popular search engines, the focus of undergraduate research has shifted from locating information to being able to evaluate search results for relevancy and accuracy. "Finding good information is a bit of a moving target," Klotz said.
In order to give students practice in using the basic skills presented in Madison Research Essentials, GCOM faculty make assignments that require students to find information related to the content of the course.
"What we are hoping to introduce them to is that there's a difference between the quality and accuracy and even availability of information that you can get going through our library databases than you can through Google or even Google Scholar," said Cluster One coordinator Gretchen Hazard, who helped pilot Madison Research Essentials in her sections of Fundamental Human Communication (GCOM 123) during the fall 2012 and spring 2013 semesters.
Student feedback was key in developing Madison Research Essentials, and JMU's Center for Assessment and Research Studies helped analyze their responses. The new units are designed to be more interactive and include short video lessons. The result is a modern information literacy assessment that developers say is more challenging than Go for the Gold, but still fair.
"The most common complaint that I heard about the pilot was that it's hard," Hazard said. "When somebody tells me something was challenging, that doesn't mean that it wasn't effective or that it wasn't good." 
###
July 10, 2013