JMU in the Community
Challenged, but not alone
---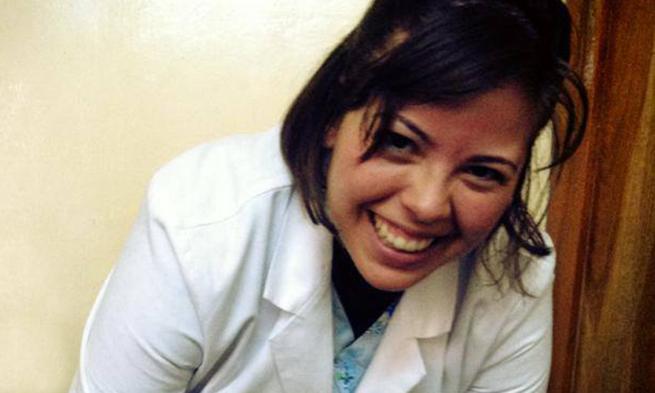 SUMMARY: Professors helped make Michelle Amaya's college career a success, developing her confidence and the drive to achieve her dream.
---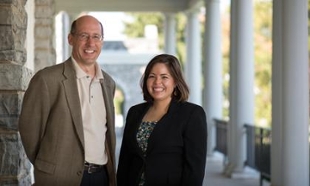 Senior Michelle Amaya ('14) admits that four years ago it was a toss-up where she would go to college. She had been accepted to several schools, including JMU, and liked them all. JMU, however, offered avenues to "get plugged in" she says. Amaya chose JMU because she could enter as a Centennial Scholar and an Honors student. She knew she would receive mentorship and peer support through those programs.
Her instincts were right. She made close friends very quickly during her freshman year living in Shenandoah Hall in the Honors Living and Learning Center. "Everyone was very dedicated and serious, working hard to succeed in classes," she says. The group shared plenty of extracurricular activities as well. Like many other JMU Centennial Scholars, Amaya is a first-generation college student, but the scholarship program offered peer support and guidance for navigating campus life.
Professors helped her develop confidence; a service abroad experience helped her decide her future.
While Amaya, who grew up in Chesapeake Beach, Va., and El Salvador, enjoyed the ready kinship of her Honors classmates she found plenty of variety on Madison's campus. "People may say that JMU doesn't look that diverse," she says, "but it is extremely diverse in the way people think."
Coursework has been demanding. "It definitely has been more academically challenging than I expected," she says. She sums up her initiation to JMU academic life in one word—"humbling."
"I remember sitting in class and thinking, 'I'm not a chemistry major, how am I ever going to learn this?'" she says. She found out that chemistry professors were ready to help. "Dr. Mary Tam has been a mentor over these four years. I really did struggle with chemistry a lot, and she was always there. And, Dr. Kevin Caran was another of my favorite professors."
At the beginning of her college career, Amaya felt some consternation over her ambition to work in the medical field. "I was undecided between being a physician assistant or a doctor. I battled that for several semesters until I made the choice to commit to being a doctor. I realized that was my passion. I think I was just scared for awhile which led me to contemplate whether another career or path would be better."
JMU professors played a large role in developing her confidence and the drive to achieve her dream.
Dr. Sharon Babcock's anatomy class was Amaya's favorite. Babcock made it easy to put aside any trepidation as to subject matter. "I never dreaded going to class or all the things we had to learn," she says. "It was so much fun. Every time I left the class I felt inspired and really interested in what we were learning." Amaya particularly appreciated that Babcock acknowledged her students as professionals. "She always referred to us as anatomists, and she made us believe that we really were worthy of the title."
Another confidence-builder was history professor Steven Reich. Amaya credits Reich for encouraging her to apply for a Hillcrest Scholarship, awarded to outstanding sophomore honors students. When Amaya won the scholarship, she traveled to Bolivia on a global health internship to mentor orphaned children and shadow pediatric physicians. "The trip confirmed my call to serve in the medical field and allowed me to see the reward of the hard work I invested in my academic career," she says.
Now, when asked to contrast her pre-college expectations with the reality of her Madison academic experience, Amaya says, "JMU was academically challenging, but that's why I've been able to develop relationships with my professors. They've helped me out a lot in my struggles. It's not like I've been alone, it's just been more challenging."
To learn more about the Honors Program: http://www.jmu.edu/honors/index.shml
Learn more about the Hillcrest Scholarships: https://www.jmu.edu/honors/scholarships/hillcrest/index.shtml