Fields of Green and Silver
News
---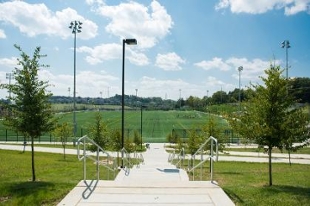 Standing at the top of University Park, James Madison University's 65-acre complex dedicated to sport, one can survey the numerous green fields, walking paths and students participating in sport and take for granted the planning and care that went into creating a space based on sustainable practices of design.  JMU's continued dedication to stewardship of the natural world was rewarded when University Park received the Leadership in Energy and Environmental Design silver certification from the Green Building Certification Institute. 
Built on the corner of Port Republic Road and Neff Avenue, University Park houses facilities for athletics and recreation.  According to Bryna Dunn, director of sustainability, planning and design for Moseley Architects, the firm that designed University Park, the university was committed from day one to following LEED design standards, which was unique considering the size and scope of the outdoor project. 
Director of University Recreation Eric Nickel said, "LEED certification is difficult to do in an outdoor facility, so it is great news to learn that we were able to achieve this. We had worked and hoped for it in our planning, but you are not scored or awarded certification until after the project is complete."
According to Nickel, two of the major sustainable efforts in construction included reusing rock and runoff water retention. The large amounts of existing on-site rock were crushed into the gravel used in the landscaping. Large cistern systems were installed underground and these retain and filter runoff water before returning it to ground sources.
Among the other sustainable features of University Park are vegetated space on over 45 percent of the site; day-lit offices and meeting rooms; and the use of plumbing fixtures that reduce water use by 45.2 percent compared to the LEED baseline.  In addition, public transportation access, parking for fuel-efficient vehicles, construction waste management, use of regional and low-emitting materials and water efficient landscaping added to the project being awarded LEED silver certification. 
"While I have been impressed with many of the green features that have been worked into this project, perhaps one that I am most excited about is the energy efficiency of the sports lighting," said Dunn.  Musco sports lighting uses a series of reflective surfaces to reduce light "spill" and direct a higher percentage of light on the playing surface.  According to Nickel the lighting is very efficient in terms of energy usage per lumen of light, both in terms of the energy used by the lamps themselves and the way that the fixture is engineered.
George Nasis, the managing principal of the project and a vice president of Moseley Architects, said, "We enjoy working with JMU and share their commitment to sustainability.  In working on a project dedicated to improving health and wellness, it's rewarding to carry that goal throughout the design and construction process."
###