Iraq and Back to JMU
JMU News
---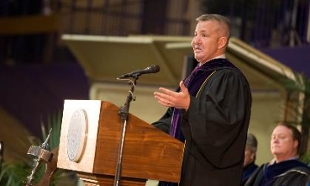 Walking across the stage at James Madison University's commencement 20 years ago, Justin Constantine ('92) could not anticipate this moment, the moment he took the stage as the keynote speaker for JMU's 2012 December commencement.   Constantine, now a lieutenant colonel (select) in the U.S. Marine Corp Reserves, shared his story of being wounded in Iraq, his faith in young people and his passion for service at the Dec. 15 ceremony for nearly 800 undergraduate and graduate students. 
As a Marine reservist Constantine volunteered for deployment to Iraq in 2006.  While on a routine combat patrol on October 18, 2006, Constantine was hit by a sniper's bullet in the side of his head behind his left ear.  His catastrophic injury and inspirational recovery has led Constantine to serve and represent wounded veterans.  "It is so refreshing to see JMU shining the spotlight on wounded warriors and I consider myself here today as a representative of that community."   
Constantine's message to the graduates focused on the opportunities that lie ahead for the Class of 2012.  "You are in such an exciting time and place right now and all of us who have walked in your shoes know that.  The world is wide open right now for you and I mean it when I say you can do anything you want," he said.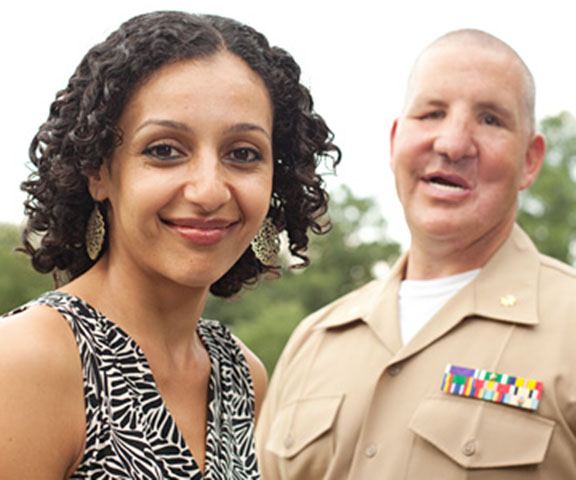 "Without a doubt, the highlight of my career has been the time I spent in Iraq," he said.  "Not too many lawyers get to lead Marines in a combat environment and I learned a lot about myself during that time."  He also learned about working with young people the same age as the average JMU graduate.  He owes his life to the courageous actions of two young Marines who treated him in the field and transported him to safety, both disregarding their own safety to do so.   
Constantine used the example of these young Marines to challenge the Class of 2012.  "Opportunities for you to contribute to society and to help your fellow man, and woman, exist around every corner," he said.  "JMU has a strong tradition of public service.  I believe everyone owes a duty of service to our country.  Mine was through the military and my wife's is through her amazing work as a teacher, but there are hundreds of other ways.  I hope each one of you finds your way too."
In his introduction President Jonathan R. Alger said, "What happened just six weeks into his deployment would not only change Justin's life forever, but also change the lives of many wounded soldiers with whom he has worked since—and inspire countless others who have heard his story over the past six years." 
In the area of service, Constantine leads by example.  He is committed to bettering the lives of fellow veterans through his work with the Wounded Warrior Project.  In 2011 he received the WWP's George C. Lang Award for remarkable courage and service to his fellow warriors.  He has also been recognized by the Commonwealth of Virginia and the Give an Hour Foundation and is a member of the Department of Defense Recovering Warrior Task Force.  
He is the recipient of the Purple Heart, Combat Action Ribbon and the Navy-Marine Corps Commendation Medal.  Constantine is a practicing attorney with the Federal Bureau of Investigation's National Security Law Branch and he also shares his inspirational lessons of recovery as a motivational speaker.
Finance major Stephen Gianfortoni ('12) said he will take away several lessons from Constantine's inspirational words today.  "Set out to do what you want to do and remember that you have options.  Always be prepared for the unexpected and use those opportunities to your advantage and take what you have and use that to serve others."
Constantine wrapped up his address by encouraging the graduates to use their time wisely and to find someone to share their life with.  "I know that life can be very difficult and we all face challenges.  But take it from me - life is also sweet, precious and something we should treasure, not just get through."
To learn more about Justin Constantine ('92): https://www.jmu.edu/bethechange/stories/constantineIraqAndBack.shtml
###