Being the Change
Saving Lives in South Africa
---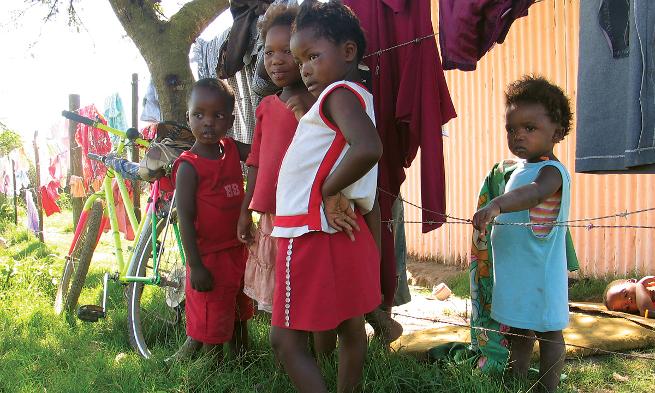 SUMMARY: An alumna, a professor and students from James Madison University involved in fighting the AIDS epidemic in South Africa offer persuading proof that in a quest to better the world, good fortune can indeed be found seemingly by accident.
---
Be the Change and serendipity

Few people would speak of serendipity and the AIDS crisis in South Africa in the same breath. After all, the South African HIV/AIDS epidemic is considered one of the most severe in the world. It is ravaging the country's population with alarmingly high rates of HIV infection, leaving hundreds of thousands in need of antiretroviral therapy and faced with a government that has received criticism for being negligent in handling the health crisis. 
Nonetheless, a JMU alumna, a professor and students who are involved in fighting the epidemic there are convinced that serendipity can exist even in grim reality and offer persuading proof that in a quest to better the world, good fortune can indeed be found seemingly by accident.
An auspicious chain of events begins
For JMU health science professor Debra Sutton an auspicious chain of events was set into motion in 2005 when she began plans to organize a Study Abroad program with an HIV/AIDS prevention focus. Well aware that South Africa had the highest rate of HIV/AIDS in the world, she embarked on a path that would lead to a most unexpected and welcome contact -- a meeting she terms as simple, undeniable fate.
As she began research, she learned of the Desmond Tutu HIV Centre at the University of Cape Town, the Kidzpositive Family Fund and Dr. Paul Roux. Roux, director of pediatric medicine at the University of Cape Town and Groote Schuur Hospital's pediatric HIV/AIDS service, is co-founder of Kidzpositive, an organization dedicated to improving the health of HIV-positive children in South Africa. He encouraged Sutton to include a visit to the Groote Schuur Hospital in Cape Town to see their work firsthand.
Continuing to line up prospects for her program, she found herself sitting at the computer one night in fall 2006. "I decided that I would Google South Africa AIDS charities in Virginia," says Sutton, explaining what would prove to be the most fortuitous turn of events in her plans.
25:40 and South Africa's children
An organization known as 25:40 was at the top of her search results. The group's special focus is on South Africa's children -- a staggering 1.1 million -- orphaned by the HIV/AIDS epidemic. As she investigated its Web site, she found that the organization supported Kidzpositive, the work she had already learned about from Roux. It was a sure sign to Sutton that she should get in touch with the nonprofit organization's directors, Alec and Amy Porter Zacaroli.
Sutton admits she wasn't prepared for what she discovered next. When Amy Zacaroli returned her phone call she said, 'Well, you know, before we talk any more, just let me tell you that I am a JMU graduate!"
"I just knew it had to be," Sutton says, affirming her conviction of the serendipitous nature of her plans. Equally sure that their contact was the outworking of destiny, Zacaroli ('88) says, "It was like we were meant to find each other."
In 2003, the Zacarolis saw a documentary film about an orphanage in Cape Town that takes in HIV/AIDS infected children. "It was the most heart-wrenching thing to see children with scabs all over their faces trying to live a normal childhood. They were so sick, and there was no way to treat them," Zacaroli remembers. Up until the early '90s, while the rest of the world was getting treatment for the disease, South Africa did not allow antiretroviral drugs, known as ARVs, in the country. The Zacarolis were watching images of children who would die before they reached 5 years of age.
The images changed the Zacarolis' lives and in time would prove to be the catalyst for change for hundreds who were more than 7,000 miles away in South Africa. "We couldn't turn our backs," Zacaroli says.
They took inspiration from Jesus' words in Matthew 25:40, "I tell you the truth, whatever you did for one of the least of these brothers of mine, you did for me." They would pursue a twofold mission: help the children in South Africa get access to health care and a good education, and raise awareness in the United States about the impact that AIDS and poverty have on children that they consider neighbors.
Thus, 25:40 was born.
Serendipity in the midst of an epidemic
The contact with Amy Zacaroli cemented Sutton's hopes for establishing a real JMU connection with those in South Africa fighting the epidemic. The auspicious beginnings of Sutton's Health 490 class, HIV/AIDS Prevention in South Africa, came to fruition in May 2007 as 10 students participated in the course, seeing firsthand the effects AIDS has had on South African communities and the efforts under way at the Desmond Tutu HIV Centre and the Centre for the Study of AIDS at the University of Pretoria to curb the epidemic. Participants also traveled to Robben Island and participated in a safari at one of South Africa's wildlife preserves.
Since then, Sutton has continued her study abroad trips to South Africa. During their days in South Africa, Sutton's students accompany AIDS community monitors as they walk for miles a day looking for children who have not been brought to the clinics and pregnant women who have not had treatment.
For all, the experiences in South Africa are compelling. Zacaroli is thoroughly convinced that reward and fulfillment come from connection with other people, not possessions or titles. Sutton wants her students to understand a profound lesson as well. "Everything is connected. That's a lesson I've been fortunate to know for many, many years; and one I want my students to learn," she says. So Sutton makes sure that each student preparing to go on their Study Abroad trip to South Africa hears the story of her meeting Zacaroli. Both women are convinced that the chance to change the world can come from a seemingly random occurrence, a serendipity of destiny and human goodness.