Being the Change
For JMU Students, Refugee Plight Hits Home
---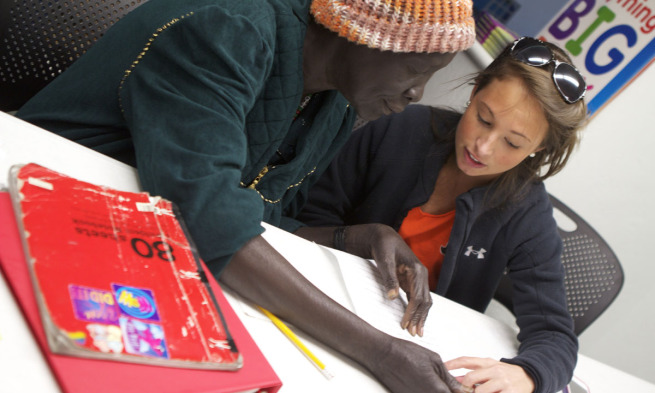 An Alternative Spring Break offers JMU students a life-changing experience
By James M. Heffernan ('96)
Editor's note: Read the personal reflection of ASB trip co-leader Jake Williams ('13) on the Be the Change blog.
To hear your professor talk about genocide and civil war in east Africa can be interesting; to hear about it from Sudanese refugees who survived the brutal killings as children and later walked more than a thousand miles to a United Nations camp in Kenya, where they endured a decade of intolerable living conditions before being brought to the U.S. — well, that can be life-changing.
Twelve James Madison University students were given the opportunity to meet and talk with some of the "Lost Boys of Sudan" during an Alternative Spring Break trip to Phoenix, Ariz., as part of a semester-long course on genocide and refugee issues led by instructor Aaron Noland in the School of Communication Studies. The trip focused on fulfilling the needs of both Sudanese refugees at the Lost Boys Center and other exiles in the Phoenix area through the local Catholic Charities chapter.
Teaching advocacy
This year's trip marked JMU's second Alternative Spring Break program in Arizona, which was started by two of Noland's former students, Emma Sheehy and Jacqueline Moody. Noland, who became interested in genocide and refugee issues as a graduate student during the outbreak of genocide in Darfur, participated in the first JMU trip in 2011 and came away wanting to build a class around it. He feels it's important for students to understand what's going on in these countries where genocide is present. "My personal politics is that if we stand by and watch when we know this is happening, we are, at a minimum, complicit in its action," he said.
Before embarking on their trip, the students, mostly communication majors, checked any preconceived notions of mission work or cultural superiority at the door. "In terms of service learning, if you go in saying, 'We're here to help you,' that implies a relationship of superiors and inferiors," Noland said. "We didn't want to do that." As context, the group had discussed the history of the wars in east Africa, the issue of genocide and some of their own expectations for the trip. But having previously met members of the Lost Boys, Noland wanted to leave the power of storytelling to the refugees themselves.
"The Sudanese were just incredible," said trip co-leader Ally Borger, a junior SCOM major from Wayne, N.J. "They really wanted to talk to us, that's their goal. They want to use us, as American students, to tell their story in the hopes that we'll talk about it and get other people intrigued about it and eventually help put a stop to these problems all around the world."
Sharing and learning
The students divided their time during the day between teaching English as a Second Language classes at the Lost Boys Center, helping set up an apartment in Phoenix for a newly arrived immigrant family and delivering necessities like soap and toilet paper. In the evenings, there were plenty of opportunities to share stories. One night, the students hosted a barbecue for the Lost Boys. "It was like a Sudanese-American Thanksgiving," Borger said. "Just hanging out, eating, enjoying each other's company. Everyone was so happy. It felt like home."
The hope and optimism exhibited by the refugees, despite having endured unspeakable hardships, was infectious. "It definitely rubs off on you," Borger said. "If they can go through everything that they did and be this happy and excited about the littlest of things, what in the world could cause us not to feel the same way when we go about our daily lives?"
"They are a testament to the resiliency of the human spirit," Noland added. "You're just amazed at how lucky they feel, whereas we would look at it and say, 'this is terrible.'"
The Alternative Spring Break trip to Phoenix, Ariz., is part of a semester-long course on genocide and refugee issues led by instructor Aaron Noland (top right) in JMU's School of Communication Studies. Photo courtesy of Jake Williams ('13)
Spreading the advocacy message
Noland said the Lost Boys Center in Phoenix has been undergoing a transition since South Sudan became a sovereign nation last year. "For a long time, it was a safe haven, a place for refugees to gather and hang out, almost like a Boys and Girls Club." Now, he said, the center is starting to focus on advocacy and leadership training, both for Americans who want to go to Sudan to work and refugees who wish to return to their native country.
As part of the class, the students are writing a blog, "EraseIndifference," detailing their experience and helping raise awareness of genocide and other global atrocities. "We don't even think of it as a class," Borger said. "It's so communicative and experiential. It's different than anything we've ever taken."
Noland said his hope is that the students' "antennae" will go up as a result of the class and that they, in turn, will pay more attention to social injustices and become advocates within their own social circles.
"Yes, hopefully we did help impact people, but we were also being impacted ourselves," Borger said. "We just want to take everything that we did there and help make a difference in the future with advocacy, awareness and understanding."