Being the Change
Madison World Changer Sarita Hartz and the Zion Project
---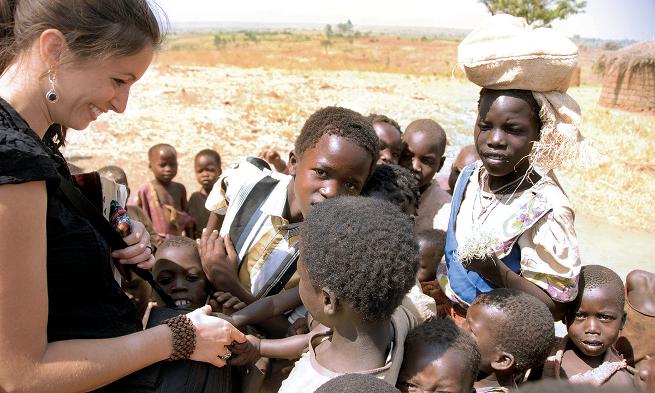 In this interview, Hartz ('02) reveals her dedication to transforming hearts and empowering the lives of girl child soldiers in Northern Uganda
Elizabeth Holena ('07)
Holena: What is the purpose of Zion Project? Why did you decide to create this organization?
Hartz: The purpose of Zion Project is to transform hearts and empower lives of girl child soldiers to revolutionize war-affected communities in Africa.
In March 2006, I went to Uganda for five months and saw with my own eyes things I had only read about. I saw the disease, starvation and desperation of communities that were now forced to live in crowded camps because of a 20-year war that the outside world knows little about. I heard the community say they wanted to go back home and they wanted to work their own land. But what was most unjust of all were the young girls not going to school, but caring for infants as a result of their rapes. I sat down and spoke with these girls and found that while some are taken to reception centers upon escaping their captors, most do not receive counseling or care after being returned to their camp. Their neighbors often call them and their children "killers." After seeing corruption in both the government and in aid organizations, I decided to start something of my own to ensure that donors' money would be invested where they intended — in the lives of those who need it most.
Holena: Tell us about your recent trip to Uganda.
Hartz: Basically this trip was about trying to figure out my next steps in terms of setting up a nonprofit in Uganda. I needed to do more research about how this project is going to work and where we are going to begin as well as investigate the process for applying as an organization over there.
I have so many memories of the trip. One sticks out in particular. I went to an orphanage of children who used to live in child-headed households (raising themselves). The night I saw a room of huddled children on their knees, skinny arms outstretched to the sky, or faces pressed to a dirty floor with tears of worship to a God they truly believed in, I knew that revival is coming to Uganda, and it is coming through children. They gave me hope that Uganda will not always be at war, but that there will be peace, not only for a country, but in suffering hearts. One boy used to run away when he first came to the orphanage. He was so used to the camps and to aloneness he did not know what it was like to be loved. He jumps higher than them all now. It can happen. Lives can be changed for the good, hope restored to the destitute, even when peace agreements fall through. The children taught me that. And given the chance, they could teach their country and the world that too. People can read my blog to see more about this remarkable transformation at http://www.zionproject.org.
Holena: What do you enjoy most about volunteer/nonprofit work?
Hartz: It is what I was made to do, so I love it because when I do it, I am most fully myself. But I also believe I am investing in something larger than myself and therefore it will outlast me. Everyone wants to leave a legacy, but often it is the simple acts of love to those who are in need, that create beauty in the world and set us free from our own selfishness. I love that is always surprises me how much I learn and receive in comparison with how much I give.
Holena: Your blog says you enjoy writing. What do you like to write about? What gives you inspiration?
Hartz: I write poetry. I write my blog. I write on napkins in restaurants and on scraps of junk mail! I write because I have to, and I write about what I need to get out of me in order to live. I've been published, but it's more about what I get out of it, than it is if people recognize it. (Readers can check out Hartz' work at https://www.authormark.com/article_742.shtml.)
Holena: What are your future professional goals/plans?
Hartz: I just try to take it one day at a time and focus on what I can do to make the lives of the people I love in Uganda a little better. I find that plans are often changed, and we have to be flexible to roll with it, so my only plans are just to go back "home."
Holena: How do you see yourself making a difference or "being the change"?
Hartz: We never really know if we are making a difference. We give and we try, but ultimately we have to leave it up to God and the self-will of each individual to realize that they have the power not only to change their lives, but the lives of others. I just decided that if I wanted the world to be different then I had to stop complaining and do something about it. If I am being the change, it is through standing up and saying that it is wrong that we have children as soldiers in the world; and if I don't do something about it, then who will? I am the change because I refuse to remain stagnant and hopefully others become connected to me, and we pull each other along towards growth. My motto is the words of Margaret Mead: "Never doubt that a small group of thoughtful people could change the world. Indeed, it is the only thing that ever has."
About the author
"Be the Change" writing intern Elizabeth Holena ('07) recently completed a technical and scientific communication major and a publication management minor.