News
Decorated veteran to speak at JMU commencement
---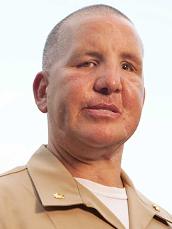 Maj. Justin Constantine, an Iraq War veteran and James Madison University alumnus, will be the speaker at the university's Dec. 15 commencement program.
Constantine, who graduated in 1992, sustained serious injury in a sniper attack Oct. 18, 2006, while serving in the U.S. Marine Corps Reserves. The injury earned him a Purple Heart and began a long road of recovery, during which he committed to help himself and other wounded veterans reintegrate into American society.
Constantine is deeply involved in the work of the Wounded Warrior Project, serving on the organization's Board of Directors. In 2011 he received the project's annual George C. Lang Courage Award. This year he received an award from the Commonwealth of Virginia documenting his commitment to Wounded Warriors, as well as the Commitment to Service Award from the Give An Hour Foundation.
He is a member of the congressionally mandated Department of Defense Recovering Warrior Task Force. In addition to the Purple Heart, Constantine is the recipient of the Combat Action Ribbon and the Navy-Marine Corps Commendation Medal.
JMU's commencement program will begin at 10 a.m. Saturday, Dec. 15, in the JMU Convocation Center. Doors open at 8 a.m.
Related links:
"Iraq and back"
https://www.jmu.edu/bethechange/stories/constantineIraqAndBack.shtml
Justin Constantine
http://www.justinconstantine.com
# # #