Being the Change
Communicating through music
---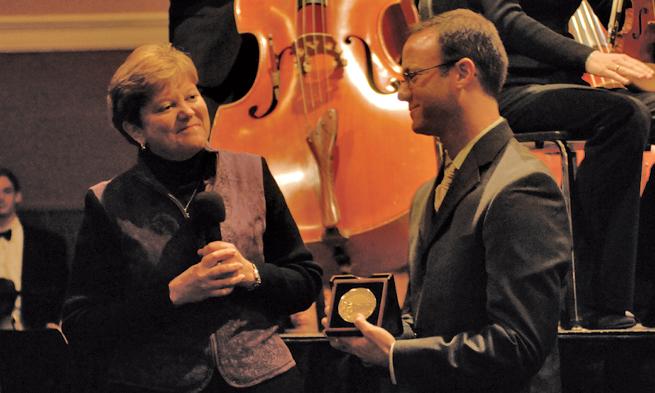 JMU alumnus Brian Balmages ('98) composed "Portraits in Bluestone" for Madison's Centennial Celebration. In this interview with Emily Reid ('09), Balmages talks about his love for music, composing and conducting.
What prompted you to study music at JMU?
I initially went to JMU because of the reputation of the Music Industry Program and the trumpet teacher. Both offered a level of education that I did not feel I could get elsewhere in a similar environment.
Knowing I wanted to go into music was an easy decision. I have always loved music — both of my parents majored in music and taught publicly and privately. While they never pushed it on me, I knew I wanted to be a music major. I just wasn't exactly sure what part of the music industry I would venture into — whether it would be performance, education, recording engineering, film scoring, etc. Going to JMU allowed me the opportunity to learn about all those disciplines and figure out what path was best suited for me.
What instrument do you specialize in playing?
My major instrument is trumpet and that was my concentration at JMU. I probably learned more about music from playing trumpet than I did from everything else put together. I still enjoy playing my trumpet as often as possible but need to balance that with family life and the increasing demands of my abilities as a composer and conductor.
What do you like most about being a conductor and composer?
Being a conductor and composer allows me to share and experience two different aspects of music. As a composer, I love the fact that I can take an emotion, translate it into a musical phrase, and then hear that phrase and see the emotional response from those who hear it. I have always been better at communicating through music rather than words — composition seemed a logical step once I realized my relationship to music and its effect on me.
I consider conducting one of the highest forms of musical expression and am fortunate to get the chance to work with so many groups — it is always a treat. Each group has a different personality, which comes out in the music they play; and I find that I grow musically after each performance. To get a chance to work with such a variety of musicians, from beginning students to professionals, is a wonderful opportunity. Even though I can function at a very high artistic level with professional musicians, I often find that very young musicians have more enthusiasm and excitement for music. They haven't gotten to the point where it is a job or a chore — they simply play because they want to and love to — and that invariably rubs off on me.
What is most rewarding about your career?
The fact that I can make a living as a composer and conductor is truly a gift and I am very blessed. Probably the most rewarding thing about my career is that I constantly get to work with new groups and new pieces. It helps to keep me musically engaged, and I get to meet a lot of wonderful people in the process.
There is nothing quite like hearing from people who were in my ensembles who had positive experiences. To know that I am able to touch the lives of musicians around the world is an amazing feeling. I have received e-mails from students who decided to be a music major after performing pieces of mine, and from parents who realized the importance of the arts after seeing me work with a group. The point is not that they are excited about my work with the group — the point is that it makes me feel like I am helping to keep the arts alive and that some younger students will absorb my passion for music and eventually share that with others.
What do you believe is your greatest accomplishment, personally or professionally?
I would say that one of my greatest personal moments was when I was contacted about a commission for James Madison University's Centennial. There are a lot of fine musicians that have come through the music program, and it was a true honor for them to have selected me to compose a piece.
I also take great pride in my family and the balance I strive for between them and work. I learned a lot at JMU, but some of the lessons I learned were outside the classroom and had to do with values. This is one of the reasons that I have learned the importance of family.
What interests you most about music? Why do you have such a great passion for this art?
I am most interested in the way music can have such a profound emotional effect on people listening to and performing it. Music can cause people to feel lonely, happy, angry, anxious and a million other emotions.
My passion for music comes from the fact that I feel like I am just starting to unlock some of its secrets and learn more about myself each time I write a piece. Music defines who I am — I honestly have no idea what I would do without it. I get such an incredible feeling when I am on the podium and everything comes together. I always remember something that I learned from a theory professor at JMU: "If you don't get that tingle down the back of your spine when you're playing or listening to a powerful piece of music, then you should probably be doing something else."
Do you have any other hobbies?
I love to work out at the gym and hack at a good golf ball when I get the chance!
What are your future professional goals?
In addition to composing and conducting, I have always been interested in film scoring. While I have written music for a film or two, I am considering the possibility of getting more involved with movies.
At some point, I also may consider becoming more active at the university level. I have thoroughly enjoyed the adjunct positions I have held in the past. When I reach a point that I am not as interested in traveling, I may consider doing more at that level.
Can you share your thoughts on "being the change"?
Being the change is all about interacting with others in some way and leaving a part of yourself there after you have left. In my case, I feel that I am able to touch a lot of people directly when I am a guest conductor, and indirectly, when a group plays a composition of mine. Either way, I feel like I have the opportunity to inspire young minds to achieve great things — hopefully much greater than what I will achieve in my lifetime.
It all comes down to the look on a student's face after a performance — that bright look of excitement and passion that came with a moving performance. Someone wrote to me about a powerful performance I conducted at a high school and said, "I have always been a flute player, but that night was the first time I became a musician."
I've never forgotten those words and try to bring them with me to every rehearsal and concert. They are words to live by.