Being the Change
Ray Sonner Story
---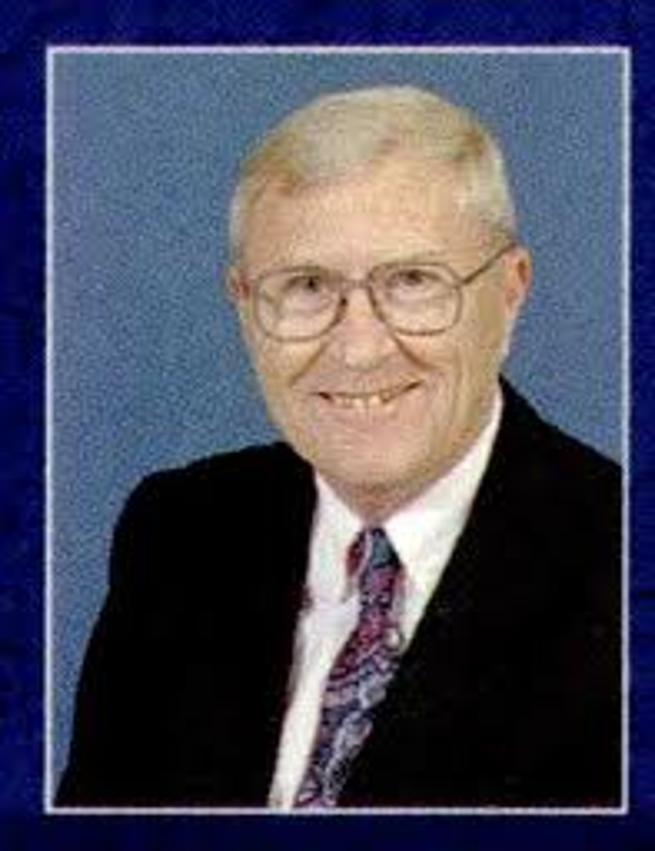 Even without the help of a guardian angel like Clarence, it's easy to see the profound impact Ray Sonner has had on JMU
By Margie Shetterly

Reprinted with Permission from the 2001 JMU Foundation Annual Report
When Ray Sonner, who retired as president of the James Madison University Foundation on July 1, ponders a career in education that spanned 50 years, he keeps going back to his first love. "The only thing I ever wanted to be was an English teacher. That's it." Perhaps he lingers there because teaching gave him the opportunity to make that George Bailey difference in someone's life. "I always felt that my greatest role was to feel that I enabled someone reach his or her potential," says Sonner, who as a film connoisseur can take refuge from the unwanted attention of this report in the It's A Wonderful Life analogy. "You never know the effect you'll have on someone," he adds. And just like the movie's protagonist, "Sonner never sought any recognition or personal reward for that influence," says JMU Chancellor Ronald Carrier.
Perhaps Sonner's years as a teacher and principal molded his people-oriented approach as a top administrator during the Carrier administration. "People recognized him as a man of integrity," recalls Dick Nelson, for vice president of academic affairs." He was always moving in the best interests of the people and of the university."
Carrier agrees, saying Sonner had "a sort of instinct about what was best for this institution." During those intoxicating growth years at JMU, Sonner also provided Carrier with a quiet, reflective, diplomatic balance to his own often impulsive nature. Sonner was always willing to listen to ideas and inspirations, but never afraid to voice his opinion.
He was also a man who earned the respect of professors and administrators alike. "Ray would listen intently before offering his thoughts and ideas," says Nelson. "But when he spoke, everyone listened to him."
He was the first to befriend many who were new to campus, including Carrier and JMU's first athletics director, Dean Ehlers, He was the last to complain, even when two successful battles with cancer sapped his strength but not his spirit.
Perhaps the 50-year-old memories of the struggle to survive on a teacher's salary of $180 a month gave him the determination to build a legacy of private giving for JMU. He steadfastly believed throughout his JMU career that private giving will close the gap left unfunded by the commonwealth. Private funds offer gifted professors the financial incentives they need to continue teaching at JMU and offer talented students the scholarships they deserve. To this day, Sonner bristles at the misplaced priorities of a society in which collegiate basketball coaches are earning $1 million while teachers who make a difference in young lives are struggling on $30,000 dollars a year.
One thing is sure. Ray Sonner got what he wanted—to be an English teacher—and much, much more. During his 50 years in education he taught a generation of Harrisonburg High School seniors, served as the high school's principal, led city schools during the desegregation years, and spent more than 30 years helping to nurture an infant institution of higher education into a nationally known university. All the while, he planted the seed of private support he knows is essential in today's academic environment.
In 1969, Sonner, along with former Virginia Congressman and Madison College board member Burr P. Harrison, formed the Madison College Foundation to promote and manage private support of the school. That first year, foundation assets totaled $69,000. After more than three decades of Sonner leadership, foundation assets topped almost $39 million.
"He was a master at motivating the board of trusteed of the foundation," says former rector of the JMU Board of Visitors and former foundation board member Francis Bell. "He had an innate ability to select board members to make it function effectively."
During his tenure at the foundation, Sonner also oversaw the shift of the foundation's board from primarily a Harrisonburg-based membership to one that is more diverse, representing a variety of professions, businesses and geographic areas. It was a move that reflected the needs of a growing, dynamic university and its increasing coffers of private gifts, according to Joe Boling who is the current foundation board chairman.
That same ability—picking the right people and motivating them—carried over to his selection of staff members and attention to detail, says current JMU Foundation President Jim Richardson. "He likes to do things right. He was a detail man, very adept at delegating authority and in having confidence in those he works with. But he never forgot that the final responsibility for a project, idea or department rested with him."
Sonner is more than ready to pass that responsibility on, although he continues to serve as a consultant. "It's time for a new approach in the foundation, new leadership," he says. However, he is adamant that the tradition of private giving at JMU must grow. The sobering economic reality is that JMU must compete with schools like the University of Virginia with its $1 billion endowment to entice the best students and faculty members as well as meet the expenses that state support does not cover—like new athletics facilities, and a performing and fine arts center to complement the university's outstanding music and theater programs.
Ray Sonner's retirement from the foundation officially closes a career with JMU that set in motion so many of the traditions, symbols and organizations that are embedded in today's JMU culture.
"He either started or developed many of the things we take for granted as being part of this university," says Fred Hilton, director of university communications and a 28-year veteran of JMU.
The name James Madison University, the original JMU logo, the intercollegiate athletics program, the Dukettes dance team and cheerleading squad, Student Ambassadors, the President's cabinet, Homecoming, Parent's Weekend, Greater Madison ... look closely and you'll see the handiwork of Ray Sonner. "He developed the whole concept of public relations and alumni outreach and keenly understood the importance of both," Hilton says.
Perhaps more importantly, Sonner did so with the perspective of working with both G. Tyler Miller, Madison's third president, and Ronald E. Carrier, its fourth.
"Of all the people I was associated with at JMU, Ray has the greatest understanding of the relationship between the past and the present," says Ehlers. "He is the link."
Sonner first came to JMU in 1963 to serve as assistant to Miller, after a successful career as both a teacher and principal at Harrisonburg High School. Two years later, Harrisonburg lured him back to serve as superintendent of public schools and usher in integration. Despite "a few threats on my life that I didn't take too seriously, the entire process [of desegregation] went very smoothly," he recalls.
But Miller, who apparently didn't take losing Sonner in stride, enticed him to return to Madison College in 1966. Sonner then began a career that would carry him through a variety of job titles and responsibilities and into the 21st century.
Little did Sonner know at that time that in just five short years, he would embark on the academic ride of his life, the whirlwind Carrier years that began in 1971.
"We'd never seen anyone like Dr. Carrier," Sonner smiles, as he recalls a young, confident, plain-talking president with an uncanny ability "to very quickly get to the heart of the matter."
The contrasts between the two presidents' priorities were soon very clear. "Dr. Miller was a very good administrator," Sonner recalls, "but was pretty satisfied with where Madison College was. He wanted it to be coed, but growth was not foremost in his mind."
Not so with the new president. "Dr. Carrier realized that a single-sex teacher's college was a thing of the past. He recognized that growth was essential," says Sonner. Carrier quickly launched a mission to take the commonwealth, its legislature and the region by storm. His chief strategist was Sonner, and one of Sonner's major desires was to change the school's name from Madison College to James Madison University.
Sonner understood all too well that "perception is everything—in attracting a quality faculty, in attracting students"—and believed that changing the school's name was essential to that enhanced perception. Carrier was initially unconvinced. Armed with persistence, practicality and polls from students, the faculty and alumni that overwhelmingly favored the name change, Sonner forged ahead with simple logic: "Which sounds most prestigious to you? Madison College or James Madison University?
Carrier conceded, and, in one of scores of lobbying victories for the university, the name change unanimously passed the General Assembly in 1977.
Even before the name change, both Carrier and Sonner recognized the importance of a strong intercollegiate sports program. "Ray Sonner was the best friend athletics ever had," Ehlers recalls. While Madison already had an outstanding women's program, it needed to build a men's counterpart to attract males students, build excitement for the school and give students, parents, alumni, and supporters a rallying point.
Admittedly, the first year of JMU's budding football program, 1972, was grassroots, no frills effort with less than stellar results. The morning of the first home game found the trio of Carrier, Sonner and Ehlers among those marking lines and erecting goal posts on the field next to Godwin Hall for a makeshift football stadium ringed by lawn chairs instead of bleachers. And that first season, Madison's squad never scored. But a decade later, when JMU's football team beat the University of Virginia at Charlottesville, the men's basketball team lost to North Carolina by a single basket during the NCAA tournament, the women's basketball team consistently made it to the NCAA tourneys and the men's baseball team went to the College World Series, Sonner recalls that "the states legislature really took notice." As did the nation. JMU had arrived on the scene.
Serving initially as director of public services and later as vice president of university relations before retiring in 1985 as senior vice president of university relations, Sonner recognized that JMU also needed trademark images and traditions to build excitement for the new university. The old Madison College colors of lavender and gold deepened to a more masculine purple and gold, and JMU's first official logo began to adorn everything from football helmets and stationary to service vehicles. Homecoming moved to the fall to coincide with a home football game, and Parents Day grew into a fall weekend of festivities.
Sonner, in his mission to establish new traditions, encountered little resistance. "Madison had very little tradition, so we really didn't step on any toes when we started new things."
Topping the tradition wish list was a mascot that the people could really associate with JMU. The familiar Duke Dog, that towering canine comic seen at all athletics events, was Sonner's creation. "We were the Dukes—that was royalty," Sonner recalls. "What animal do you associate with royalty? An English bulldog."
Sonner vividly remembers JMU's introduction to its new mascot during a men's basketball game. The announcer introduced each starting player. When it came to the sixth player, the words "His Royal Highness, Duke" echoed through Godwin Hall and out paraded a stout bulldog with massive jowls and jutting teeth. The bleachers erupted in cheers. Duke Dog was an instant hit and an irreversible addition to the JMU culture.
Two dogs later, the costumed mascot, another Sonner inspiration, was introduced as a way to better connect with the crowds.
Sonner's public relations savvy is also evident in the evolution of the cheerleading squad into a coed, gymnastics-oriented team and the Dukettes dance team, both designed to build spirit and entertain while giving all students a common theme to rally around.
For a number of years prior to his retirement from full-time service to JMU in 1985, Sonner served dual roles as JMU's senior vice president and JMU Foundation executive director. As such, he always recognized the importance of private giving to the university, even if it didn't get the full attention of the JMU administration during those exciting growth years. He also realized the importance of having an independent foundation that was clearly focused on the university's long-term goals. "Dr. Sonner believed that the foundation was there to support the university's goals, but not at the whim of a particular administration," Boling says. Instead, the foundation's management of the university's private assets—from cash to collectible coins to real estate—was clearly for the long haul.
While building private support is one of JMU President Linwood Rose's top priorities today, Sonner worked quietly for years to build the development program, refine the image and shape the foundation. Part of his strategy was to recognize generous donors in permanent ways. "I used to tell Dr. Carrier to quit naming building after faculty members and administrators and name them for donors," Sonner remembers. "When they named one for me, I kind of changed my mind," he laughs.
While Sonner Hall, the bricks and mortar legacy of Ray Sonner, sits at the east edge of Newman Lake, Ray Sonner's true legacy has been more like George Bailey's - quiet, comprehensive, built through day-to-day dedication to JMU. "I don't think you'd find anyone any more committed to what this university was to become," Carrier says. "His intensity and interest in this university has never faded."
"No one can replace Ray Sonner," the foundation's new president says. But by providing hindsight into Madison's past and clear foresight into the future of both JMU and the foundation, Sonner, always the teacher, has "given me a better understanding of academia and how it does and doesn't work" and a clear vision of how the foundation should support it, Richardson says.
"He's done an excellent job of passing on that institutional knowledge and vision to the board and staff, and we will profit by that for years to come," Boling says.
Often the indication of great leaders is the ability of organizations to move on without them. Sonner is such a person, Boling says. "He moved from his position as foundation president with the same grace and charm he has displayed throughout his years there. He has an ability to put things, people, in place so he can move on without so much as a wrinkle. That's a tribute to a great leader."
And to a great teacher.
Published: Sunday, January 1, 2012
Last Updated: Thursday, October 20, 2016