News
Lisanby and Warhol: JMU Exhibit Offers Glimpse into Artistic Link
---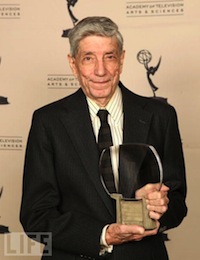 "Mentor to an Icon: A Charles Lisanby and Andy Warhol Exhibition," which highlights Lisanby's most important contributions to the arts of television and scenic design and his relationship with artist Andy Warhol, is the opening exhibition in James Madison University's new Skyline Museum.
Over his nearly 50-year career, Lisanby cemented a reputation as an influential scenic designer. He won three Emmys, was nominated for 13 more, and in January 2010 became the first and only production designer to be inducted into the Academy of Television Arts and Sciences Hall of Fame.
Lisanby was integral in developing color television. Along with designing the first telecast in color for CBS – an episode of a 1957 musical show called "The Big Record" – Lisanby helped develop techniques that expanded the possibilities of what sets could look like. Among these were a means to use neon without producing a buzzing sound, lighted steps and large block letters in which actors could sit.
Lisanby's worldly travels and extreme ambition took scenic design to new heights with monumental set pieces such as his Parisian street set, which created an enormous buzz across Hollywood and the entire industry. Lisanby received his big break in 1948 when Ralph Levy hired him to design the set for an experimental broadcast of "Billy the Kid," the first non-news program on evening television. Working for CBS, ABC, NBC and others on made-for-television movies, mini-series, musicals, ballets and Broadway shows, Lisanby influenced nearly every aspect of scenic design in all mediums in which he worked.
A lesser-known chapter of Lisanby's life, but one equally integral to his artistic legacy, is his close friendship with the artist Andy Warhol. After their initial introduction in late 1955, Lisanby and Warhol met or talked on the phone daily. The two young artists convened on the weekends to draw the various accoutrements that filled Lisanby's New York apartment, sharing ideas and techniques that would greatly influence both men's careers.
In April 1956, the two departed on a four-month excursion around the world. The influence of this trip on Warhol, who had previously never been outside Pittsburgh or New York, was profound. Characteristics like the flat, simple contours and cropping of Japanese prints, the use of gold in Siamese furniture and the delicacy with which mystical and fantastical fairies are rendered in Netherlandish children's books, all contributed to Warhol's now-dubbed "Pop art."
Located on the ground floor of the Festival Conference and Student Center, the new museum houses rotating exhibitions drawn from the Madison Art Collection, part of JMU's College of Visual and Performing Arts.
The Lisanby-Warhol display is open from 10 a.m. to 4 p.m. weekdays through March 2. Curators Josh Smead and John Kimbriel, both JMU students, will speak about the exhibit at a "First Friday Talk" on Feb. 3 from 1 to 2 p.m. in the museum.
Central to "Mentor to an Icon" is an innovative iPad application that allows visitors to interact with the art pieces, view interviews and videos of and about Lisanby and learn more about the individual works exhibited.
Related links:
Josh Smead, student curator of the Charles Lisanby Collection
# # #