News
The Evolution of a Dream: A Legacy that Endures
---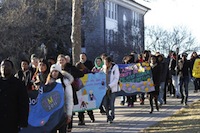 Students participate in the March and Speak Out during JMU's MLK week 
It was while presenting to children at Harrisonburg's Boys and Girls Club last year during James Madison University's annual Dr. Martin Luther King Jr. Celebration Week that senior Korey Lamb decided he wanted to take a leadership role in this year's activities. "In talking to the kids and even my peers, there's not a whole lot of depth of understanding Martin Luther King," said Lamb.
Lamb, a communication studies major from Richmond, Va., is co-chairing the formal program for 2012 and helped to choose the theme for this year's celebration week, "The Evolution of a Dream: A Legacy that Endures." Lamb thinks educating students about King's impact needs to continue from one generation to the next. "I want to refresh the memory of Dr. King's legacy and show the evolution of his impact on college students."
Sponsored by the Center for Multicultural Student Services and planned by student-led committees, the week focuses on King's legacy of social justice, civic engagement and community service. "The whole week we should see the past, reflect on the present and feel encouraged about the future," said CMSS Director Valarie Ghant.
One of the highlights of the week is the March and Speak Out on Jan. 12. Freshman Daniella Roberts of Danville, Va. co-chairs the planning committee for the March and Speak Out. She said a lot of thought went into planning the skits along the route that bring attention to civil rights issues still affecting us today. "I hope that students participating in MLK Week are able to learn something new and to recognize the scope of MLK's reach," said Roberts. "His efforts were not just for African Americans, but for all people, regardless of their color, orientation and so forth."
Lamb wants JMU students and community members to know that we are lucky to be on a campus that offers so many activities during MLK Week, which culminates with the formal program on Jan. 16.
This year's keynote speaker, Dr. Calvin Mackie, grew up in New Orleans and attended Morehouse College where he was placed in a remedial reading program. From his initial struggles as a college student he went on to graduate magna cum laude. A member of Phi Beta Kappa National Honor Society, Mackie earned his master's and doctoral degrees in mechanical engineering from the Georgia Institute of Technology. He has been a leader in Louisiana's clean-up efforts after Hurricane Katrina and is an entrepreneur, co-founding a clean-energy company.
Ghant says Mackie brings all his experiences to his speeches. "He speaks with such inspiration and is so transparent," said Ghant. "He compels you to be better and do better."
That is the exact message that Lamb wants people to hear and take to heart. "MLK Day is so important for us to celebrate" said Lamb. "It shouldn't be a day 'off,' it should be a day 'on.' Be productive, come out to the formal program, learn more and see how unified the campus can be."
The community is invited to join JMU in honoring King's work at the following events:
Jan. 10-13: Commons Days, noon-2 p.m. Tuesday-Friday, on The Commons: Several student organizations sponsor booths and events in the spirit of service embodied by Dr. Martin Luther King Jr.; activities include canned food and clothing drives, arts and crafts and other philanthropic opportunities.
Jan. 11: Community Service, 4-6 p.m., Boys and Girls Club, Simms Center, Harrisonburg.
Jan. 12: March and Speak Out, 4-6 p.m.: Members of the university community are asked to gather at 3:50 p.m., at the James Madison statue in front of Varner House for the march through campus that ends in Transitions in Warren Hall. Along the route, participants will witness several interactive scenes that depict past and present injustices that touch the civil rights movement. During the Speak Out, people are encouraged to share their reflections on King, his dream and legacy.
Jan. 13: Community Service, 3-5 p.m., Emeritus Senior Living, Harrisonburg.
Jan. 15: Unity University Sunday, 11 a.m.-1 p.m., Transitions, Warren Hall: Sponsored by Alpha Kappa Alpha Sorority Inc., Delta Sigma Theta Sorority Inc. and Zeta Phi Beta Sorority Inc.
Jan. 16: Formal Program, 7 p.m., (doors open at 6:30 p.m.), Wilson Hall Auditorium: The program will honor the life of King through words, drama and music. Keynote speaker Dr. Calvin Mackie is an award-winning mentor, a former engineering professor, an internationally renowned motivational speaker and a successful entrepreneur. Through his national and international travels and online mentoring presence, Mackie reaches millions of youth and professionals annually.
Jan. 21: Community Service, 7 a.m.-5 p.m., Habitat for Humanity, Franklin, W.Va.
Related links:
# # #
January 7, 2012
Published: Saturday, January 7, 2012
Last Updated: Thursday, October 20, 2016