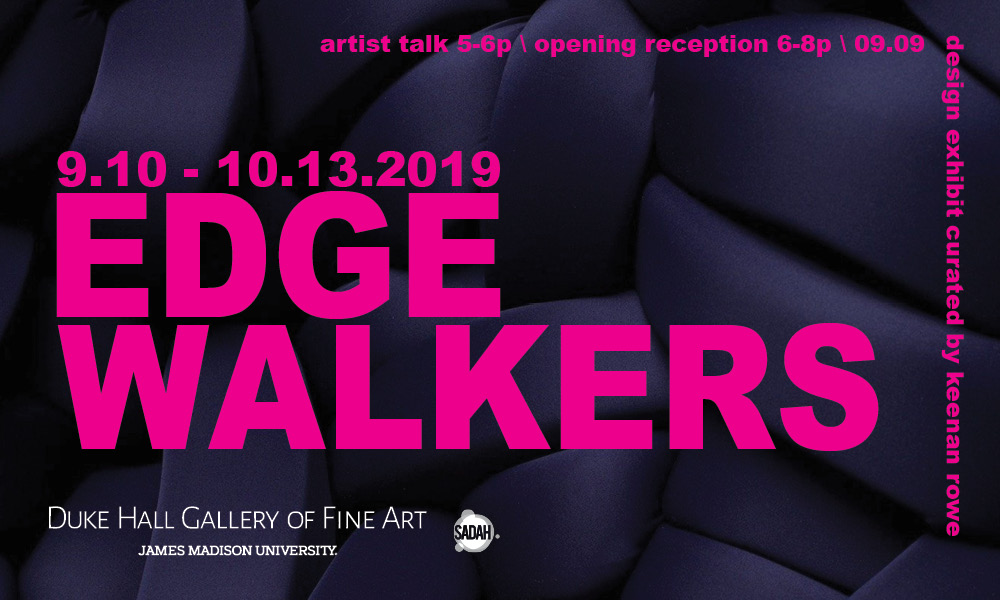 Edge Walkers
September 10–October 13 | First Fridays on October 4
Artist Reception: Monday, September 9, 2019, 6–8 p.m., Duke Hall Gallery
Artist Lecture – Tanya Aguiñiga: Monday, September 9, 2019, 5–6 p.m., Duke Hall Gallery Courtyard
The Duke Hall Gallery of Fine Art at James Madison University welcomes Los Angeles-based artist Tanya Aguiñiga to campus for a lecture and reception of the group exhibition titled Edge Walkers, which will be on display from September 10–October 13, 2019. The exhibition features the work of Aguiñiga as well as Doug Johnston, Ayako Aratani and Evan Fay, OOIEE, and Aya Kawabata. Curated by Keenan Rowe, Digital Design and Fabrication Manager in JMU's School of Art, Design and Art History, Edge Walkers examines the tenuous boundaries that exist between the disciplines of art, design, and craft.
Influenced by her upbringing in Tijuana, Mexico, Aguiñiga's work uses craft as a vehicle for community empowerment by generating conversations about identity, culture and gender. Aguiñiga is the founding director of AMBOS (Art Made Between Opposite Sides), an ongoing project of artist interventions and commuter collaborations that build communication and examine identity in the U.S./Mexico border regions. Edge Walkers celebrates National Hispanic Heritage Month (September 15–October 15, 2019).
"Tanya's creativity is inspiring social change, and we are excited to welcome her to JMU," says Beth Hinderliter, Director of the Duke Hall Gallery of Fine Art. "This exhibition features artwork by a talented and diverse group of artists and designers, including furniture, lighting, textiles, sculptures, as well as works that defy easy categorization."
Doug Johnston is an artist and designer who creates unique hand-formed sculpture, vessels, baskets and bags out of cotton rope and thread in his Brooklyn studio. dougjohnston.net
Ayako Aratani and Evan Fay are innovative furniture makers who were named to Dwell magazine's top 24 "designers to watch" list in 2018. The duo founded the Detroit-area design studio Aratani · Fay in 2016, shortly after they both graduated with an M.F.A. in 3D Design from Cranbrook Academy of Art. aratanifay.com
OOIEE (Office of Interior Establishing Exterior) is a Minneapolis-based cross-disciplinary design practice that combines elements of architecture, landscaping, industrial design, and relational art. Run by designer Matt Olson, OOIEE "is playfully challenging what it means to be a designer, one project at a time." (Metropolis) ooiee.me
Aya Kawabata is a Japanese designer "known for her exquisitely detailed graphic design work" and "remarkable textiles." (TLmag) She won the award for "Best New Talent" at DMY International Design Festival Berlin 2016. ayakawabata.com