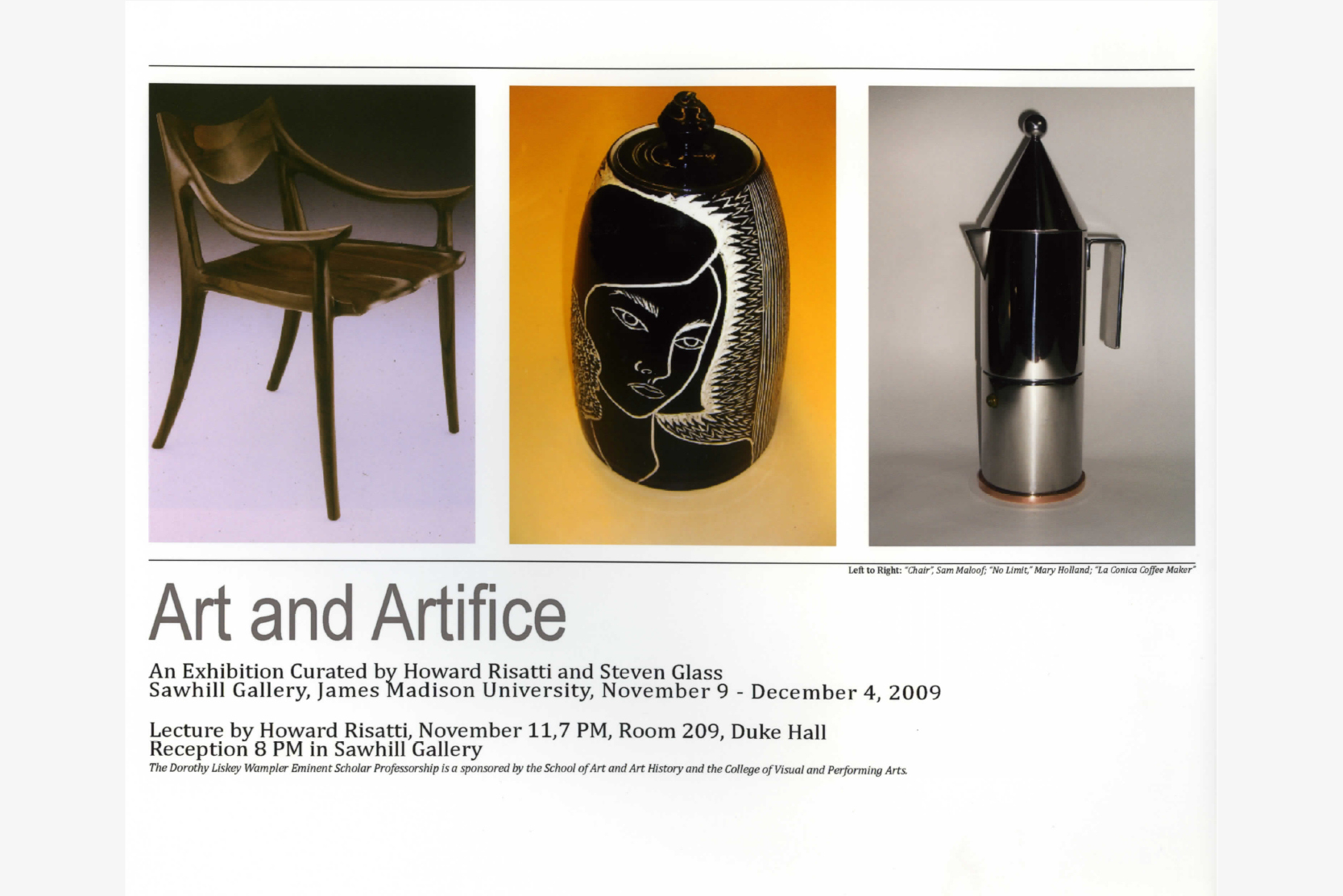 Art and Artifice
November 09 - December 04, 2009
Curators Howard Risatti and Steven Glass
James Madison University Wampler Professor Howard Risatti and co-curator Steven Glass present an exhibition in the Sawhill Gallery that juxtaposes craftwork and commercial design to bring attention to the assignment of aesthetic value to ordinary and not-so-ordinary objects.  This exhibition presents a broad range of craft and commercial objects, including studio furniture, ceramics, disposable paper cups, plastic chairs, glass, jewelry, fiber, and more.  With a focus on objects that people of all cultures use in both daily and ritualistic life, associations are presented between past and contemporary, beautiful and utilitarian, precious and disposable, ultimately questioning the objects' meaning and importance. 
Dr. Howard Risatti is an Emeritus Professor of Contemporary Art and Critical Theory in the Department of Art History at Virginia Commonwealth University, where he also was Chair of the Department of Craft and Material Studies from 2001-05.  He has published several books concerning contemporary art and craft, including most recently A Theory of Craft: Function and Aesthetic Expression.  Dr. Risatti will present a lecture to accompany the exhibition focusing on craft, a term that typically refers to handmade functional work made of traditional materials, and its relationship to fine art and commercial design.
EVENTS
11 NOV 2009, 7p: Curator Lecture: Howard Risatti
Duke Hall Room 209
Opening Reception to follow