Dr. Bethany Bryson: Associate Professor of Sociology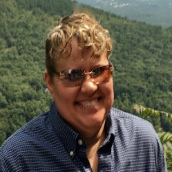 Education
Ph.D. (sociology) Princeton University
B.S. (sociology) James Madison University
Teaching
Social Inequality
Sexuality
Sociology of Gender
Race and Ethnicity
Social Statistics
Research
I study culture and inequality in formal organizations and public opinion. My current research centers on the way notions of race structure political and cultural attitudes differently for different groups of people. Researchers often report that educated whites are better able to organize their thinking into a coherant political package than other folks. Together with coauthor Mathew Hughley, I am examining the possibility that this allegedly disorganized thinking on the part of non-whites may be the result of their dual perspective on the American status system. My next project will attempt to test some of the conclusions from my book about the best way to structure (or re-structure) an organization in order to achieve specific cultural outcomes.
Publications
2016.  "Symbolic Boundaries." Ch. 25 in The Sage Handbook of Cultural Sociology. edited by David Inglis and Anna-Mari Almila. London: Sage.
2014. "'Own It!': Constructions of Masculinity and Heterosexuality on Reality Makeover Television." with Alexander Davis and Laura Rogers. Cultural Sociology. 8(3):258-274.
2010. Conquering Stereotypes in Research on Race and Gender. Sociological Forum, 25(1): 161-166. with Alexander K. Davis.
2005. Making Multiculturalism: Boundaries and Meaning in US English Departments. Stanford University Press.
2001. " Opinion Polarization." with Paul DiMaggio and John Evans, American Journal of Sociology.
1999. "Multiculturalism as a Moving Moral Boundary: Literature Professors Redefine Racism." in Michèle Lamont's (ed.), The Cultural Territories of Race: Black and White Boundaries. University of Chicago Press. (in "the pink book")
1996."Anything but Heavy Metal": Symbolic Exclusion and Musical Dislikes." American Sociological Review.
1996. " Have Americans' Social Attitudes Become More Polarized?" with Paul DiMaggio and John Evans. American Journal of Sociology.