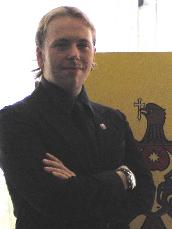 Jason Teasley ('02)
Artist and Peace Corps volunteer
Studio art major Jason Teasley has applied his talent and passion to making a change at every opportunity. After graduation he served in AmeriCorps NCCC, creating art for national parks, teaching at Indian reservations and public schools for high-risk students, and working with inner-city children at a summer adventure camp. Now serving in Moldova with the Peace Corps, Jason has set out to make a change in a different way. Seeing a need for new Peace Corps recruits to receive information that was both positive and realistic, Jason and a co-worker developed the Volunteer Mentoring Program. Before recruits arrive at their assignments, they are put in touch with mentors — volunteers already serving in the country who answer their questions and share experiences. These mentors continue to support new recruits throughout their training, providing them with an instant friend in their new home. The program's simple solution has yielded profound results. When the Peace Corps director for Jason's region saw the program in action, she sent word to Washington headquarters that the program was needed in all countries that the Peace Corps serves. As Jason says, "That's cool."
"May all of our paths be long and hard; these are the only ones worth taking."