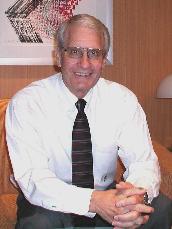 Richard M. Roberds Silver Star recipient
Richard Roberds clearly remembers the guy sitting next to him, the guy who kept throwing up his hands in front of his face as the tracer bullets darted past their cockpit. "You don't forget things like that," said Roberds, a founder of JMU's College of Integrated Science and Technology and a recipient of the Silver Star Medal, the nation's third highest award for valor. "That heavy fire scared the heck out of us," Roberds said of the Dec. 15, 1970, nighttime mission over Cambodia that earned him the Silver Star. The U.S. Air Force was providing 24-hour air coverage over Cambodia to stop North Vietnamese aggression. On that Dec. 15 mission, Roberds, then a major, decided with his copilot to turn their lights on, dive toward enemy guns, and draw fire so U.S. gunships could see where to attack. It took three nerve-wracking dives before the bombers could get a fix on their targets, but it worked and the enemy's assault on a town was thwarted. Roberds, who retired from the Air Force as a colonel in 1980, says he is honored to receive the award, but he also considers his work at JMU to be among his greatest contributions. "JMU was the most enjoyable 10 years of my 47 years of professional employment … there is a sincere concern for the students at JMU," he said. Roberds directed the department of integrated science and technology for its first 10 years and fundraising has begun for a scholarship in his honor.
"I remember the fellow sitting in the right seat with me (in the cockpit). I was watching him and then he would throw his hands up in front of his face like he could see something coming and it would miss us. It was just that close."