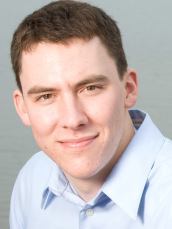 Bobby McMahon ('06)
Homebuilder, Habitat for Humanity International
Bobby McMahon's commitment to service has enabled him to go above and beyond the call of duty to do what he can to help others. For one year this Madison alum served as an AmeriCorps member in the Youth Programs Department of Habitat for Humanity International. Working as a Youth United coordinator, Bobby supported groups of young people to fully fund and build Habitat for Humanity homes. Reflecting on his experience, he says, "My position makes life easier for a host of people working with youth, and while my work is rarely glamorous or thrilling, its value lies in the successes of those I support." Through Habitat for Humanity International, Bobby traveled to Tanzania through Global Village, a program that sends participants on work trips to Habitat for Humanity affiliates around the world. According to Bobby, "The trip itself was unreal — I have never met kinder, more welcoming, more gracious and more hospitable people than those in Tanzania." The participants of this trip dug and built the foundations for two homes and dug two latrine pits for the homes. Although they were successful in its completion, Bobby gives credit to the people in Tanzania: "Their time, their graciousness, their wisdom — in the long run, they just mean so much more than a few big holes that we dug for them."
"On a fundamental level, I believe that we have a responsibility to help other people, and that those who have the means and the ability to help others are compelled to act."