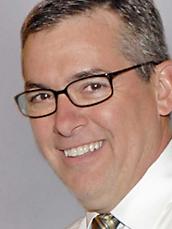 Chris Gatesman ('94M)
Leader and role model
As a JMU Office of Residence Life administrator, Chris has applied himself to creating harmony and safe haven at JMU for almost 20 years. He has gone way beyond successfully matching students as college roommates. A champion for lesbian, gay, bisexual and transgendered individuals, he was instrumental in the creation of an LGBT support group for college students in the Harrisonburg area that ultimately grew to include community members and formed the basis for an organization of over 300 persons. Over the years, he has advised the JMU student organization, Harmony, now known as Madison Equality, and helped develop the Safe Zone workshop. "For me, the greatest experience came from the opportunity to meet one-on-one with students, listening to their stories and encouraging them to fully participate in the JMU experience without feeling shame or limiting themselves because of their LGBT identity," he says. Adviser, crusader, diversity coordinator, leader and mentor -- he has played a number of significant roles in shaping the Madison Experience. Whatever the role, the end result has been the same: Chris has made a wonderful difference in the lives of JMU's students, professors, and staff members, and in the surrounding community.
"I believe in JMU's mission, and for me it is imperative that educated and enlightened graduates are equipped with the language and skills they need to effectively create a world that is safe and affirming for all its citizens."