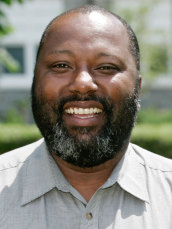 Marlon Foster ('82, '95M)
Musician and teacher
Marlon Foster is a musician through and through. He's played drums for the Marching Royal Dukes and the U.S. Air Force Band. And for the past 18 years, his "gig" has been teaching and conducting band at Thomas Harrison Middle School in Harrisonburg. For those who have seen the way he lights up a room with his one-of-a-kind smile and the ebullient way he interacts with his students, it might seem odd that Foster still gets nervous on the first day of school. But talk to him about what it means to be a teacher and it becomes readily apparent: This "gig" is about much more than passing along his passion for music to a couple of classes each day. As one parent noted, he teaches kids more than how to play their instrument, he teaches them to love music and to love themselves. "I learn just as much from the kids as hopefully they learn from me," Foster says. "I guess that's the neat thing about the gig for me, every year there's a new season of learning for me."
"Music to me is the vehicle to develop some lifelong relationships with some of these guys, but it's not the main thing for me. … I'm responsible for an important time in their lives."