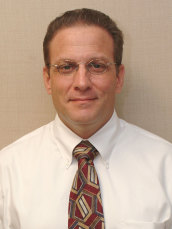 Dr. Mark Dertzbaugh ('82)
Fighting disease
In his work at the U.S. Army Medical Research Institute of Infectious Diseases, Mark spends his days coordinating programs that enable researchers to develop medical defenses against biological warfare threats. It's high stakes research involving cutting-edge technologies, yet Mark admits that his role as leader of a large team of people working to improve the operation of the research institute provides perhaps the biggest challenge of all: "My current job deals more with people than with technology, which in some ways, is the more challenging of the two." Inspired by his undergraduate microbiology professor at Madison, he went on to earn a Ph.D. in microbiology. His dedication and perseverance have guided him in making a difference in the world. While USAMRIID's primary mission is to protect military personnel, its work is critical to society as a whole as researchers develop vaccines, drugs, diagnostics and information that can safeguard people from biological warfare and endemic diseases. Anthrax, botulism, encephalitis and hemorrhagic disease might not be the work jargon that most people would be comfortable with, but Mark is happy to be right where he is — in the vanguard protecting people against potential biological threats.
"It is a challenging and exciting time to be a researcher in the life sciences. … What we do helps to protect the people of this nation."