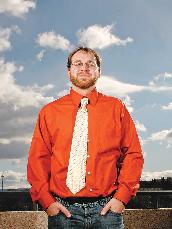 Kai Degner ('03, '05M)
OrangeBand Initiative Executive Director
In February 2003, spurred by a classmate's deployment to Kuwait, undergraduate Kai Degner hatched an idea: Get students talking. Not Bickering. Talking, and listening. Degner's original vision of a visual symbol to engender civil conversation morphed into an orange band — an invitation to discuss any topic the wearer feels passionate about: Anti-war. Patriotism. Abortion. Gay rights. Prayer. Democracy. Write a word or phrase on the band, then wear it and let the dialogue, education and action begin. A week later, 2,000 orange swatches were splashed across campus. Within a month, the OrangeBand Initiative launched. Some 50 campus forums and 6,000 bands later fueled the OrangeBand momentum. That grabbed the attention of C-SPAN, which came to campus to cover a forum with three JMU undergraduates recently returned from military service in Iraq. That forum showed the nation the power behind the phrase "What's your orange band?" Still an OrangeBand leader, Kai Degner is helping to change the world.