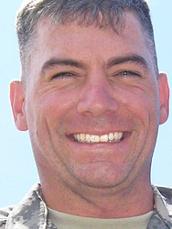 Maj. Patrick Creed ('93)
Reconstructing a nation
In October 2005, Maj. Patrick Creed, who graduated from JMU on an ROTC scholarship, received a telegram announcing his second term of duty in Iraq. After spending five intense months training at Fort Bragg, N.C., Patrick was deployed to the Diyala Province near Baqubah, about 35 miles northeast of Baghdad. He serves as a civil affairs officer on a three-man team that plays a hands-on role in rebuilding Iraq. Patrick works with local civilians, government and the Iraqi military to help them become self-sufficient, even attending local city council meetings to help guide Iraqi citizens in building a democracy. He also works on water and electricity projects and is re-establishing clinics in the country. Patrick has seen some of the worst carnage at the front lines — after being wounded in action in August 2006, he received a Purple Heart. Nonetheless, he finds comfort and hope when he encounters the Iraqi youth.
"The kids are just like those at home, and they always crowd around us whenever we stop our trucks. I have my best days when we get to distribute school supplies or toys to the local kids. … They have suffered enough, and I want to help them get back on their feet and live peacefully."