You are in the main content
Why Enroll?

Understand the benefits of this course for you and your employer.

>>REVIEW BENEFITS

Register Now

Don't miss the chance to demonstrate that you are a globally recognized HR expert.

>>REGISTER NOW
The Future of HR is SHRM–Certified

Establish yourself as a globally–recognized human resource expert by earning the new standard in HR certification: SHRM Certified Professional (SHRM-CP®) and SHRM Senior Certified Professional (SHRM-SCP®). These professional certifications can open doors for professional advancement, serve to harmonize standards with changing expectations and signal to employers advanced professional development. 

Ensure you're prepared with our course designed for SHRM credential candidates. Expand and test your knowledge and practical, real-life competencies in areas critical for HR career success.

This intensive 36 hour program combines expert instruction with the 2016 SHRM Learning System® for SHRM-CP/SHRM-SCP, so you will learn faster, retain more knowledge and stay on track for success on the exam.

The course includes the 2016 SHRM Learning System for SHRM-CP/SHRM-SCP.
---
---
Have a question or prefer
to speak to a person?

Contact Kathleen Gibson at outreach@jmu.edu or 540-568-4191.

Offered in partnership with the Society for Human Resource Management (SHRM), the curriculum provided in the 2016 SHRM Learning System is designed by global subject matter experts and covers the entire SHRM Body of Competency and Knowledge™ (SHRM BoCK™). Throughout the program HR professionals are encouraged to acquire the Competencies and Knowledge they'll need to effectively perform their jobs and achieve career success. Our course is designed to help you learn and retain the material effectively and efficiently by combining the best exam preparation system with expert instruction and peer discussion.

JMU's program offers you a preparation course to help meet your needs and increase your success on the SHRM-CP and SHRM-SCP exams.
Benefits To You

You'll benefit from:

An experienced, SHRM-certified instructor.
The SHRM Learning System, historically ranked the #1 HR certification prep tool.
Ability to acquire the knowledge and understand the behavioral competencies to help you prepare for the exam.
A structured learning experience that keeps you on track.
Opportunities to network and learn from your peers.
Eligibility for tuition reimbursement.
Earning up to 36 professional development credits (PDCs) if you are attending this program for professional development only.

 

Benefits To Your Employer

Certification benefits your entire organization:

It demonstrates that your HR professionals have mastered the application of HR technical and behavioral competencies.
Certification prepares your HR staff to assume greater leadership roles and contribute to the strategic direction of your organization.
Exam preparation helps HR professionals bring new ideas to your organization that will help drive success.
It helps create a common HR language that optimizes consistency and effectiveness.
Certification is relevant worldwide, as exams cover the new global SHRM BoCK™.


Our certification preparation course is designed primarily for individuals seeking SHRM-CP or SHRM-SCP certification. Certification is a great choice for HR professionals who want to:
Increase their knowledge
Advance their skills
Earn recognition from the global community
Eligibility Requirements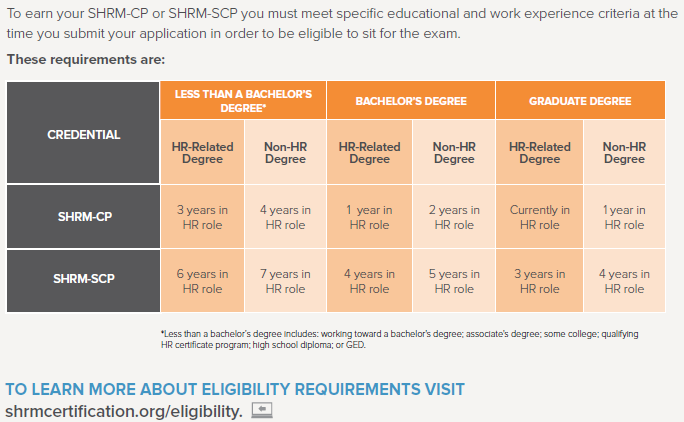 ---
Advancing your career. For those not seeking certification, the SHRM Learning System for SHRM-CP/SHRM-SCP course provides a comprehensive and accelerated option for professional development. Participants gain a generalist viewpoint, refresh key ideas and concepts, strengthen their understanding of core HR competencies and increase productivity in the workplace.
JMU Outreach & Engagement courses are specifically tailored to meet the needs of adult learners. Courses are taught by SHRM-certified instructors experienced in the HR field. Students will be expected to complete all assigned readings; and activities prior to each class.
Fall 2016 Course Details

Location
Dates/Time
Course Fee

JMU Ice House




127 W Bruce St




Harrisonburg, VA

Sept 22 - Dec 15
Thursdays
5:45PM - 8:45PM

$1249 Registration Fee

$1149 SHRM Members







 

 

Interested in training your team?

Ask about volume discounts or offering a program at your location. Contact Tomika Ferguson or Kathleen Gibson
at 540/568.4191.

Classroom Sessions Include:

A high-level review of course material

Interactive discussions and learning activities focused on the practical application of HR competencies and knowledge

Sample assessment questions

Study and test taking tips
The SHRM Learning System® for SHRM-CP and SHRM-SCP is comprised of five modules of study: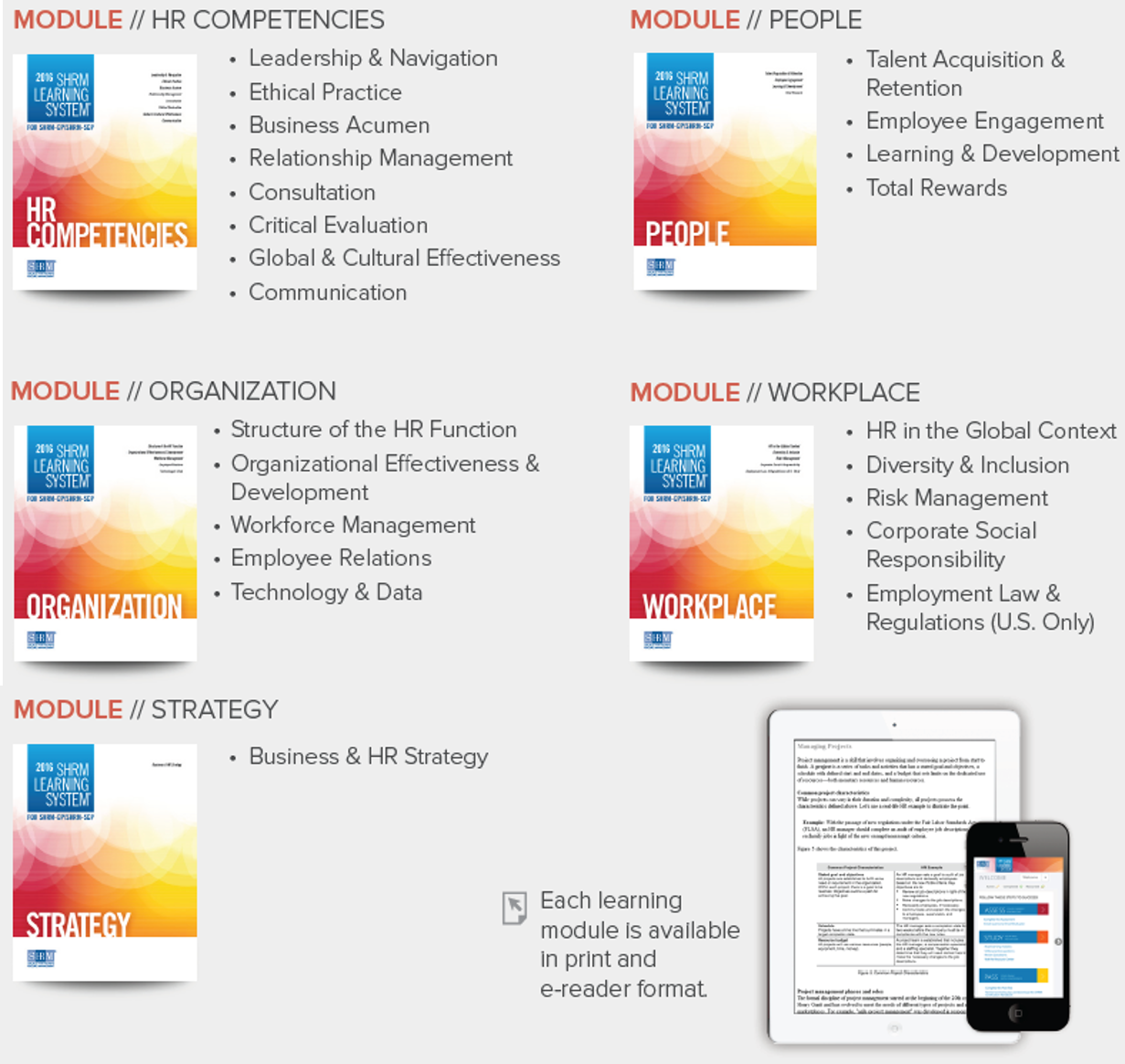 To register:

Online Registration *Credit card payments (Visa, MasterCard, Discover, & American Express) can only be accepted through online registration.

Mail: Download, complete and print the registration form and mail with payment to:

JMU Outreach & Engagement
127 W Bruce St, MSC 6906
Harrisonburg, VA 22807

You may consider a private loan with your banking institution or local credit union. Alternatively, you may apply for a Sallie Mae Smart Option Student Loan or a Wells Fargo Collegiate Loan. To qualify/apply for a Sallie Mae or Wells Fargo loan:

NOTE: Please use the following James Madison University Continuing Education school code when applying: 003721-98.

Registration Deadline: Registration closes 7 days prior to class start date. Late registrations will be accepted up until 3 business days prior to the class start date but will incur a $25 late registration fee.


Cancellation Policy: You may cancel your registration up to 14 days prior to the program start date and receive a refund of course registration fees, less a $25 administrative fee and any credit card processing fees. To withdrawal from a course you must send a request in writing to outreach@jmu.edu. Late withdrawal requests (less than 14 days but greater than 7 days prior to the the program start date) will receive a refund of 50% course registration fees, less a $25 administrative fee and any credit card processing fees. No refunds will be given 7 days or less from the program start date.

Program Requirements: There are no admission requirements to take this class. Certain criteria must be met for participants applying to take the SHRM-CP or SHRM-SCP exam.

SHRM-CP/SHRM-SCP Exam Requirements: To apply for either the SHRM-CP or SHRM-SCP, candidates must have a combination of education and professional HR experience. For more information, visit SHRMcertification.org