News
President's Fall Update
Remembering Dr. Carrier, Growth4VA, Marching Royal Dukes
---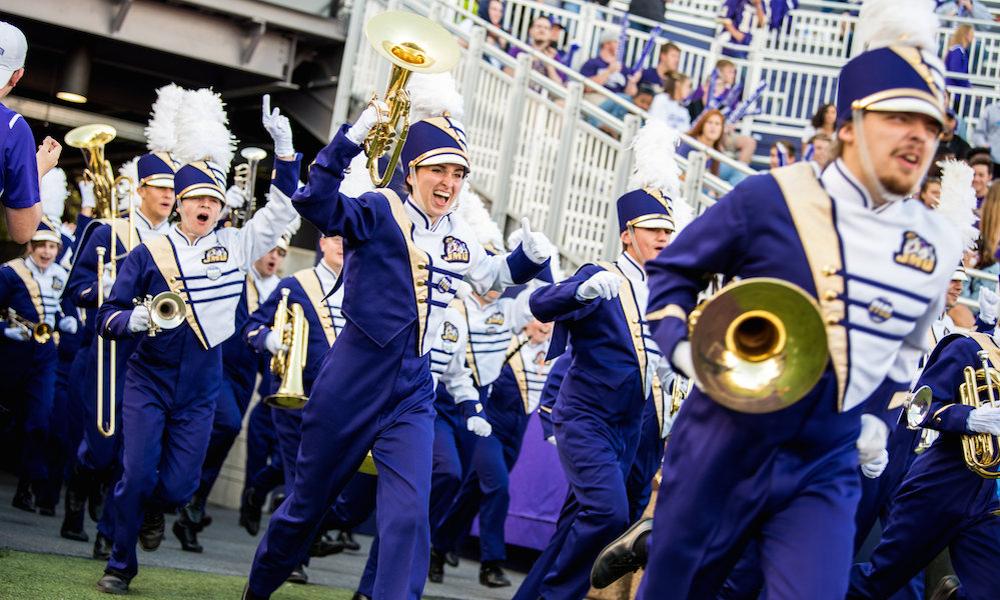 ---
Greetings Alumni, Parents, Students, Faculty and Staff,
Fall semester is off to a great start and we are on the cusp of cooler weather and the transition to the vivid colors of autumn on campus and in the beautiful Shenandoah Valley. We have much to celebrate and be thankful for as we move forward and also take time to reflect on our legacy. 
Growth4VA
JMU is excited to support Growth4VA, a campaign launched by universities and businesses to promote reform and reinvestment in higher education with a goal of stimulating the Virginia economy. The campaign, backed by a partnership of higher education and business leaders, aims to help grow the Virginia economy, expand access to education and job opportunities for all Virginians, and regain Virginia's No. 1 ranking for business.
Virginia ranked 44th lowest among the 50 states for public support per student in higher education during the last 15 years.  Public higher education institutions in Virginia have seen their budgets cut in eight of the last ten years while a recent State Council on Higher Education of Virginia report demonstrates that tuition increases at public universities are in direct proportion to cuts in public funding for those institutions.
Growth4VA comes at an important time for higher education in the commonwealth.  Virginia's economy can no longer rely on federal spending. We must focus on developing more innovation.  Investing in higher education is a primary element to achieving these goals.
Remembering Dr. Carrier
A memorial service for Dr. Ronald Carrier, JMU's fourth president, will be held on Oct. 22 at 1 p.m. on campus in Wilson Hall. All are welcome. Dr. Carrier passed away on Sept. 18 in Harrisonburg.  "Uncle Ron," as he was affectionately known, catapulted James Madison University to national prominence during his 27-year presidency.  For those who have expressed an interest in making a gift in Dr. Carrier's memory, the Carrier family has asked that any financial contributions be directed to the Edith J. Carrier Arboretum Fund or to Carrier Library.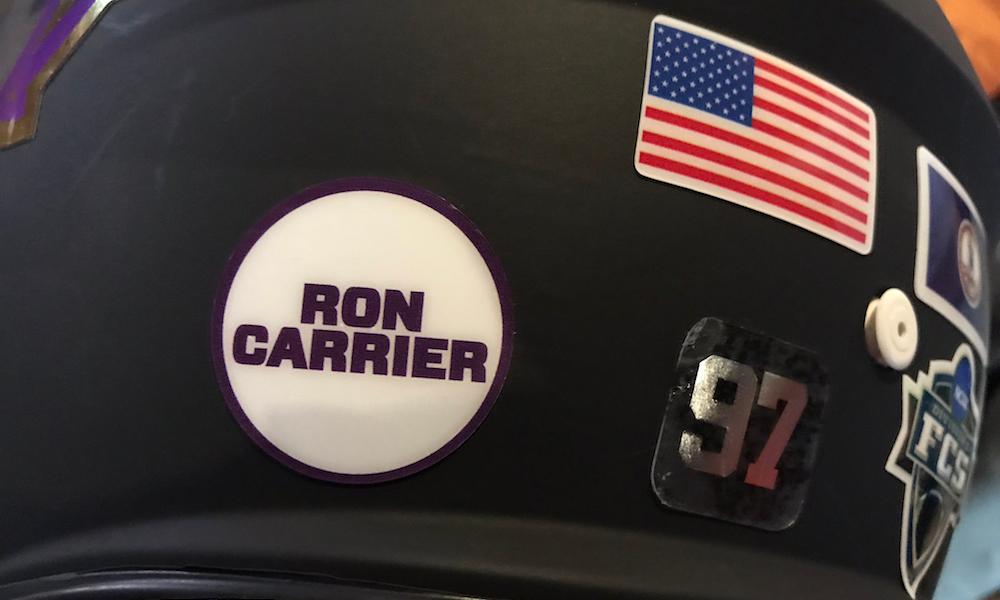 JMU football will honor Dr. Carrier with a helmet decal for the rest of the season.
Marching Royal Dukes
We are proud to announce that our Marching Royal Dukes were selected to perform in the 2018 Macy's Thanksgiving Day Parade! The MRDs will become the first college band to make four appearances in the parade in the past 40 years. JMU was selected from more than 100 applicants as one of 10 bands to march in the 92nd edition of this iconic American holiday tradition.
Honors and Recognitions
The U.S. News and World Report annual college ranking have affirmed what we already know — JMU is one of the top universities in the nation. The publication ranked JMU NO. 2 in the Best Public Regional University in the South category.  JMU also earned high rankings for innovation, business and engineering.
We earned another significant honor for our civic learning and engagement activities, being named a winner of this year's Excellence and Innovation Awards presented by The American Association of State Colleges and Universities.
JMU was also named a Diversity Champion by INSIGHT Into Diversity magazine, one of a select few universities across the nation so honored. The university was described by the magazine as "a visionary leader among campus communities striving for diversity and inclusion."
Our national reputation for excellence in assessment was validated by being named as one of five members of the 2017 class of Excellence in Assessment designees, a national program aimed at recognizing universities conducting a comprehensive assessment of student learning outcomes as a means to drive internal improvement and advance student success.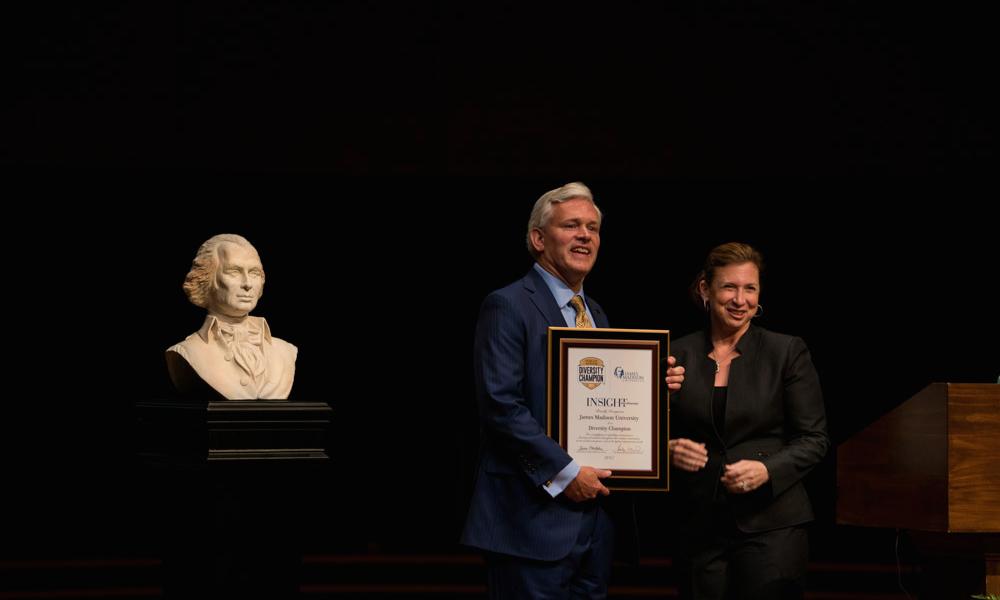 President Alger receives Diversity Champion award.
Noteworthy Achievements
Dr. David Ehrenpreis, director of the Institute for Visual Studies, has completed a book that documents the history of Harrisonburg.  Picturing Harrisonburg: Visions of a Shenandoah Valley City Since 1828, celebrates the history of the city from 1828 to the present. The Duke Hall Gallery of Fine Art is hosting a corresponding exhibition through Oct. 14.
Dr. Lori Britt of Communication Studies and Dr. Rob Alexander of Political Science and Public Administration secured a grant from Campus Compact designed to unify campuses and communities. Their project,"Cultivating a Communicative Climate: Bridging Gaps through Dialogue Facilitation Training," will center on co-hosting a series of workshops with Eastern Mennonite University's Center for Justice and Peacebuilding. The workshops will pair students from both universities with community members to learn and practice facilitation skills using the most relevant issues facing the community as case studies. Britt and Alexander oversee JMU's Institute for Constructive Advocacy and Dialogue.
JMU has formally opened its Center for Civic Engagement. The center, under the leadership of Dr. Abe Goldberg, aspires to serve as a catalyst to develop, articulate and expand upon the initiatives already underway at JMU to provide students the necessary tools and skills to make positive changes in their communities and participate in the democratic process.
Dr. Mike Davis, executive advisor to the president, was selected for the Melissa Maxcy Wade Award for Encouraging Debate as a Public Good. Davis previously served JMU as Director of Debate and in 2008 he was awarded the national Director of the Year for Debate award.
A study by The Chronicle of Higher Education recognized JMU as the No. 2 master's degree institution for sending students to study abroad for academic credit in the 2014-15 academic year.
Ethical Reasoning in Action
Now in its fourth year, JMU's Ethical Reasoning in Action initiative is striving to be ingrained in the fabric of campus culture. Opportunities to learn and practice ethical reasoning at JMU span academic disciplines and university divisions. New and veteran faculty from content areas including engineering, sport and recreation management, political science, music, nursing, media arts, and marketing, to name a few, are integrating ethical reasoning into their courses. Several offices incorporate Eight Key Question processes into student employee or volunteer training as well as into professional development for colleagues.
Last spring, three College of Business students, Simon Hellman, William Furlow and Greta Wolking,  won second place as a team in the International Business Ethics Case Competition, held in California, in addition to placing in other categories.
Next Madison Vision Series Presentation
Civil discourse is an important Madisonian principle that is embodied on campus by the Madison Vision Series. The next presentation in the series will be a panel discussion on the impact of the Affordable Care Act on the American health care landscape. Everyone is invited to attend on Thursday, Nov. 2 at 3:30 p.m. in the Forbes Center Concert Hall.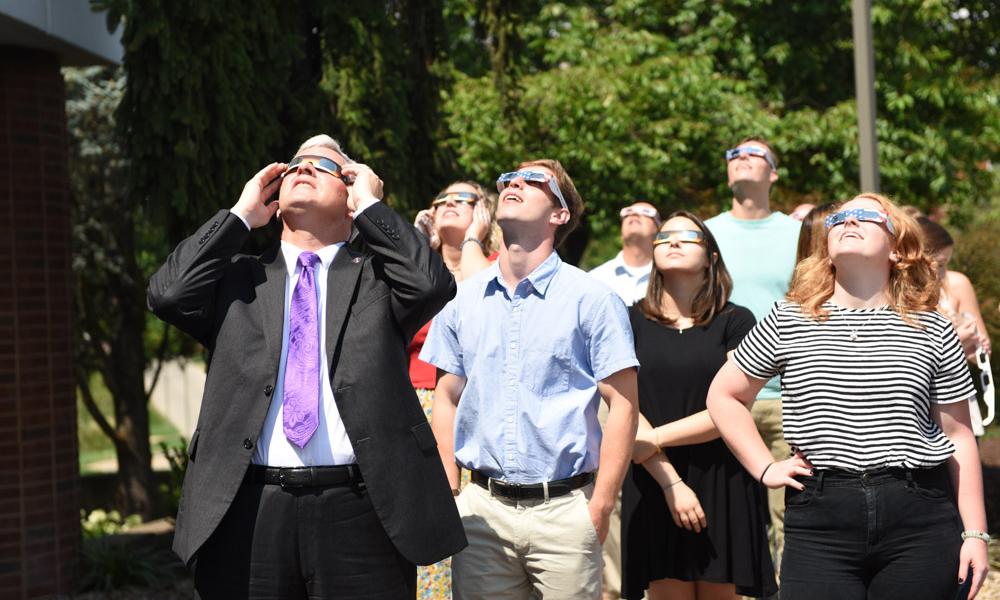 President Alger views solar eclipse with staff members from The Breeze.
Leadership Transition
Over the past four decades, Dr. Mark Warner has worked to shape what it means to be a Duke, spearheading efforts to ensure that first and foremost JMU continues to be a relationship-oriented campus, where students take care of each other and understand the profound difference they can make in the world. Warner will retire at the end of the academic year.
Board of Visitors Update
The Board of Visitors met on Friday, Sept. 29.  The board received updates on a number of issues facing the university and heard about many of the recognitions and accomplishments that I've already outlined here.  The Finance and Physical Development Committee had a productive conversation on some financial planning issues that deal with funding issues in the long term. The board also approved the university's legislatively-mandated six-year plan, which outlines the strategy and resources necessary to achieve our priorities in the near term.
In closing, please mark your calendars for Homecoming 2017, Oct. 27 through Oct. 29. Details and registration information are available here. We look forward to seeing you on campus soon. Go Dukes!
Sincerely,
Jonathan R. Alger, President
Published: Monday, October 2, 2017
Last Updated: Tuesday, December 5, 2017