College of Business
CoB Students Earn Recognition in Ethics Competition
---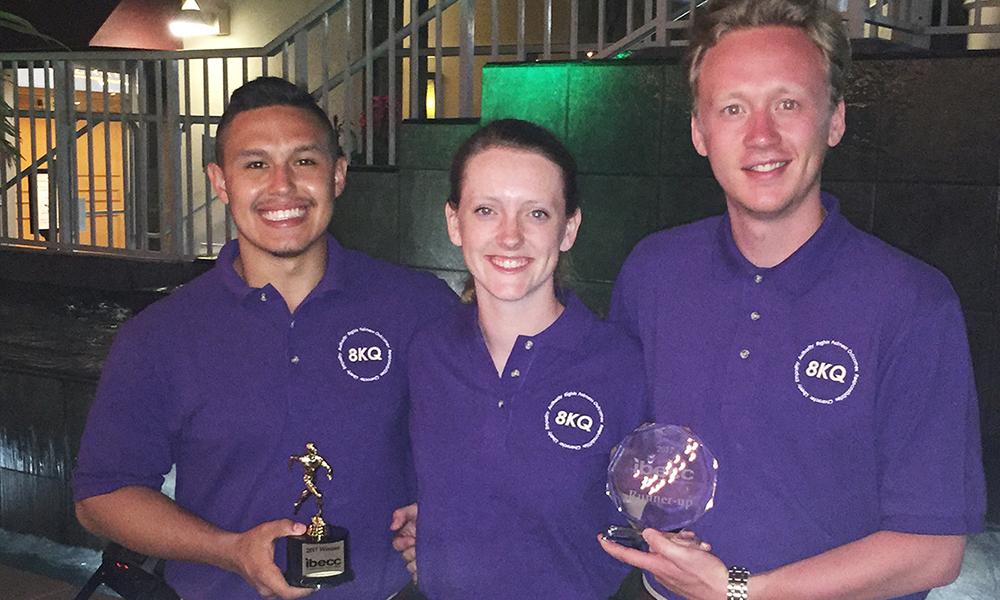 SUMMARY: Three CoB students represented JMU in the International Business Ethics Case Competition, winning second place for their 30-minute presentation, as well as two individual recognitions in a 4-mile biathlon associated with the event.
---
Is Facebook's privacy policy ethical? That's the question three JMU students addressed as participants in the 2017 International Business Ethics Case Competition (IBECC), held April 19-21 in Santa Monica, Calif. Juniors Simon Hellman, William Furlow and Greta Wolking were runners-up in their division for their 30-minute presentation, which was followed by a 30-minute Q&A session. 
The JMU team also placed first in the IBECC's World's Most Intellectually Daunting Biathlon, a 4-mile biathlon event that promotes the connection between mind and body while raising money for charity. Furlow placed first in the men's division of the biathlon, while Wolking placed fourth in the women's division. Marketing professor Joe Derby, the team's adviser, placed third among team coaches. 
This is the first time JMU has sent a team to participate in IBECC, the oldest and most recognized intercollegiate business ethics competition. Each competing team chose their own topic for the event which includes three separate components: a full presentation followed by Q&A and feedback, a 10-minute presentation and a 90-second presentation. Hellman, Furlow and Wolking used the Madison Collaborative's Eight Key Questions (8KQ) as a framework for addressing the legal, financial and ethical problems with Facebook's privacy rules. 
"Facebook collects and sells its users' information to marketers, and it's a huge source of revenue," Hellman says. "Users are unaware that they are giving consent. We proposed an opt-in model that would offer incentives to persuade users to do that." 
The students began working on their presentation in late February. The process helped to sharpen their research, analytical and interpersonal skills. And by using the 8KQ framework, they learned a practical tool for evaluating ethical issues in business.
"The Eight Key Questions approach is a simple framework that helps you evaluate business problems from different angles," Hellman says. "Everyone thinks they understand ethics, but it's harder than it seems. I appreciated this process for helping me learn how to work through an ethical dilemma."
Published: Sunday, April 30, 2017
Last Updated: Wednesday, January 2, 2019