News
End of Semester Update
Graduation Details, Awards, Campus Events
---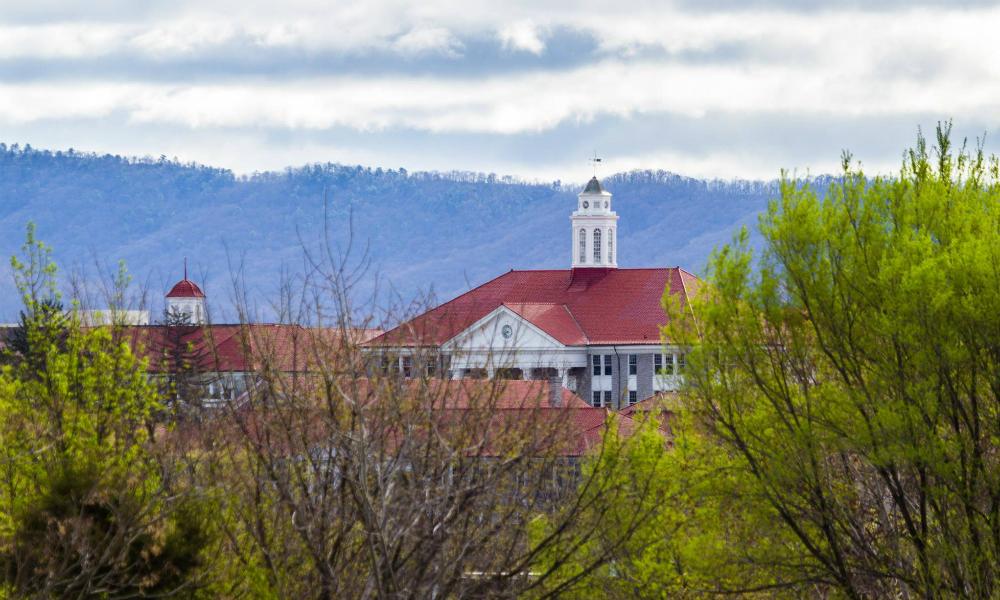 ---
Hello Students, Faculty and Staff,
We have reached the last stretch of the semester as finals are underway. Good luck! I am proud of your hard work.  I look forward to finishing a successful academic year by conferring degrees on our 4,365 newest alumni.
We've had a busy year.  I'd like to share some of the latest news from campus:
Scholarships and Awards Across Campus
It always makes me proud to hear of our stellar faculty and student accomplishments.
Two Dukes, current student, Kelly Gunn, a fifth-year elementary education major, and alumnus Jason Mann ('16), who earned a degree in international affairs, have received prestigious Fulbright English Teaching awards.  Kelly will be teaching in Romania while Jason will head to South America to teach in Colombia.
Chemistry major Ryan "Hunter" Wilson has been named a 2017 Goldwater Scholarship winner and Coleman Swaim, also a chemistry major, won an honorable mention. This award, named for former Arizona Senator Barry Goldwater, is given by Congress and is among the most competitive in the nation.
Finally, Phoebe Cook, a graduate biology student, and Jonathan Gerhard, an undergraduate mathematics major, received awards from the National Science Foundation Graduate Research Fellowship Program to pursue doctorates in NSF-funded fields. David Boyle, a chemistry major, and Grant Rybnicky, a biotechnology major, received honorable mentions.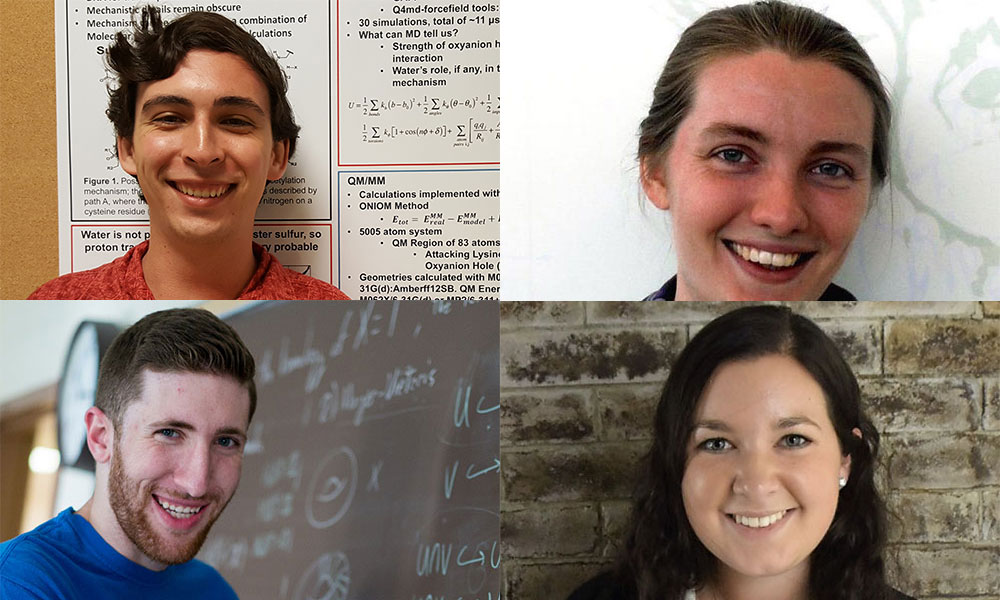 Pictured above from top left: Ryan "Hunter" Wilson, Phoebe Cook, Jonathan Gerhard and Kelly Gunn.
Congratulations to all on their accomplishments and good luck in your future endeavors.
Campus Compact, an organization promoting civic engagement and community development, has named Magi Linscott JMU's first Newman Civic Fellow. The Newman Civic Fellowship supports students in their personal, professional and civic growth to become leaders in the next generation of problem solvers.  JMU is very active in Campus Compact, and proud to have Magi serve in this role.
Susan Wheeler, our university counsel, will be recognized by the National Association of College and University Attorneys with their Distinguished Service Award in June at their annual conference. Susan has worked tirelessly on behalf of the university for many years.  It is not surprising to us that her peers would recognize such efforts.  Thank you, Susan, for your impressive work and dedication.
Dr. Susan Halsell, associate professor of biology, will be honored this fall by NACADA: The Global Community for Academic Advising as a faculty winner of NACADA's Outstanding Advising Award.  Dr. Halsell's work advising our students is yet another example of the university's commitment to the student-faculty relationship.  Congratulations, Dr. Halsell.
Crossroads to Brain Injury and Recovery, Inc. welcomed Dr. Jaime Lee to serve as a board member. Her expertise as a professor in communication science and disorders and her management of Aphasia Research and Treatment Lab on campus will make her a great fit for this local non-profit, which serves across the Shenandoah Valley. Dr. Lee models engagement by using her skills in the community.
Debate Team Wins the Madison Cup
I am proud to say that after a hiatus, the Madison Cup is back home at JMU. After a few years of narrowly missing out on bringing home the trophy, JMU debaters Nick Lepp, senior communications major,  and Cecilia Cerja, junior international affairs major, won the prestigious debate tournament by arguing the topic of reducing greenhouse emissions in the United States.  This is the first time since 2003 that Madison debaters have won the JMU-hosted tournament.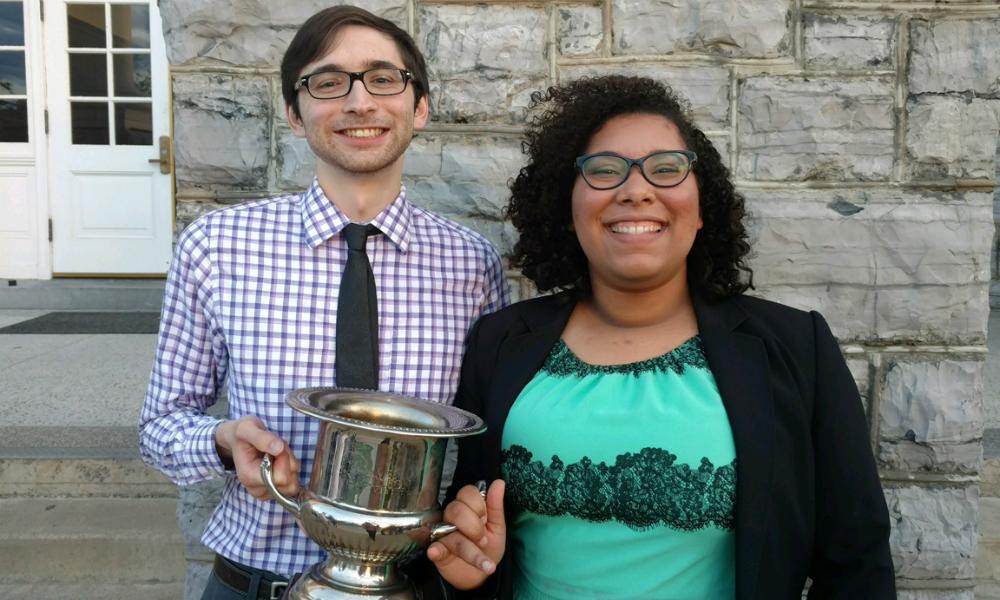 Thank you to Dr. Mike Davis, director of debate, and all of the other coaches, team members and sponsors that helped with preparation and provide support for this momentous win. JMU Debate exemplifies JMU's commitment to civil discourse. Congratulations again for a well-deserved win.
Notable Campus Events

Faculty, staff and students are invited to attend the Women for Madison Summit on May 19-20.  April Armstrong will be the keynote speaker, discussing the topic "Creating a Life That Counts." Women for Madison is a network of alumni, parents, friends, students and faculty who engage with women about the opportunities and needs of the university. Register here.

We recently received a letter of praise for our MadiTHON supporting the Children's Miracle Network  program at UVA Children's Hospital. After only four years, MadiTHON raised over $100,000 by the end of their dance marathon this year. JMU's efforts have become the first dance marathon in Virginia to raise over six figures in a single event. This partnership with the UVA Children's Hospital has benefited many children within our own community and throughout the commonwealth. Thank you for all who put in an enormous effort to be the change in many, many children's lives.
Athletics Accomplishments
As the academic year closes, I want to highlight some of our recent athletic achievements.  The JMU Men's Club Rugby Team won the Chesapeake Conference Sevens Championship last weekend by defeating Virginia Tech in the final.  It was a team effort to take on five games in one day to win the championship.  The team has qualified for the national tournament.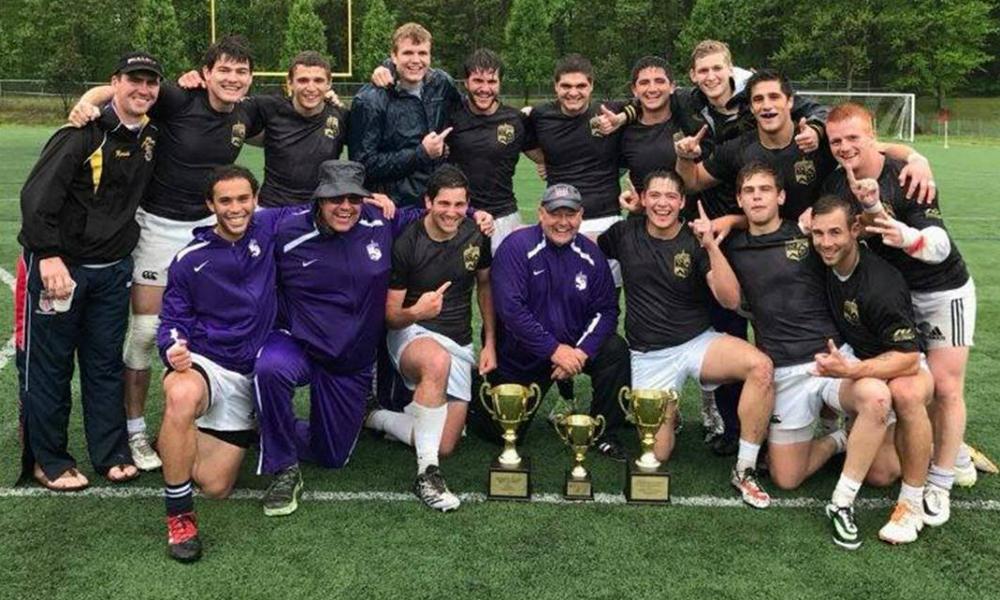 Precious Hall added another award to her resume as she was voted to the  Virginia Sports Information Directors University Division Women's Basketball All-State First Team. Congratulations to Precious on a tremendous career here at Madison.  Also, men's golfer sophomore Shota Ozaki tied for fourth individually at the CAA Men's Golf Championship. Track and Field opened its weekend with a record-breaking performance in the 4x100 relay at the University of Virginia Challenge competition.  Finally, our softball and women's lacrosse teams continue to receive national recognition.  Our softball Dukes are currently ranked no. 14 in the nation while the women's lacrosse team ranks no. 19. Congratulations to all of our teams and athletes and their great feats.
This week athletics also hosted the James Madison Athletics Awards.  These awards highlight teams and individuals throughout the year who have shined. Check out the full list.
Graduation Details

Commencement is only a week away. We will have our Graduate School Commencement on May 4, and the university commencement on May 5 at 3 p.m. featuring guest speaker, Pittsburgh Steelers linebacker and JMU alumnus Arthur Moats. The individual college ceremonies will be held on the evening of May 5 and morning of May 6. Visit the commencement website or download the app to make sure you don't miss any of the fun.  I look forward to celebrating this special weekend with all the graduates and their families and friends.
As we wrap up the year, I want to thank you for your dedication to your studies, students, peers and to our JMU community. Without your commitment and engagement we would not be the university we are today. Have a wonderful graduation weekend and a safe and enjoyable summer.
Sincerely,
Jonathan R. Alger
Published: Thursday, April 27, 2017
Last Updated: Monday, May 1, 2017