News
January Board of Visitors Update
Football Championship, New Provost, December Graduation and More
---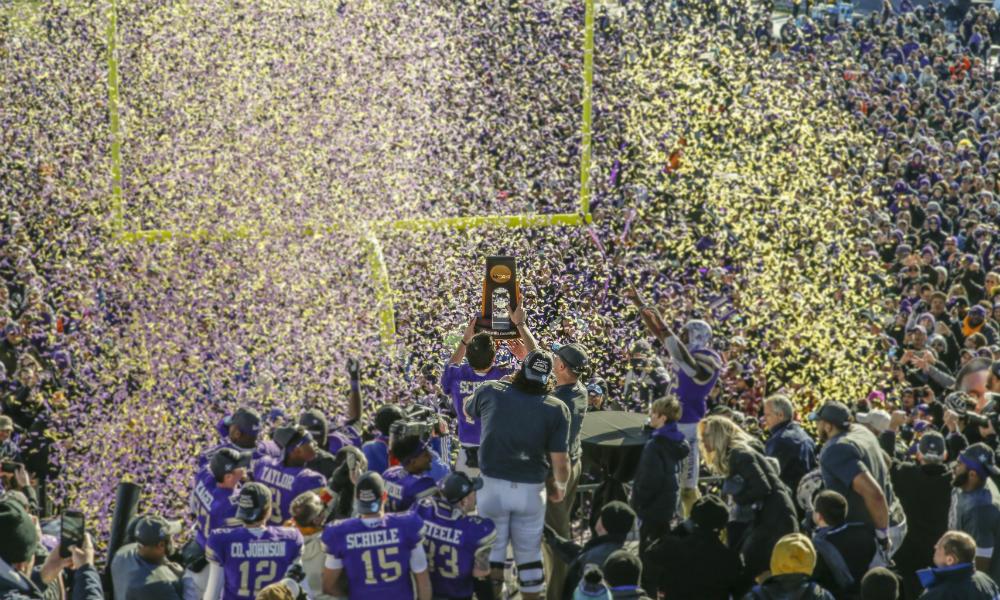 ---
Dear Students, Faculty and Staff,
Welcome back to campus! I hope you have successfully tackled your first week of the spring semester. I was happy to welcome our Board of Visitors to campus today for our quarterly meeting. We have lots of exciting news and updates to share:
FCS National Championship
Congratulations to our football team on the FCS National Championship win! We are extremely proud of the team and the effort and grit they have shown. We appreciate Coach Mike Houston and his staff who helped bring us to a national stage. Thanks again to all of the fans who traveled and the staff who put in countless hours to prepare for this event during winter break.
We are continuing to celebrate with a parade in conjunction with the City of Harrisonburg on Saturday at 1 p.m. in Downtown Harrisonburg. We hope you can attend.
December Graduation Ceremonies
Despite the weather delay, we had wonderful December graduation ceremonies. Over two days, 870 degrees were conferred – 745 undergraduate degrees and 125 graduate degrees.  For the first time ever in December, we held a separate commencement ceremony for The Graduate School.  The commencement address at both ceremonies was delivered by Jerry Benson, JMU's provost and senior vice president for academic affairs. After 36 years of service to JMU, and serving as provost for the last six years, Dr. Benson is preparing to retire in summer 2017. He provided the graduates with valuable words of wisdom.  We will miss his strong leadership.
Announcement of New Provost and Other New Leaders
After an extensive search process, I am once again happy to note that Dr. Heather Coltman will join us as our new provost and senior vice president for academic affairs, effective July 1, 2017.  During her tenure as dean of the Dorothy F. Schmidt College of Arts and Letters at Florida Atlantic University, she has demonstrated a decades-long dedication to creating and sustaining a culture of inclusion and opportunity. This experience, coupled with her distinguished record of academic leadership and commitment to scholarship, learning and service, make her the right person for this role. She received broad support from our university community during the interview process, including faculty, and was widely praised for her communication and interpersonal skills. Learn more about Dr. Coltman.
Executive Director of the Center for Entrepreneurship
Another leader I am happy to welcome is Patrick McQuown as the new executive director of the Center for Entrepreneurship. He has an impressive resume, including teaching as an adjunct professor at Brown University and Providence College.  He was also an entrepreneur-in-residence at Yale University. He has served as a mobile and media content executive and is a start-up founder of Proteus, where he was instrumental in developing the mobile applications for logging votes for the American Idol television show. I look forward to his influence and leadership at JMU.
Community Connection
In December, Campus Compact President Andrew Seligsohn visited JMU. Campus Compact is an organization that helps college campuses across the nation build a foundation of community engagement, and I am currently serving on the board. JMU will take a leading role in starting a Virginia chapter of the Campus Compact.
This initiative dovetails with our work with the Service Year Alliance, an initiative to encourage colleges to create opportunities for students to commit to a year of public service. We have initiated the Engagement Fellows Program  with recent graduates serving in the Valley Scholars Program, Institute for Innovation in Health and Human Services, and the Montpelier Estate, home of James and Dolley Madison.
The Madison Singers also connected with the local community. Recently they gave a concert at Augusta Correctional Facility, an experience enjoyed by the audience and our singers.
Civic Responsibility and Activities
In honor of the 225th Anniversary of the Bill of Rights and as the president of the university named for the Father of the Constitution, I reflected on the Bill of Rights and the social contract we agree to in this free nation, in order to respect and live with one another. See my Washington Times article for more.
In October we held conferences that reached across the world. We welcomed a delegation from Kosovo for a summit on higher education. The delegation included Kosovo's Minister of Education, Science and Technology, and the leaders of most of their public universities. We discussed how we can work to help build an infrastructure of higher education in Kosovo, the world's youngest democracy. This summit was part of an ongoing relationship with this country, and we look forward to working with them in the future and creating opportunities for both JMU and Kosovar students and faculty.
Martin Luther King Jr. Celebration Week and the Madison Vision Series Lecture
Theodore Shaw, a diversity and civil rights expert, is the guest speaker for James Madison University's Martin Luther King Jr. Celebration Week formal program on Jan. 16.  Shaw's presentation is part of the Jan. 16-20 week honoring the life and legacy of the late civil rights leader. Shaw will speak at 6 p.m. in Wilson Hall Auditorium. Doors open at 5:30 p.m. to the public address. The Madison Vision Series and the Center for Multicultural Students Services are co-sponsoring this event. The program will include a special dramatic expression, recognition of people within our communities and our guest speaker. Learn more here. 
4-VA Drone Project
JMU students are involved with a statewide 4-VA collaboration titled the Virginia Drone Project. This multidisciplinary class explores how drones can help solve global problems. The Richmond Times-Dispatch recently covered the class and specific drones that assist with beekeeping, historic preservation and mine detection. We are proud to offer cutting-edge courses, and our innovative students and faculty go above and beyond in their dedication to problem-solving.
I applaud and appreciate your good work, service and enthusiasm. Here's wishing everyone a happy, healthy and productive new year!
Sincerely,
Jonathan R. Alger
James Madison University President
Published: Friday, January 13, 2017
Last Updated: Thursday, January 19, 2017