News
Why Madison Presidential Listening Tour: Portola Valley
---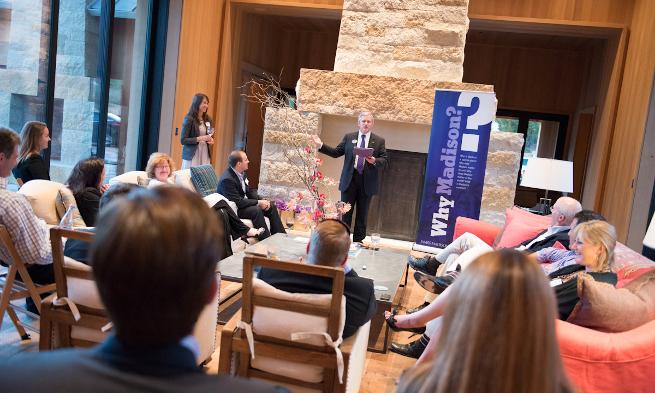 President's Journal —
Sept. 19, Portola Valley, Calif.
I wish we could have brought all of our students with us tonight
Our "Why Madison?" reception has been a real treat for all of us tonight in Portola Valley, Calif. We are at the home of 1982 alumnus Paul Holland, who has built what is being called "the greenest house in America." It was just a thrill for us to see what you can do with sustainability when you really are very deliberate and thoughtful about it. Every feature of the house has been so thoughtfully designed to reflect those values. It's a learning environment right here, and so it was a great setting for us to emphasize one of the great core values of JMU—sustainability. I just wish we could have brought all of our students here with us to experience this tonight.
Relationships stand out, even 3,000 miles away from campus
Here we are, 3000 physical miles away from the JMU campus, and yet we are hearing the same themes we heard in Virginia about the importance of our Madison relationships. That word stood out again tonight. There were people here who reconnected or were in some cases connecting for the first time. They all kept talking about the importance of relationships and what they are going to mean to future generations of students. Roommates. Special professors. Great friendships that last a lifetime. It was even more powerful to hear this so far away from the campus. Alumni here said that they don't see us as often out here. It really means a lot to them to have JMU come out to California in force with an event like this, where we can spend time together and continue to build and develop and nurture those relationships.
Our San Francisco-Bay area innovators offered concrete ideas for alumni support
We knew coming out to the Bay Area of California that we were going to be in for some surprises -- in a very good way. This is where innovation is king and this is where people come to change the world. Our graduates and alumni are very much a part of that. What's exciting is that they are constantly thinking ahead, looking toward the future and asking, "What's the next big thing? How do we not just identify problems, but how do we solve problems?" And "how do we create those new innovations that will make the world a better place?" So, immediately, this group started to turn to that as they talked about things like the financial support of the university and the need for more alumni engagement. We were hearing very specific suggestions and ideas about how we could communicate with people and how we could help develop our alumni networks more strongly. It was very thoughtful and very intriguing. We were all taking a lot of notes, because getting those concrete suggestions is an important part of the listening tour.
Alumni can help JMU's intergenerational connections stand out
We've talked a lot already during the listening tour about the importance of intergenerational connections for our students, and for parents as they are looking at different colleges for their sons and daughters. It's an area where alumni can help JMU can really stand out as we think about very deliberately cultivating intergenerational relationships. Tonight alumni reiterated that mentorships are right at the heart of that. I think sometimes people feel like, "Oh, I can't be helpful because I don't have the right job in my company or in my workplace right now."
Alumni mentors can help guide students and open doors
But the reality is—and what we've heard tonight is—if you can spend a little bit of time with a student, a current student, and talk to him or her about your career path, things that they can do, things that they can think about, that it's not just a straight line from "here" to "there," but that there are lots of different opportunities available to the students. Alumni can be helpful in showing how you get there. How do you open those doors? Just having those conversations, being willing to spend time with students, having lunch with them, looking at their resumes, all of that can be extremely valuable, and students will remember that for the rest of their lives. We've heard people mention how important it was to have mentors and how JMU and the JMU community could be a source of mentors. I think we need to be much more intentional about that. We had a lot of great examples here that we can emulate and build upon.
Published: Wednesday, September 12, 2012
Last Updated: Wednesday, May 24, 2017