Being the Change
Changing war's aftermath
---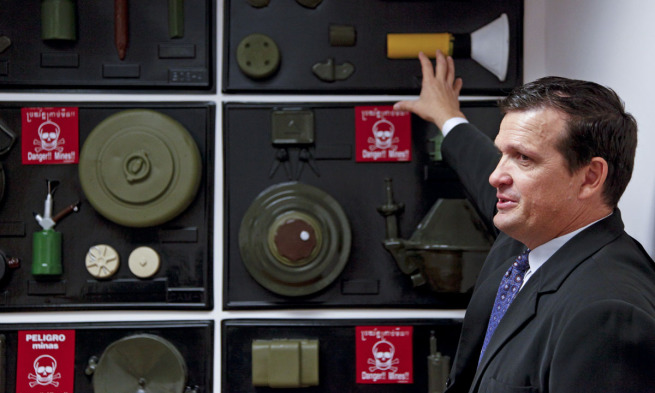 Posted November 2011
By Tyler McAvoy ('12)
Buried, forgotten and devastating
Buried inches under the ground, landmines kill or maim scores of civilians each year, a painful reminder of conflicts that happened years, sometimes decades, earlier.
"In 2009 more than 70 countries and territories hosted landmines on their soil, while 58 countries had landmine casualities," says Kenneth Rutherford, professor of political science and the director of the Center of International Stabilization and Recovery at JMU. "Fifty of these countries have been at peace for more than a decade."
Rutherford, a victim of a 1993 landmine accident in Somalia, has dedicated his life to the eradication and banning of landmines around the world, ensuring that the victims of landmines get rehabilitation and support.
WWI Landmines Still Active
"It's a long term problem. Belgium and French farmers are still threatened from World War I landmines," says Rutherford. "We'll be talking about [landmines] in Libya five years from now.
A landmine remains dormant until a victim, often times a civilian, detonates it, usually unaware they've tripped the landmine until it's too late. Often forgotten by the army that planted them, 110 million landmines are still active around the world, Rutherford estimates, posing a threat to roads, villages and farmland.
Though armies are supposed to keep records of where the landmines are buried, many do not, and devices are lost due to soil erosion, flooding and inaccurate record keeping. Even when the whereabouts of a landmine is known, removing them is rarely an easy task, requiring millions in funding for training and equipment — besides the obvious risk the explosives pose.
Developing countries often can't support their own landmine removal program, relying heavily on outside support.
"Egypt is the most heavily landmine infested area in the world because of the battles between Britain and Germany in El Alamein in World War II. The Egyptian government doesn't want to remove them because they believe it's a problem between the Germans and the British, not their problem. They just don't have the financial resources to do it," Rutherford says.
Though there have been international treaties banning the use and production of landmines, such as the Mine Ban Treaty signed by 157 countries in 1997, landmines are still being used.
"The usual suspects didn't sign the treaty," says Rutherford. "Columbia, which wasn't even on the top 10 most infested list 15 years ago is now on the list because of the drug wars."
"A victims advocate"
After the blast that left him a bilateral amputee, Rutherford began lobbying and advocating on the behalf of victims of landmines around the world, speaking at the U.N., Royal Geographic Society and at conventions in Geneva.
Bringing the reality of civilian casualties and disablement caused by landmines to the front of international attention, he established the Landmine Survivors Network (now the closed Survivor Corps) with another survivor. It was the first organization founded by survivors for survivors of landmines.
But it wasn't enough.
"We believed that we were poster kids for the [Mine Ban] Treaty, and that as soon as political and media spotlight shifted from landmines, we would be forgotten," says Rutherford.
With the new focus on victims of landmines, Rutherford was invited to speak at a London event with Diana, Princess of Wales. At the event, Rutherford approached Princess Diana to help garner longer lasting support.
"She was drawn to people with disabilities and really became our champion. In the world's rush to ban the landmines, she always made sure that everyone remembered the victims of landmines too."
With the leverage of Princess Diana, Rutherford helped put language into the Mine Ban Treaty in 1997 that specifically asked for special aid for victims of landmines. This was the first time this had ever happened in a treaty.
"I guess I have a missionary zeal to me," says Rutherford. "It drives my wife crazy because she can't find a bitter bone in my body even when we are confronted with challenging circumstances."
The International Convention to Ban Landmines, a network of organizations that campaigned for the Mine Ban Treaty, won the Nobel Peace Prize in 1997 for their advocacy. Rutherford, one of the most prominent supporters for the Mine Ban Treaty, made sure that language for the care of victims of landmines made it into the treaty.
"Some of the words in the Mine Ban Treaty are straight from the lips of survivors around the world," Rutherford says.
Since 2010, Rutherford has been the director of JMU's Center for International Stabilization and Recovery.
"No other university in the world has an organization like CISR. That"s what drew me here [to JMU]. Most everyone working with disabilities in post-conflict areas focuses on prosthetics and arms, but I like to focus on education, which is one of the reasons I accepted the job. The upside is huge here, in terms of bringing JMU skills and programs overseas to empowering war victims, conflict survivors and their families and communities," Rutherford says.
JMU provides the talent
The organization, headquartered at JMU, produces the annual magazine To Walk The Earth in Safety and the tri-annual Journal of ERW [Explosive Remnants of War] and Mine Action, is an international information hub in the mine removal network. While CISR is managed by JMU staff and relies on the JMU facilities, students and professors, its funding relies on external grants and other outside funding, such as private individuals, to remain active.
CISR also hosts the Manager's Training Course, providing the latest training on mine removal and landmine victim assistance every May, inviting mine removal experts from across the globe to partake in the month long course. Many of these experts become managers of mine removal programs in their home country, advocates for victims' rights, and teach others what they've learned.
"We're tapping into individuals who has been introduced to CISR and JMU and use these people as surrogates to help develop the constitutions in their countries by including the rights and dignity for people with disabilities," Rutherford says.
CISR often works directly with JMU professors too, taking them overseas to use their skills to help others. Still traveling across the globe, CISR is making plans to take a group of professors from JMU to Iraq to plan different ways to stimulate the economy and provide support for expanding the private sector and diversify away from an overreliance on oil.
"We did not have to go outside of JMU to get great talent," Rutherford says. "Our niches are mine action management training, survivor assistance programs and mine risk-education, utilizing people with disabilities. No one does it better."
Results, and the work ahead
Rutherford's work has gotten results too. Since the signing of the Mine Ban Treaty in 1997, millions of landmines around the world have been removed and destroyed. Production of landmines is now a fraction of what it used to be. Victim assistance is more widely available, high tech artificial limbs are more common in some of the most dangerous parts of the world, more and more weapons control and peace treaties include positive economic and social rights language for victims of the conflict.
There's still much work to do. Rutherford won't be satisfied until all landmines have finally be found and eradicated, and all landmine victims get adequate care and are socially and economically reintegrated back into society.
"My goal is that indiscriminate weapons are banned and alleviate the negative effects of violence on individuals and communities as they transition to post-conflict, politically stable societies. When peace treaties are signed and troops go back to the barracks, the land is at peace," Rutherford says. "There's a shortage of time, and so much left to do."
Published: Friday, November 1, 2013
Last Updated: Thursday, October 20, 2016