Being the Change
Bringing stability post-conflict
---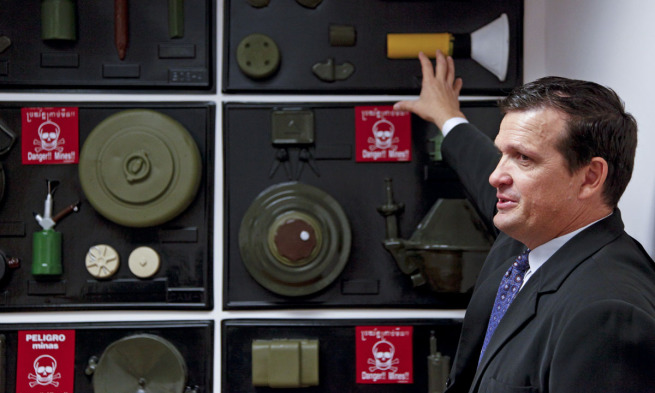 Posted November 2011
By Tyler McAvoy ('12)
International aid work
Kenneth Rutherford, professor of political science and the director of the Center for International Stabilization and Recovery at JMU has dedicated his life to the eradication and banning of landmines. His entrance to this line of work wasn't an easy one. Before his accident, Rutherford was an international aid worker. He is a rare sort of person, one who spoke a tribal language from West Africa, had an MBA and worked in the Peace Corps and several other high profile organizations.
Often working alone, armed only with a radio, Rutherford traversed some of the most violent parts of the world.
"Everyday was game day for me," Rutherford says.
Specializing in making sure a country could rebuild itself after a peace treaty was signed, Rutherford spent much of his time working on both sides of a conflict, living in some of the worst conditions one could imagine.
"Someone threw a hand grenade into my office once. I almost got stoned to death. I have had guns pointed in my face," Rutherford says.
Somalia's conflict zone
It wasn't until he took a job in Somalia in 1993 that everything changed.
Working with the International Rescue Committee in Somalia, Rutherford was looking at new ways to boost the economy, hopefully developing stability and eventually, peace. The war was brutal, and though there was some hope that the sides could come to a peace treaty, violence broke out nearly everyday.
"I've been in some conflict zones before, and this was a bad one," Rutherford says.
Traveling with members of the IRC and some local businessmen, Rutherford was on his way to examine local lime production facilities when his vehicle hit a landmine. The explosion ripped through the vehicle. The engine bay and front passenger seat where Rutherford was sitting were shredded to bits by the blast.
"I looked down at my feet and saw a foot lying on the floorboard," Rutherford wrote in an account of the incident released in 2002, "I wondered if it was my foot of or Duale's [his Somali colleague]. It was mine."
His legs not responding, Rutherford escaped the wreckage, desperately crawling for his radio.
"I've run over a landmine. I'm bleeding. I'm O-positive. Send for an airplane," he recalls saying into the handset.
First responders could do little more than tie tourniquets to quell the bleeding, and the Somali hospital wasn't equipped to handle his level of injuries. Injured internally, he coughed up blood. His feet were mangled; his right foot was completely separated from his leg, and the skin on his left was gone, exposing bone.
He was transferred to Nairobi, where his right leg was amputated, then Geneva, then Denver, Colo. In 12 days he had endured to five hospitals in four different countries, undergoing seven operations.
Now a bilateral amputee after losing his left leg to complications from the blast in 1997, Rutherford wants one of the focuses of the organization to be victim assistance.
"Most Victims Are Not So Lucky"
Rutherford, who once boldly went where few would dare to go, now found himself facing a new challenge: disablement.
"As I struggled to save my remaining leg and recover, I discovered an overpowering wave of support for both myself and my family that humbled me, and I realized that most victims are not so lucky," wrote Rutherford.
Rutherford began lobbying and advocating on the behalf of victims of landmines around the world, speaking at the UN, Royal Geographic Society and at conventions in Geneva.
His work in bringing the reality of civilian casualties and disablement caused by landmines to the front of international attention has yielded results. The International Convention to Ban Landmines, a network of organizations that campaigned for the Mine Ban Treaty, won the Nobel Peace Prize in 1997 for their advocacy. Rutherford, one of the most prominent supporters for the Mine Ban Treaty, made sure that language for the care of victims of landmines made it into the treaty.
Since 2010, Rutherford has been the director of JMU's Center for International Stabilization and Recovery, an international information hub in the mine removal network.
Read more about Rutherford and JMU's Center for International Stabilization and Recovery.
Published: Tuesday, November 1, 2011
Last Updated: Thursday, October 20, 2016