JMU in the Community
Back at JMU
---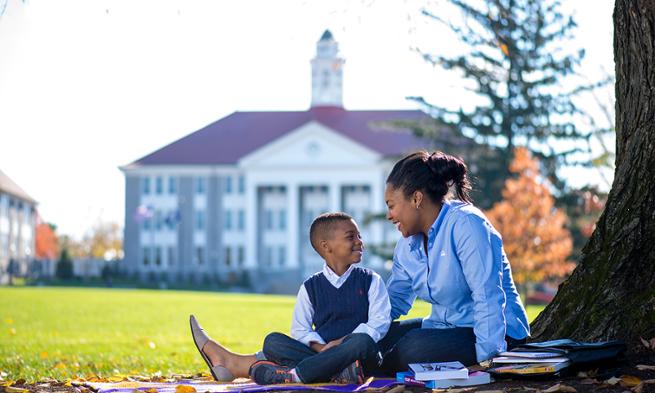 Francesca Leigh-Davis is seeing her Madison Experience finally fulfilled
By Courtney Herb ('15)
Francesca Leigh-Davis and her son share a moment on the Quad.
Back in 2005, Centennial Scholar Francesca Leigh-Davis' aspirations included completing a degree in psychology and pursuing a career in substance abuse counseling. As a recipient of Madison's prestigious full-ride Centennial Scholarship, the Tidewater area native was known for her superior academic performance, her school spirit, and for her love of the city of Harrisonburg. What many did not know, however, was her constant struggle with family issues back home. Now, after a six-year hiatus from JMU, her dream of graduating from college is finally becoming a reality.
See how 'Return to Madison' used a targeted approach to give former students a chance to finish their JMU degree.
"The problems have always existed," said Leigh-Davis, recalling the reasons that she was forced to leave the school and life she loved. This included a range of personal family issues, as well as a traumatic event that occurred during her freshman year. "Our house burned down back home; we lost everything."
To help her grandparents who raised her, Leigh-Davis made constant trips back home, taking time away from her academics and social life in Harrisonburg. She cites this incident as the beginning of an unexpected downward spiral.
A constant battle
From then on, Leigh-Davis fought a constant battle to stay in school, despite several unforeseen obstacles. During her junior year, she became pregnant and learned her grandfather was diagnosed with pancreatic cancer. He was given three months to live. "Socially and academically, I felt completely overwhelmed," she said, "my grades had fallen, and I decided that before I fell too far behind, I should leave [school]."
Though she made trips to Smithfield, Va., three times a week to help her ailing grandfather with their family real estate business, Leigh-Davis decided to stay in Harrisonburg with her child. "I had fallen in love with the area and had every intention of returning to JMU."
Life threw another curveball the following August. "Right before I was going to start classes again, my grandfather passed away," Leigh-Davis said. "I knew it was up to me to keep our family's business going, so I packed up myself and my baby and went home."
At this point, her goal of coming back to complete her degree was a fading dream. "... it became painfully clear that I would not be returning to JMU in the near future," Leigh-Davis said. That was, until her grandmother received a letter from JMU's outreach and engagement office in May 2013.
'A college degree was never out of the question. To be able to come back to JMU and complete my education, it's like the best Christmas ever.'
A welcome invitation
"I was sitting at a different university filling out an application," said Leigh-Davis. "My grandmother called and said the president of JMU was inviting me to 'Return to Madison' to complete my education. I called the number, and they told me it was true. I couldn't believe it."
For her first semester, Leigh-Davis is enrolled in a series of communication courses with the intention of also completing a business management track next fall.
As for the program, she could not express the magnitude of her appreciation. "When I had to write a statement for my application back, I was in tears. Not because what happened was hurtful, but because, regardless of what happened, I'm back at JMU. I can't even explain how big that is for me. A college degree was never out of the question. To be able to come back to JMU and complete my education, it's like the best Christmas ever."
To learn more about the Return to Madison Program: 'Return to Madison'
Published: Thursday, October 3, 2013
Last Updated: Thursday, October 20, 2016