Education
Adult degree seekers 'Return to Madison'
---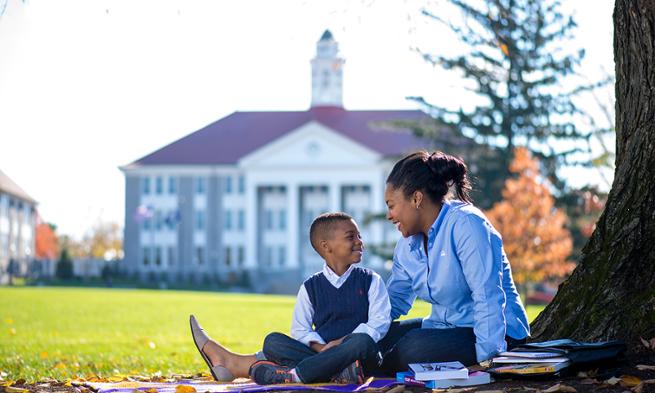 Former students are seeing their Madison Experience finally fulfilled
By Courtney Herb ('15)
Francesca Leigh-Davis is just one of 47 students that reenrolled at Madison this fall as part of a statewide push to encourage adults to complete their bachelor's degree at four-year Virginia institutions. Since its inception in 1977, JMU's Adult Degree Program, or ADP, has worked to educate and enlighten students beyond the traditional college age. To further this initiative, JMU Outreach and Engagement launched a new campaign in August 2012 known as "Return to Madison." Funded by a $50,000 grant from the State Council of Higher Education for Virginia, this program aimed to identify students who were previously enrolled at JMU between 1995 and 2008 and earned at least 30 college credits. These individuals, residing in many areas of Virginia, were then invited to come back to Madison to finish their degree through the Adult Degree Program.
Read why Francesca Leigh-Davis says being back at JMU is "like the best Christmas ever."
Initially, the registrar's office identified about 6,200 candidates that were eligible for the program. After eliminating individuals who had already completed their degrees at other institutions, more than 1,100 candidates remained. Once that number was determined, Outreach and Engagement began their marketing strategy.
"More than 100 students have responded so far," said Pamela Hamilton, Director of the Adult Degree Program for Outreach and Engagement. "We used the grant money to pay for postage to send out customized letters to each student as well as a card from President Alger." These letters identified various aspects of students' previous educational experience, including former majors and the number of classes left in order to complete a degree.
ADP was also able to use the grant money to purchase software that pulled relevant employment information from online job postings. "We were able to actually include employment information for their area," said Hamilton. "This included skills, openings, and degrees necessary, so we could pull all of that information together and help students decide on an appropriate area of study."
ADP students are provided one-on-one guidance to develop a curriculum that will meet their academic goals. For some, this means only a few classes stand in their way of receiving a bachelor's degree. Opportunities to complete these course requirements are available both on campus and through online programs designed by JMU faculty specifically for the Adult Degree Program.
"This initiative was far more successful than we had anticipated," said Hamilton. "A total of 47 students have returned to complete their degree, and we didn't expect that any of the students would graduate in the one-year time period of the grant. However, six students actually have, and three more will graduate in December 2013."
Though the grant ended, Outreach and Engagement will continue to reach out to students inviting them to complete their degree through the Adult Degree Program.
Published: Monday, March 4, 2013
Last Updated: Thursday, October 20, 2016