News
JMU shines once again in global Google competition
---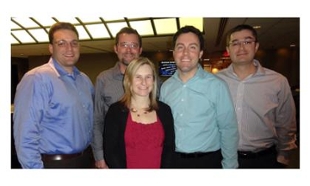 JMU iMBA students, from left, Scott Guengerich, Melissa Allen, Jeremy Vogan, Josh Baugher and Baris Bilek won $15,000 for their nonprofit client, the Augusta Regional SPCA. 
Two teams from James Madison University's iMBA program were named global winners in the 2013 Google Online Marketing Challenge and earned a total of $20,000 for local nonprofits, while four recent graduates of the JMU marketing program took home the Challenge's top prize for social media marketing.
Participants create online marketing campaigns with Google AdWords, a pay-per-click service using customized search terms, to drive traffic to their clients' websites.
The team of Melissa Allen, Josh Baugher, Baris Bilek, Scott Guengerich and Jeremy Vogan from the iMBA program was the first-place global winner in the social impact category, which recognizes outstanding online marketing efforts on behalf of a nonprofit partner. Teams were judged on the success of their campaigns and the overall impact on their clients. As a result of the JMU group being named the global winner, Google will make a $15,000 donation to the Augusta Regional SPCA.
"That just means so much to us," said the regional SPCA's director, Debbie Caywood. "It enhances the care for the animals and other services that we provide. There's really no avenue that we can't look at with a donation of that size."
Another team from the iMBA program was recognized as the third-place global winner in the category. For their efforts, Chris Foster, Carla Reese, Kelcey Troxell, Xavier Pickett, Craig Honeycutt and Dale Richards secured a $5,000 donation from Google to the Virginia Quilt Museum in Harrisonburg.
In addition, the undergraduate team of Lindsay Hayes, Shay Meadows, Lauren Mason and Cortney Marchetto was the global winner of the Google+ Social Media Marketing Award, which highlights the integration of AdWords with effective social media strategies.  
"I have such wonderful students," said JMU marketing professor Dr. Theresa B. Clarke, who incorporates the Challenge into her classes. "Every year I set the bar high, and they always seem to rise to the occasion."
Over 12,000 students from 80 countries competed in the 2013 Google Online Marketing Challenge, which is in its sixth year. A JMU team won the Americas region — all of North, Central and South America — in 2009, 2011 and 2012, but this is the first year that Madison has had global winners. 
###
Published: Tuesday, August 27, 2013
Last Updated: Thursday, October 27, 2016