News
Welcome to JMU
---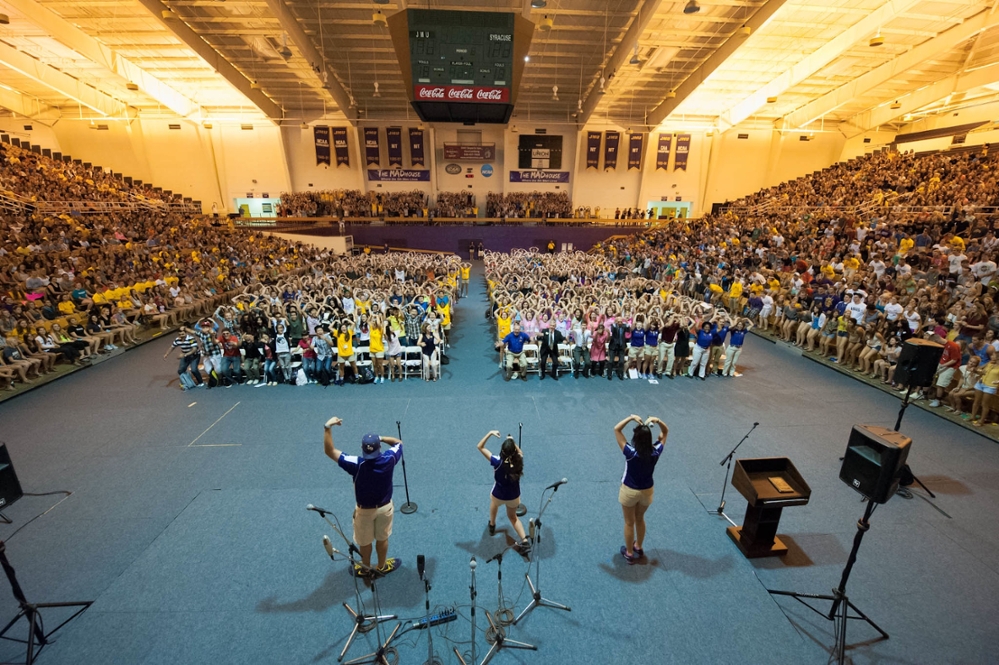 The James Madison University freshman class filed into the Convocation Center Wednesday afternoon for the University Welcome, the official kick-off of 1787 August Orientation.  The 4,302 first-year students were led by their Freshman Orientation Guides carrying signs designating their FROG groups: "Weaver Fever," "Spotswood Sweethearts," "Planet Poto."   The students chanted, did the wave and filled the Convo with cheers when Tisha McCoy-Ntiamoah, director of orientation, welcomed them saying, "You are finally and officially a college student."
McCoy-Ntiamoah continued, saying, "1787 is all about introducing you to the Madison culture which includes high expectations for your academic success and your responsibility of being a respectful member of the campus and Harrisonburg community."
Designed to simulate the college experience with academic meetings, programs and social events, 1787 August Orientation is named after the year when James Madison and other state delegates were meeting and writing the new U. S. constitution.  Mina Imbs, student coordinator for 1787, told the students, "That period of time was a positive turning point in the history of the United States.  We believe your 1787 experience will be a turning point in your life and history at James Madison University."
Advice to the Class of 2016 ranged from picking up trash on campus, holding the door open for others and "don't lose your Mappy!" the fold-out guide issued to first-year students, to more important life lessons.  Dr. Mark Warner, senior vice president for student affairs and university planning, asked the students to take care of themselves and others. "If we take care of ourselves and we take care of others we create a much richer community," said Warner.  "This is our community and we are responsible for each other."
Students were also encouraged to make their imprint on JMU.  "It's time for the Class of 2016 to make a name for themselves," said Warner.
First-year roommates Hanna Haydock of Guilford, Conn., and Morgan Doss of Oakton, Va., were impressed by the energy and excitement of the University Welcome.  "It got me really excited," said Haydock.  "It's inspiring how much everybody loves this school."  Doss agreed, "It's cool to see how everyone comes together as a community and makes you feel so welcome."
Fore more information on 1787 August Orientation http://www.jmu.edu/orientation/1787.shtml
For more information on the Class of 2016 http://www.jmu.edu/news/2012/08/20-2012-move-in-snapshot.shtml
###
August 23, 20012
By Paula Polglase, JMU Public Affairs
Published: Thursday, August 23, 2012
Last Updated: Thursday, October 20, 2016