JMU News
No Time For A Break: Construction Projects Progress in Summer
---
A lot goes on at JMU during summers, and one of the most noticeable activities is construction. 

The summer of 2011 was no different as four major projects were completed—the expansion of Bridgeforth Stadium, the renovation of Wayland Hall, the reconfiguration of the lake area courtyard and the installation of traffic gates. And while those projects wrapped up, work continued on three others—the new bioscience building, the expanded steam plant and the new University Park.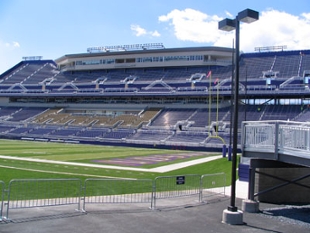 Bridgeforth Stadium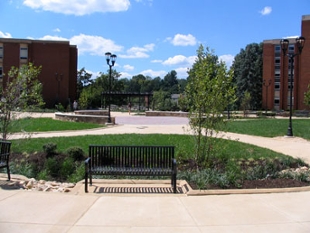 Lake area courtyard
Related Content
The expansion of Bridgeforth Stadium was done in two phases. Phase I started in fall 2009, when the original west grandstand was demolished and replaced with the first deck of a new grandstand. Phase I wrapped up in summer 2010 in time for the 2010 football season. As soon as that season ended in November 2010, work started on phase II, which involved adding a second deck and other improvements to the west side and building permanent seating behind the north end zone, where temporary bleachers had been brought in for several years. 

Altogether, the project added about 10,000 seats to the stadium, increasing capacity from a little more than 15,000 to about 25,000. New amenities include a state-of-the-art press box, concourse with luxury suites and improved concessions, a new scoreboard/video board, a new sound system and improved lighting. 

The renovation of the Wayland Hall, a residence hall that opened in 1958, began in July 2010 and involved gutting and rebuilding the interior. Wayland Hall will house JMU's newest learning community, which features a unique collaboration between the Office of Residence Life and the College of Visual and Performing Arts. The redesign was focused on creating a living and learning center for students interested in the arts. In addition to new dorm rooms, the renovation added new performance, exhibition, practice and classroom space. 

The renovation also involved work on the outside, where a former parking lot was converted to gardens and space for teaching, practicing and studying. The entire project has been done according to Leadership in Energy and Environmental Design (LEED) guidelines for obtaining platinum status from the U.S. Green Building Council. LEED-certified buildings are designed to lower operating costs, increase asset value, reduce waste sent to landfills and conserve energy. 

Among the green features of the new building is a 10,000-gallon water tank that will capture water from rainstorms to be used for flushing toilets. The tank is expected to reduce water usage by 40 percent from what would be expected without it. A state-of-the-art geothermal heating and cooling system will lead to energy savings. 

Wayland Hall will house 150 freshmen. 

Maggie Evans, director of residence life, says students should be "prepared to be amazed" when they visit the reconfigured lake area courtyard between Chandler, Eagle and Shorts halls. The courtyard was transformed this summer from an unattractive expanse of concrete to a relaxing environment featuring paving stones, seating, landscaping, a pergola overlooking the lake with dining tables, and a sand volleyball pit. 

The university also added four traffic gates to lessen traffic and improve safety through the bluestone section of campus. The gates were added on Bluestone Drive, near the South Main Street entrance to campus; behind the bookstore, where buses will enter and exit a newly configured loop; on Dukes Drive, just past the student parking areas adjacent to The Village; and on Bluestone Drive, adjacent to Godwin Hall and near the intersection with Carrier Drive. 

JMU has made great progress in its overall commitment to environmental sustainability on campus. The navigational changes will help support the reduction of single-occupancy vehicles and reduce traffic congestion, enabling the public transit system to run more efficiently. Reducing the total number of vehicles will also provide a safer and more pedestrian-friendly campus. 

While those projects were completed, a number of projects will continue on during the school year. 

The bioscience building on the east campus is scheduled to be completed in May 2012. That will provide time for the building to be equipped and for faculty to move in before its scheduled opening in fall 2012. The biology faculty were heavily involved in designing the building and its features that will help them teach. Like all new construction at JMU, the construction is being done according to standards set by the U.S. Green Building Council with a goal of getting a silver rating. 

New boilers are being added to the steam plant as part of renovations that will be completed in November. The renovation will enable JMU to use a biodiesel blend of 20 percent as one of its fuel sources, making JMU the first organization in the state to burn B20 as a heating oil source. The biofuel use will increase JMU's use of renewable energy to 19 percent. 

University Park is being built on about 85 acres along Port Republic Road and Neff Avenue and will have facilities for University Recreation and Athletics. The recreation facilities will provide expanded programming opportunities, will support learning, will promote wellness and will create a sense of community among students, faculty and staff. University Park, expected to open in summer 2012, also is the future home for JMU's Division I men's and women's soccer teams as well as women's lacrosse, field hockey and track and field programs. 
Published: Thursday, August 25, 2011
Last Updated: Tuesday, April 24, 2018