Anatomy of a Teaching Tool: New Bioscience Building Designed to Enhance Learning
---
It's not easy to generate two-way discussion or collaborative group work amongst 70 to 100 students sitting in an auditorium-style classroom—at least not in classrooms that were built several years ago.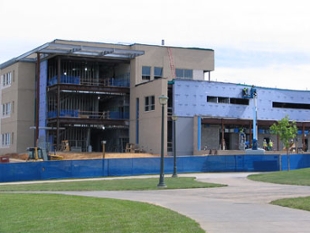 The bioscience buillding will open in fall 2012 and will feature amenities designed to enhance teaching and learning.

Related Content
When JMU's new bioscience building opens in fall 2012, it will have some large classrooms, but those classrooms have been designed so students can break into groups and do the type of work that is more common in smaller rooms. 
"There were really creative ideas just in designing auditoriums," said Dr. Mark Gabriele, an associate professor of biology and a member of the design team for the new building. Gabriele said the larger rooms in the bioscience building will feature wider tiers and tables between groups of seats. "If you have lectured on something and you want them to break into groups, they can spin around and be at a table with the people behind them rather than being on separate tiers," he said. 
That sort of attention to detail will be evident throughout the building that has been designed to enhance the teaching and learning environment. 
Another nice feature will be core spaces that will be used by faculty and students in various biology disciplines.  A microscopy suite, for example, will have a number of microscopes that will be used by students and faculty working in areas from botany to neurology. In addition to cutting down on redundancy of equipment, the core areas will promote collaboration, Gabriele said. "If you can have a core space and then develop neighborhoods around that, that's a way of fostering discussion, not only between faculty, but also between students. It's kind of cool to walk in and see your students in the midst of a conversation, describing what they're doing to other students either in a different biological discipline or maybe to more junior students who are just starting." 
The ability to easily collaborate with colleagues is important for the faculty too, especially in a discipline with so many sub-disciplines. When seeking external funding or when publishing, faculty often cannot just rely on their own specialty. "You can't be a 'one-trick pony.' You need several kinds of disciplines feeding into your work," Gabriele said. "One of the strengths of our biology faculty is its breadth. We have people from botanists to environmental scientists to neuroscientists. None of us can be experts on all of those things, so it has become more and more of an onus on us as faculty and as researchers to collaborate with other faculty in other disciplines. So it is not something you should do, but something you have to do." 
One feature Gabriele is particularly looking forward to is being able to project images from any microscope in a classroom that is designed to host upper-level courses. 
"Invariably you're teaching a class and someone finds the perfect example of what you're looking for. The way it happens now is, everybody has to get up and go look through that one microscope or I have to take the slide off and put it on a microscope that's sent through a low-resolution projector that we have here," he said, sitting in his Burruss Hall office. "In the new classroom, everyone will still have their own scope, but at any point in time, I could project an image from any work station without moving anything." 
Not everything in the new building was designed to teach just biology. The construction is being done so that the building can receive Leadership in Energy and Environmental Design (LEED) certification from the U.S. Green Building Council. LEED provides a framework for identifying and implementing practical and measurable green building design, construction, operations and maintenance solutions. Students, faculty and visitors will be able to learn about the building's mechanical systems and strategies for using them efficiently, Gabriele said. 
LEED-certified buildings are designed to lower operating costs, increase asset value, reduce waste sent to landfills and conserve energy. The East Campus Dining Hall received LEED Gold Status in 2009. 
Published: Friday, July 15, 2011
Last Updated: Tuesday, April 24, 2018