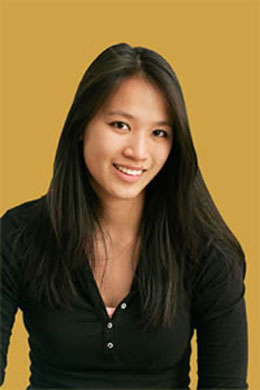 Student Profile - Lizzy Nguyen
Major: Biology
Hometown: Falls Church, Va.
High School: George C. Marshall High School
JMU Highlights: Senior; Asian Student Union vice president; taking part in a JMU-sponsored relief trip to New Orleans in May; does some work with University Program Board
What's your thesis research topic?
It's Group B Strep, a form of strep that affects infants and newborns. It can cause meningitis and other diseases. Right now, we are trying to culture human brain cells and then see how one of the Group B proteins affects the cells. I will be presenting the idea at a biosymposium this week.
What's your class schedule look like this semester?
Immunology, physics, General Education English that is a survey of American literature. Then I have physics lab, biochemistry lab, organic lab and then my independent research, which also includes about four hours of lab work a week so far. Biochem has been taking up the most time so far.
Talk about a class that surprised you.
Human Uses of Plants surprised me. We just went through every single plant that is known, and what some of their uses are. I learned so much. We went over everything from pineapples to random trees that have 10 different uses each. I also liked my General Education Religion class, even though it met just once a week for almost three hours. We went through all the major religions and learned about them. Both of those classes were so imformative.
Have you thought about what you want to do after JMU?
I have been through a lot of different ideas. I was thinking forensics or something in the health-care field. Now I am thinking that, rather than med school, I am interested in being a physician's assistant. I just want to help people.