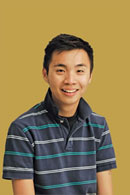 Student Profile - Ronaldy Maramis
Major: Biotechnology
Minor: Chemistry
Hometown: Rancho Cucamonga, Calif.
High School: Alahambra High School
Highlights: Senior; moved from Indonesia before sophomore year in high school; Knights of Columbus; loved his General Education art history class; Resident Assistant in JMU's international residence hall; a UREC regular; Student Ambassador
Are biotechnology and biology similar subjects?
Biology focuses more on the organismal areas, while biotechnology is all about the application of cellular and genetic topics such as cloning.
What's your favorite biotechnology class?
I love my microbiology class. We have class four days a week. Monday and Wednesday are lecture days, Tuesday and Thursday lab days. Our project for the year is to isolate an unknown bacteria from a sample. Unfortunately for our group of four people, that means extracting poop from a dog and a hamster, because the samples have to be fresh, but we joke around about it and we are learning so incredibly much. We run lots of tests on the samples, and by the end of the project we will have identified the bacteria by genus and species, done a poster presentation and a paper about all of it. The lectures support our labs in the sense that whatever we do in the lab is backed by a theory we learn about in lecture. What we learn in lab can be applied well to lectures too. Let's say that we are talking about antibiotic resistance, we can say that the characteristics of the cell wall matters in what antibiotics can be used to kill a bateria or invade its growth. It is very much hands-on.
What do you see yourself doing with your life?
My Plan A is to go to medical school and become an emergency room doctor. If not that, I see myself somewhere in the health care field, perhaps as a nurse or physician's assistant, or maybe even a hospital administrator. In another plan, I see myself traveling abroad and working, such as going back to Asia and working in Singapore as a researcher. I am experiencing so much academically here at JMU that I feel as if I can do whatever I set my mind to.
What is Knights of Columbus?
It's a fraternal, mainly Catholic organization. We do a lot of community service. We go to Mass together. We help support Campus Catholic Ministries. Last year we did Project Clothe the Naked, where we gathered clothes donations from campus and then basically took them to Washington, D.C., and said, "Hey, have some clothes."
How interested are you in research at the moment?
My short-term plan is to go to graduate school with a focus on microbiology research, or perhaps to start off working in a research lab or a pharmaceutical company.
Have you done any study abroad yet?
From my background both from Indonesia and then California, every moment of every day being HERE is study abroad.
You would recommend JMU?
It's by far the best decision I have made.