You are in the main content
Office Hours:
Main Office: Roop 201
Monday-Thursday: 10am-5pm
Friday: 10am-3:30pm
Pre-Professional Health Satellite Office: Bioscience 3005
Hours vary each semester.  Please see posted schedule in Bioscience office.
College of Business Satellite Office: Academic Services Center: Zane Showker Hall 205
Hours vary each semester. Please see posted schedule in ASC office.
Madison Advising Peers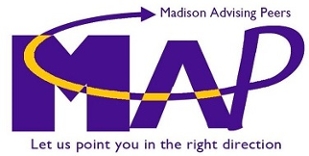 Who We Are
The office of University Advising in collaboration with the Student Government Association  implemented a new JMU undergraduate peer advising program in the fall of 2009 called "Madison Advising Peers".  
Madison Advising Peers (MAP) are JMU students who care about their fellow students and are committed to helping them achieve their college goals. MAPs work in conjunction with faculty advisors by providing supplemental academic advising information and assist other JMU undergraduate students who may have general advising questions, but don't know where to go.   A MAP can be a supportive and friendly resource for students who feel overwhelmed and confused. 
Advising Topics MAPs Can Assist Students With
Which General Education check sheet do I follow?
What are the cluster requirements in General Education?
How do I know if I've met all of my General Education requirements? 
How do I find out who my advisor is and when should I meet with him or her?
How do I remove a hold from my record?
When can I register for classes?
Is there a list of courses offered in the summer at JMU?
How do I read my degree progress report?
How do I map out an academic plan?
Can I take a course at home in the summer and transfer the credit to JMU?
How do I request a course override?
What is the difference between repeat forgive and repeat credit?
How do I declare a minor or pre-professional program?
What questions should I ask my faculty advisor when I meet with him or her?
Where can I find information about progression standards for my major?
Where do I go to get information about studying abroad?
How do I change my major?
What minors are offered at JMU?
What is the difference between the BA and BS degree?
When do I apply for graduation?
Meet the MAPs
Gilly Dukoff 

Major: SMAD with a concentration in Journalism

Minor: Creative Writing

Interests: bargain hunting, lounging on the quad, pinterest fanatic

Catherine Torres

Major: Biology, Pre-Med

Interests: Hiking, cooking, Law & Order SVU, volunteering

Campus Affiliations: Tri-Beta, honors program, Inter-Varsity

Kim Easterling 

Major: Biology

Interests: Animals, yoga and running, traveling, coffee shops

Affiliations: Big Brother Big Sisters of Harrisonburg/Rockingham Counties, secretary of JMU Pre-Dental Society

Muhammad Mehdi 

Major: Organizational Communication

Minor: Religion

Interests: Sports, Music, Movies

Campus Affiliation: Marching Royal Dukes, JMU Pep Band

Shelli Grogg 

Major: Justice Studies and Public Policy & Administration

Interests: Brunch buffets, The Office, traveling

Campus Affiliations: Honors program, Gamm

Major: Quantitative Finance, Mathematics

Interests: Basketball, tennis, reading, singing

Campus Affiliations: Chinese Student & Scholars Assocation, Tau Kappa Epsilong Fraternity

Lauren Crain 

Major: Marketing

Minor: Human Resource Development

Interests: crafting, the beach, Disney World, country music, reading, hanging out on the quad

Sarah Turman

Major: English and Spanish

Interests: Travel, photography, music, reading and crafting

Campus Affiliations: UPB, The Madison Society, Gamma Sigma Sigma

Lauren Maher 

Major: Communication Sciences & Disorders

Interests: DIY, movies, cooking/baking

Campus Affiliations: Honors program, SafeRides, InterVarsity Christian Fellowship

Hayley O'Brien 

Graduate Program: Clinical Mental Health Counseling (M.A, Ed.S)

Interests: Traveling, trying new foods, yoga, fine quality television

Campus Affiliations: JMU Graduate Psychology, Chi Sigma Iota Honors Fraternity, JMU Alumni