You are in the main content
Academic Advisors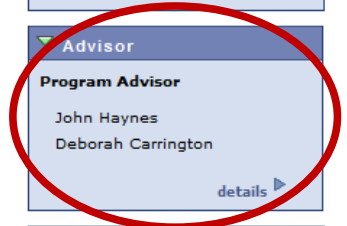 Who is my academic advisor?
The name of your assigned academic advisor is listed in your Student Center in MyMadison.
For more information, click on the image to the right or watch the Notify Advisor tutorial (PDF or Video).  
If you have trouble identifying or connecting with your advisor, visit the Madison Advising Peers or contact the department office for your major. 
Why do I have more than one academic advisor?
Students will have more than one academic advisor if they have declared any of the following:
A second major
A minor program
A pre-professional health program
A pre-professional education program
Students should plan to consult the coordinator and/or advisor for any additional programs that they have declared to make sure that they meet all program requirements.
What if an academic advisor is not listed in MyMadison?
If you are a currently enrolled student with no academic advisor displayed in MyMadison:
Contact the department office for your declared major. You can find a link to your department's homepage under the Important Links section of your Major Snapshot. 
If undeclared, contact Career and Academic Planning. 
New freshman and transfer students will be assigned to an advisor by following steps in the Orientation One Book. 
---
Role of the Academic Advisor
Each assigned academic advisor serves as a resource for students in providing information and assistance with the following tasks:
Helps with academic planning and decision-making
Explains requirements for General Education, major and degree program
Makes sure that students understand how their academic decisions affect their progress towards meeting graduation
Refers students to other campus resources as needed
Guides students' academic choices with regard to their long-term academic and career goals
While the academic advisor can be an invaluable resource for students, final decisions about choice of major, courses that students register for, and fulfillment of all graduation requirements belong to the student.
---
Role of the Student
Academic Advising is a shared responsibility with the academic advisor.  While each assigned academic advisor can be a very helpful resource and can assist students with their academic decision-making, students are responsible for the following tasks.
Review the undergraduate catalog and understand the academic requirements for:

General Education
Major(s)
Minor(s)
Degree  

Know who their academic advisor is including their office location and contact information. Review the Notify Advisor tutorial (PDF or Video) or look up the advisor's contact information in the campus directory.
Be well prepared prior to meeting with their academic advisor.  Assemble the appropriate documents and take them to the advising appointment: General Education checklist, a copy of the student's transcript or degree progress report, and a checklist of required major courses. Prepare a list of questions about courses to take the next semester and fulfilling graduation requirements.
Seek assistance with questions about enrolling in classes well before the registration appointment time. Don't wait until the last minute!
Develop and maintain a relationship with your advisor(s). Share career goals and any special needs with the advisor. Advisors are important contacts for recommendations for study abroad programs, internships, graduate schools, and employment.
Consult the assigned academic advisor throughout the academic career since the major advisor will be signing graduation application forms.
Please note:
It is important that students go to their academic advisor for assistance, however, the final responsibility for making choices and for the consequences of these choices belong to the student alone
.